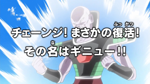 2206 December 2015

Change! An Impossible Revival!
The Name's Ginyu!!
"Super" News ∙ Series Info ∙ Episode List
Ten years ago we started our podcast as a way to expand to new audiences and have fun while developing new content for the website. Nearly 400 episodes later, we are still at it! This week on the show, the original duo of Mike and Julian reflect on the news stories from a decade ago and what the podcast has contributed both to the website as a larger whole and to our own lives as fans of Dragon Ball.
SHOW DESCRIPTION:
Episode #0391! VegettoEX and Julian reflect on ten years of the podcast. What were the big stories from ten years ago, what products had not even been released yet at that time, and what was going on in fandom? We also discuss what the podcast has meant to the website and to our own lives! Join us for a bit of self-indulgent reminiscence.
Enjoy! Discuss this episode on the Kanzenshuu forum, and be sure to connect with us on Twitter, Facebook, Instagram, Google+, and Tumblr.
Kanzenshuu - The Podcast: Episode #0391
[ 49:46 ]
Play Now
|
Play in Popup
|
Download
Revealed in this week's January 2016 issue of V-Jump, the Japan-exclusive, arcade-only, multiplayer fighting game Zenkai Battle will receive two new additions to its ever-growing roster of playable characters next month: Super Saiyan God Super Saiyan Vegeta and Kaiōshin.
With the "super attack warrior" SSGSS Vegeta, timing your button-presses when using his special attack will result in much more damage being dealt. Kaiōshin is "an outstanding support character" as well as a "super technical warrior" who controls the field by creating barriers that have various, different effects.
Both Super Saiyan 3 Goku and Vegeta were recently added during the game's 3.0 Zenkai Battle update. Originally titled Zenkai Battle Royale, the game first test-launched in Japanese arcades at the end of 2010 and, while it has continued to receive constant updates since then, has not had a home port announced.
Shueisha will return to the "Full Color" edition of the Dragon Ball manga in January 2016 with the "Boyhood Arc" (少年編; shōnen-hen) of the series.
Four volumes of the "Boyhood Arc" will be released 04 January 2016, each for ¥600 + tax. The story material will cover from the first chapter up through the 21st Tenka'ichi Budōkai. The four volumes are available for pre-order via Amazon Japan.
The "Full Color" version of the Dragon Ball manga began back in June 2009. Over a five-month period, Shueisha released — for free, in both Japanese and in English with Viz's existing translation — the first 23 chapters of the series. After this abrupt end, things fell silent for nearly three years. In late 2012 the company released the original black-and-white/monochrome version of the manga to digital retailers, and then a print version of the Saiyan arc in the "Full Color" format. Soon after, the full digital strategy was laid out with them going back to the beginning as digital-only, and eventually they released the entire series in a colorized digital format, with the "Z"-portion also receiving a print release.
Viz initially released the Saiyan arc in their digital Weekly Shonen Jump publication before exclusively moving to print for the series. The three-volume Saiyan arc has been the only release thus far from Viz, with the Freeza arc finally seeing the light of day in Spring 2016.
Thanks to all who sent along the heads-up!
As part of the continued 30th anniversary celebration for Dragon Ball (which has now technically hit 31 years as-of today), the January 2016 issue of V-Jump (out tomorrow, 21 November 2015) provides an announcement of a Dragon Ball: Super History Book (超史集 or Chōshishū) set for release 21 January 2016 in Japan.
This year is the 30th anniversary of Dragon Ball's birth!! This is the anniversary book to commemorate this momentous milestone!!

– Includes the storyboard for the final chapter of Dragon Ball!
– Toriyama-sensei commits to a long interview looking back on the last 30 years since serialization began!
– We look back on 30 years of animation, games, and hobbies!!
The 248-page, B5-sized book will retail for ¥3,500 + tax. The advertisement notes that the final design may differ from the image.
Thanks to masa for the heads-up!
Bandai Namco has announced an "Extreme Heroes W Pack" for the Nintendo 3DS in Japan. The double-game pack will include the card-based strategy game Dragon Ball Heroes: Ultimate Mission 2 (originally released 07 August 2014) alongside the 2D, sprite-based fighting game Dragon Ball Z: Extreme Butōden (originally released 11 June 2015). The combo pack is due out 17 December 2015 and will retail for ¥10,280 + tax.
By purchasing the new combo pack, players will receive a special sheet containing roughly 60 QR codes and commands (previously published in magazines, websites, etc.) along with a special gold-colored box.
Both Ultimate Mission 2 and Extreme Butōden have received significant, free content updates from Bandai Namco since their respective, original releases. Ultimate Mission 2 has received additional in-game cards and missions with yet another content patch due later this month (featuring both Super Saiyan 4 Broli and Gogeta). Extreme Butōden most recently received extra Z-Assist characters with online play promised in a subsequent, future update.
The new combo pack is available for pre-order via CDJapan.
While Dragon Ball Z: Extreme Butōden eventually saw an international release (with no word on content patch updates just yet), the two Dragon Ball Heroes: Ultimate Mission Nintendo 3DS games have not been localized outside of Japan.
Online retailers have updated their listings for the first Dragon Ball Super home video box set to include packaging beyond just the cover image:
The disc label art is recycled character design artwork from the 2013 theatrical film, Dragon Ball Z: Battle of Gods. The specific contents of the "Special Booklet" are still unknown. Similar booklets in past releases have included items such as character biographies, sketches, episode summaries, and quotes from various cast and production crew members.
Amazon Japan's exclusive version will also come packed with a special tote bag.
Toei and Happinet will release the series in DVD and Blu-ray box sets of 12 episodes each, with the first set dropping 02 December 2015 (episodes 1-12) and the second set dropping 02 March 2016 (episodes 13-24). In addition to a special booklet and box with a new illustration, on-disc extras will include a creditless opening and ending.
DVD sets are listed at ¥12,096 with Blu-ray sets at ¥16,416. Both DVD and Blu-ray sets are listed as two discs each. Sets are available to pre-order via CDJapan and Amazon Japan.
The podcast is our chance to be a bit more personable and editorialize on the news… and this week's episode may be the ultimate example of this show format. We at Kanzenshuu have been extremely disappointed in two items over the last week or so: (1) fandom's incredulous response to the audacity of any company other than FUNimation to announce an English dub of Dragon Ball Super, and (2) a particular Spanish website's unbelievably stubborn refusal to issue a correction on a major news item mistranslation.
Punches will not be pulled. Filters are off. This is our cathartic decompression and we're gonna rant like it's 1999.
SHOW DESCRIPTION:
Episode #0390! VegettoEX and Hujio hold nothing back as they criticize fandom's response to a "Dragon Ball Super" English dub announcement for Asia. We also track the entire story behind a major news item mistranslation: there was no new movie announced for a trilogy of films during a convention in Spain, and the evidence is right there on the table for anyone to analyze.
REFERENCED SITES:
Enjoy! Discuss this episode on the Kanzenshuu forum, and be sure to connect with us on Twitter, Facebook, Instagram, Google+, and Tumblr.
Kanzenshuu - The Podcast: Episode #0390
[ 54:57 ]
Play Now
|
Play in Popup
|
Download
Over the past few weeks, the Dragon Ball fanbase has been inundated with reports and articles of a new Dragon Ball Z movie being produced to complete the "trilogy" of recent films, as was supposedly confirmed by veteran Dragon Ball animator, character designer, and director Tadayoshi Yamamuro in Spain. We at Kanzenshuu have not reported this story as we had determined the information provided to support it was being misrepresented, or more likely, misinterpreted. Despite how many Spanish sites translated the interview, Yamamuro makes absolutely no mention of a "trilogy" and offers no concrete confirmation of a new theatrical film in the near future.
The story was first reported on 30 October 2015 by Ramen Para Dos, a Spanish anime and manga news site, based on a convention panel featuring Yamamuro at the XXI Salón del manga de Barcelona ("21st Barcelona Manga Fair"). Ramen Para Dos initially reported that during the panel, also featuring producer Norihiro Hayashida, that Yamamuro let slip that the events following Battle of Gods and Resurrection "F" will be depicted in a "new movie" to create a "trilogy series of films".
While the panel was underway, an article was posted with a rough transcription of the panel's events, and was eventually updated with video footage of the panel itself. It was determined that Yamamuro had made no such mention of a "new movie" during the panel itself, let alone a "trilogy" of films. Then earlier today, Ramen Para Dos posted a one-on-one interview with Yamamuro conducted earlier in the morning before his panel, citing it as the actual source for their original article. In addition to the interview's video footage (posted below), which has been subtitled in Spanish, the article includes a transcription of the interview.
The portion of the interview in question begins at roughly 6:55 into the video where the question posed to Yamamuro by the interviewer in Japanese is:
あのう、今までは映画と、その、アニメーション… (テレビ)アニメは、全然と話が違ったんですが、…あのう、例えば『超(スーパー)』と、あのう、例えば、あのう、えー、『バトル・オブ・ゴッド(神と神)』と、とか、今回のヤツを今日観ると、なんか、ストーリー的に、平行性がある…と思うんですけど、…で、その、同じ、えー、そのストーリーを、違うバージョンで完全してるんでっですよね?今後、そういった、あのう、方向に、『ドラゴンボール』は、あのう、なっていくんでしょうか、という質問…

---

Before now, the movies and TV anime have had totally different stories, but… Well for instance, "Super" and "Battle of Gods", or this current one we saw today, I think story-wise they are parallel. So they're making different versions of the same story, aren't they? My question is, will Dragon Ball continue in this trend going forward…?
Here is Yamamuro's response as to whether Dragon Ball Super will continue to be nearly identical to the stories established in the recent films:
山室:今テレビで放送されてるのは『復活の「F」』をもうちょっと詳しく描いたバージョンで、で…あー…『神と神』があって、その後『復活の「F」』が来て、で、ここに、あの…オリジナルの…先生のオリジナルのやつが、別のやつが入ります。
会見者:あ、もう一本?
山室:うん。

---

Yamamuro: Currently a slightly more detailed version of "Revival of 'F'" is being broadcast on TV, and… er… there was "Battle of Gods", then after that came "Revival of F", so here [in the TV series] we're adding in that… original… [Toriyama]-sensei's original thing, something different.
Interviewer: Oh, one more?
Yamamuro: Yeah.
Near the end of his response, Yamamuro mentions that Toriyama's "original thing" will follow. This is in reference to Toriyama's original "Universe 6" story arc featuring Champa and Vados that is set to follow the the recent film's stories which are currently being adapted in Dragon Ball Super. All of this information was first revealed by original author Akira Toriyama at the "Dragon Ball Super Complete Showcase Event" hosted by the V-Jump Channel on 01 July 2015. That aside, everything Yamamuro is talking about is in terms of Dragon Ball Super, and he again makes absolutely no mention of a "trilogy" nor offers any sort of confirmation concerning a new theatrical film in the near future.
Now, for all intents and purposes, the Spanish subtitles pose the same question as asked by the interviewer in Japanese. However, here is Yamamuro's translated response as depicted in the Spanish subtitles:
Hay tres películas. …Battle of Gods, La Resurrección de F, …y otra. Esta trilogía se desarrolla mas en la serie Dragon Ball Súper, donde se explica mejor la trama de las películas.

---

There are three films. …Battle of Gods, Resurrection "F",… and another. This trilogy is more developed in the Dragon Ball Super series, which further explain the plot of the movies.
These subtitles make it seem that Yamamuro is hinting at there being another movie, which as shown above is clearly not the case. However, the transcription also provided by Ramen Para Dos paints an entirely different picture, making it seem that instead of hinting at a new movie, Yamamuro just flat out says it is in production:
Hay tres películas: Battle of Gods, La Resurrección de F y otra más en producción. Esta trilogía se desarrollará mucho más en Dragon Ball Super, explicando en la serie los acontecimientos de las películas de manera más detallada.

---

There are three films: Battle of Gods, Resurrection "F", and another in production. This trilogy will develop much more in Dragon Ball Super, explaining events from the series of films in more detail.
At this point it is obvious that something was clearly lost in translation, or misinterpreted, and with statements being further embellished, it is easy to see how such misinformation could spread. Of course there very well could be a new movie one day, but Tadayoshi Yamamuro certainly did not confirm a new one here, plain and simple. So for now, the movies will have to live on in Dragon Ball Super.
Toonami Faithful reports that Toonami (Asia) has announced via a press release that they have acquired the distribution rights to premiere the first international broadcast of Dragon Ball Super in Southeast Asia and India. In addition to being the first international release, the broadcast will feature the first English-language dub of the series.
HONG KONG (NOVEMBER 10, 2015) – Toonami, Turner's kids brand dedicated to delivering the best superhero and action-adventure animation in South and Southeast Asia, has snapped up the latest installment of the Dragon Ball franchise from Toei Animation.

Dragon Ball Super (52×30′) is the first all-new Dragon Ball television series to be produced in nearly 20 years, and will make its pan-regional launch on Toonami in mid-2016. It will be an exclusive first-run premiere on Toonami in Southeast Asia and India, which will also be its English-language world premiere.

"This announcement is huge for fanboys and girls in Asia. Dragon Ball is undoubtedly the original and world's biggest anime export, and is a cornerstone of our programming on Toonami," said Mark Eyers, Chief Content Officer for Turner's Kids Networks in Asia Pacific. "Since the channel launched in 2012, Toonami has been airing episodes of Dragon Ball Z and Dragon Ball Z Kai, and to premiere Dragon Ball Super demonstrates the channel's continued commitment to securing must-have and must-see content, first on Toonami."

Reuniting the franchise's iconic characters, Dragon Ball Super follows the aftermath of Goku's fierce battle with Majin Buu, as he attempts to maintain earth's fragile peace. Overseen by Dragon Ball's original creator, Akira Toriyama and produced with Fuji Television, Dragon Ball Super will draw on its historic past to create a bold, new universe welcoming to fans and endearing to new viewers.

Introduced as a manga in Weekly Shonen Jump in 1984, Dragon Ball has evolved into a globally beloved brand. Seen around the world, with over 230 million copies of its comic books sold, Dragon Ball is one of the most popular anime franchises of all time.
Toonami (Asia) is currently available in markets including Indonesia, Philippines, Thailand, Hong Kong, Singapore, Taiwan, Pakistan, Maldives, and India. It is not yet clear which company will be producing the English dub slated to be broadcast, but in all likelihood it will be an English dub exclusive to these regions as has been done with previous series and films. We have reached out to Toonami (Asia) and FUNimation for clarification on the matter.
UPDATE: A representative for FUNimation has confirmed to us that the company is not involved with the English dub set to premiere on Toonami (Asia), stating:
FUNimation has no connection with the Toonami Asia Announcement or the premiere of its English language version of Dragon Ball Super in mid-2016.
It is still not yet known which company will be producing the English dub.
Today's eighteenth episode of Dragon Ball Super in Japan introduced Champa and Vados for the first time in the TV series. The ending credits list Mitsuo Iwata as the voice of Champa, while Yuriko Yamaguchi provides the voice of Vados.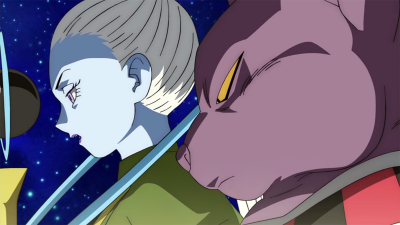 Champa, the God of Destruction for Universe 6, was introduced and teased earlier this year ahead of the TV series' debut. "Champa" (シャンパ / shanpa) is pronounced with a "sh" sound at the beginning, in all likelihood taking its inspiration from シャンパン (shanpan or "champagne"), following with Beerus' and Whis' name pun series.
Though introduced early on in the promotional cycle as well, it was not until last month's fifth chapter of Toyotarō's Dragon Ball Super manga adaptation in V-Jump that Vados received a name. Vados' name (ヴァドス / vadosu) is likely taken from "calvados" (カルヴァドス / ka·ru·va·do·su), an apple brandy also of French origin.
Both characters appeared early on in Toyotarō's Dragon Ball Super manga adaptation, though they have not shown up in any of the corresponding TV episode material; their introduction here in episode eighteen roughly matches the material at the end of the fourth manga chapter. The V-Jump manga has recently moved on ahead with future Champa material, having skipped the forthcoming Freeza story arc.