Episode Guide
Dragon Ball Kai TV Series
Series Information
Phase 1: Saiyan – Cell arc
Original Run:
05 April 2009 – 27 March 2011 (2 years; spent 7 weeks on break)
Corresponding:
Dragon Ball Kai Episodes 001 – 098 (97 broadcast episodes + 1 unaired episode)
Dragon Ball Chapters 195 – 420 (226 chapters; approx. 2.3 chapters per episode)
Filler Content:
To Be Determined
Rating Shares:
Average: 9.4%
Maximum: 12.3% (Episode 047)
Minimum: 6.4% (Episode 018)

---

Phase 2: Majin Buu arc
Original Run:
06 April 2014 – ongoing
Corresponding:
Dragon Ball Kai Episodes 099 – N/A
Dragon Ball Chapters 421 – 519 (99 chapters)
Filler Content:
To Be Determined
Rating Shares:
To Be Determined

---

Main Staff:
Series Director — Yasuhiro Nowatari
Series Organization — Kazutaka Sado & Caramel Mama
Planning — Yōko Matsuzaki & Kōzō Morishita
Music — Kenji Yamamoto (original) / Shunsuke Kikuchi (replacement)
In early 2009, Toei Animation officially announced (in Weekly Shōnen Jump issue #11) that a "refreshed" version of the Dragon Ball Z TV series, re-titled Dragon Ball Kai (改; Kai meaning "renewed" or "revised"), was being produced for a high-definition presentation in honor of its 20th anniversary. The first episode of Kai aired on 05 April 2009 (Toriyama's birthday) as part of Fuji TV's new hour-long Sunday morning anime block, "Dream 9″. The block began with Kai at 9:00AM (hence the "9″ in the block's name), and was followed by Toei Animation's other mega-hit anime series, One Piece, at 9:30AM.

The series featured re-recorded dialogue, new music, updated sound effects, and new digital effects, but the majority of the footage was recycled from Dragon Ball Z. Toei Animation's announcement stressed that the series would have a higher "sense of excitement", indicating that the majority, if not all, of the "filler" material would be cut. This indeed turned out to be the case, as a pre-title card shown before the first 13 episodes stated that Kai was the "Akira Toriyama Original Cut Version". This meant the series would follow the manga much more closely than Dragon Ball Z had originally, and would consequently shorten the series from its original episode count.
Soon after the initial airing, it was announced that Dragon Ball Kai would have both standard-definition DVD and high-definition Blu-ray releases. This was the first time that any Dragon Ball property would be released in a high-definition format, truly bringing Dragon Ball into the digital age. Although the series was being broadcast in widescreen, due to Japan's new broadcasting standards in an effort to transition from analogue to digital broadcasting, it had been digitally remastered in its original fullscreen aspect ratio. All of the high-definition Blu-ray releases featured to this original fullscreen format, as opposed to the DVD releases which featured the widescreen format used for the series broadcast.
Although the series was consistently seeing high rating shares, it was ultimately canceled in March 2011 following the conclusion of the Cell arc presumably due to financial reasons. Shortly before the series ended, Toei Animation acknowledged issues of musical infringement in the series' background music and promptly removed Kenji Yamamoto's score, replacing it with Shunsuke Kikuchi's original score from Dragon Ball Z. The last two aired episodes (96 & 97) of the series were broadcast exclusively with Shunsuke's score, as well as all subsequent re-airings of the series. Due to the horrific earthquake that struck Japan on 11 March 2011, the series broadcast was delayed one week and consequently the final episode of the series was not aired as originally scheduled.
In November 2012, it was let slip that the Majin Buu arc of the series was indeed in production, although with one slight difference — it was being produced for international distribution only. However, with the waning performance of Toriko becoming quite pronounced, speculation began that Kai would be revived to replace its replacement. In February 2014, V-Jump announced that indeed "a new era of Kai" would be returning to Fuji TV in Japan and reclaiming its original time slot from Toriko. The series picked back up where it had left off three years prior, with the Majin Buu arc, on 06 April 2014.
Series Story Arcs
Select a story arc to view an episode-by-episode break-down of that specific arc, with additional information pertaining to the original broadcast run, filler content, and rating shares. We've also included detailed pages for each individual episode, which includes screen shots from the original episodes, episode summaries, next episode information, complete opening and ending credits, and much more. If you would rather view a quick list of every Dragon Ball Kai episode, please click here.
Episode 001 (05 April 2009) — Episode 016 (26 July 2009)
Goku and Piccolo face-off against Goku's older brother Raditz, but they soon find they must face their fiercest opponents yet… the Saiyans! They are a warrior race with a Prince hell bent on using the Dragon Balls to gain eternal life. With Son Goku dead, the Z Warriors must train harder than ever to prepare for the Saiyans arrival on Earth.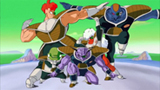 Episode 017 (02 August 2009) — Episode 030 (01 November 2009)
Following the battle with the Saiyans on Earth, our heroes head to Piccolo's home planet, Namek, in search of new Dragon Balls to revive their fallen commrades. Unfortunately, the most dreaded villain in the universe, Freeza, is also searching for the Dragon Balls. Our heroes must join forces with Vegeta, and take Freeza's men head on.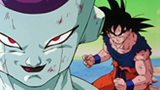 Episode 031 (08 November 2009) — Episode 054 (25 April 2010)
Having defeated the Ginyu Special-Squad, our heroes must recompose themselves, but it's too late… Freeza has arrived! The true battle on Namek unfolds, but our heroes are no match for the all-powerful Freeza. Son Goku's anger swells as he watches his friends die right before his eyes, and he attains a new Saiyan form!
Episode 055 (02 May 2010) — Episode 067 (08 August 2010)
Trunks returns from the future to warn the Z Warriors that the Red Ribbon Army has returned, in the form of artificial humans?! Dr. Gero has created the greatest killing machines known to man and their target is Son Goku!! Everyone trains for their arrival, but it is all in vain, for a much more terrifying enemy has appeared…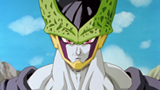 Episode 068 (15 August 2010) — Episode 097 (27 March 2011)
The artificial human Cell has appeared, and he will stop at nothing to achieve his perfect form. After absorbing No. 17 & 18, Cell holds a martial arts tournament to celebrate his new perfection. While preparing for the Cell Games, our heroes attain new levels of Super Saiyan, but in the end Son Goku must again say goodbye to his friends.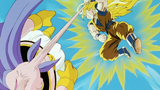 Episode 099 (06 April 2014) — ongoing
The demon known as Buu was created five million years ago by the dark mage Bibidi. Now his son, Babidi, has appeared and released Majin Buu again in hopes of conquering the Universe in his father's name. With a little heavenly help and the power of fusion, Goku, Vegeta, and some unlikely heroes must take on this evil majin to save the Universe.