Home Video Guide
Dragon Ball DVD Box – Dragon Box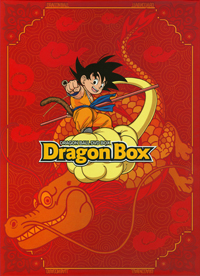 | | |
| --- | --- |
| Note: | Although Dragon Ball is the first series chronologically, this is actually the third DVD set in the Dragon Box series, following both Dragon Box Z Volumes One and Two. |
What are the Dragon Boxes?
Starting in 2003 and ending in 2005, Toei Animation, in cooperation with the DVD manufacturing company Pony Canyon, released a series of four box sets covering the entire Dragon Ball TV series property. In 2006, Toei Animation dropped Pony Canyon and released all of the Dragon Ball movie properties on their own in the fifth and final Dragon Box.
The Dragon Boxes were limited items in the truest sense of the word. An order start date would be announced several months in advance, as well as an order deadline. The ordering windows were typically several months in length, and all manufacturing of the box sets were based solely on the number of orders received. In other words, they only made enough boxes to satisfy the orders made within the given timelines, after which point production on the boxes ended indefinitely. With so few actual Dragon Boxes in circulation (most of which already in the loving arms of Dragon Ball fans), it makes finding these boxes nowadays somewhat difficult.
General Information
Order Start Date:
01 January 2004
Special Gift Deadline:
29 February 2004
Order Deadline:
31 March 2004

---

Released:
07 July 2004
Retail:
¥105,000
Catalog Number:
PCBC-50482
Original Copyright:
1986 – 1989
Property Holders:
Bird Studio / Shueisha / Toei Co. Ltd. / Fuji TV
Manufacturer:
Pony Canyon
Encoding:
Region 2 / NTSC (Japan)

---

Discs:
26 discs
Disc Format:
Single Sided / Dual Layered
Encoding Format:
MPEG-2
Video Format:
4:3 Standard Size
Running Time:
Approximately 3,800 minutes
Contains:
Dragon Ball episodes 001 through 153 (complete series), plus bonus features

---

Audio Format:
2.0ch monaural (presented in Dolby Digital)
Language:
Japanese
Subtitles:
None
Alternate Angles:
None

---

Extra Features:
–- Specially designed box
–- Picture labeled discs (uncommon for Japanese DVDs)
–- 128-page book (fully colored)
–- Akira Toriyama designed diorama set, including eight mini-figures
–- Stand-up "Dragon Box" poster board (pre-order deadline gift only)
Box Design
The box uses a special design made specifically for the Dragon Box series. It is a large solid box, inside of which it contains a series of "DVD books". The outer box contains the Dragon Box logo on the front and spine, with a nice image of Goku riding Shenlong on the back. Both the images of Goku on the Kinto-Un and Shenlong were designed and drawn by Toei Animation artist Katsuyoshi Nakatsuru. Portions of the image on each side of the box are also raised, and this combined with the slight gloss makes for a really stunning design. You can also see here that the spines for each DVD book are clearly labeled in a large font, with different character images at the top.
Box Dimensions:
Height – 10 ¾ inches
Width – 7 ¾ inches (across the front)
Depth – 4 ¾ inches (across the spine)
DVD Book Designs
On the front of each book we can see some more fantastic artwork by Katsuyoshi Nakatsuru. Each book has a full-size version of one of seven characters in the series, with the remaining six characters on the back (counting Bulma, Kame-Sen'nin and Puar as one character). Inside each book is a green transparent plastic to hold the DVDs, beneath which is a small image from a particular episode with a complete episode listing. The interior of the 7th book only contains discs on one side, with an empty space for the Dragon Book on the other. The image seen in this empty spot is the primary image from this particular boxes' advertising campaign.
DVD Book Dimensions:
Height – 10 ¼ inches
Width – 7 ½ inches (across the front)
Depth – 5/8 inches (across the spine)
Discs / Contents
The image used on each disc is simply a character cropped out from one of the Dragon Ball episodes appearing on that disc.
Bonus Features
Special 1
Public Safety Video, "Goku's Traffic Safety"
Special 2
Public Safety Video, "Goku's Fire Fighting Regiment"
Special 3
Non-credit "Mystical Adventure!" first animation
Non-credit "I'll Give You Romance" second animation
Special 4
A look at some of the censorship from the early episodes of American Dragon Ball. There are four small clips, each introduced in a comical fashion, essentially mocking the American censorship.

The first clip is from the original 1995 dub and shows Goku catching the fish with his digital undies!

---

"From the 1st episode 'Bulma and Son Goku'
Underwear was put on"

The second clip is from the 2001 dub and shows Goku diving after Oolong in his digital undies, as well as the "fish full of dollars" scene!

---

"From the 5th episode 'The Strong Villain of the Desert, Yamcha'
The underwear becomes a roll of bills!"

The third clip is from the 2001 dub and shows Goku and Chi Chi are flying on Kinto-Un. Chi Chi seemingly throws Goku off the cloud for no apparent reason…

---

"From the 7th episode 'Gyuumao of Mount Frypan'
Goku does not do pat-pat…"

The final clip is from the 1995 dub, and shows the scene where Chi Chi throws her helmet-knife-thingy at Kame-sennin, and he shows her his license to prove that he's a real hermit.

---

"From the 8th episode 'Kame-sennin's Kamehameha'
Kame-sennin's license"
DVD Menus
The DVDs open with a little Dragon Box animation. The text "Shueisha, Fuji Television, and Toei Animation Presents" sparkles onto the screen. The screen then goes black and begins to tear off like paper, revealing the Dragon Box logo. The logo then spins around a bit, and a bright light flashes across it from behind.
The main menu is an image of the Tenkaichi Budoukai diorama set, with little cut-outs of Goku, Kuririn, Piccolo, and Oolong which bob up and down on the screen, with a little cloud that flies by behind them. Meanwhile, in the background a nice fast-tempo instrumental of "Mystical Adventure!" is playing. You are given the options of "All Play", "Story Mode", and "Episode Select". "All Play" simply plays all of the episodes in order, while "Story Mode" plays all episodes, but removes the openings, endings, and previews. If you choose "Episode Select", the Oolong image will bounce into the screen and it will fade into the episode menus, which lack animation and are completely silent.
Episode Presentation
So what exactly are you getting for your money, and what sets these DVDs apart from other releases? The answer is quite simple, and it is that with this box set you are truly getting the purest presentation of Dragon Ball possible.
Complete Episodes
Presented here are the full episodes from start to finish, as they aired on TV over two decades ago (and counting). This includes the complete opening credits, ending credits and episode previews, which are not available outside of the Dragon Box release (although they are now available on the Japanese individual disc releases).
Source Video
For these DVDs they actually pulled the original 16mm film reels out of cold storage, and used them as the primary source material. All previously released Dragon Ball content (even the original Fuji TV airings) were based off either the master tapes (copies of the 16mm film), or copies of the masters. Since the 16mm film is actually the original photography of the animation cels, what you are seeing when viewing these discs is essentially the original cel animation, almost as fresh as the day it was painted!
Remastering
Since the source material is the original cel photography, the picture is already as pristine as it will ever be. However, as with any film, it is bound to suffer some damage. Pony Canyon took the time to carefully remove all damage from the film, presenting us with a perfectly clean picture, yet never compromising the integrity of the actual animation. On top of this, since they have gone back to the 16mm film, they can create an all-new frame alignment!
When making the original masters for a series, it is typical to copy the film while slightly zoomed-in. This reduces the risk of catching the edge of a misaligned cel (i.e. seeing the edge of the image). However, with time, money, and new digital technology on their side, Pony Canyon has created a new print that captures more image than the original masters. In some cases this actually meant re-aligning some of the frames, which not only allowed for a larger image surface, but also greatly reduced all former traces of jitter!
Source Audio
As with the video, they have also gone straight to the source material for the audio. Unfortunately, since the series was recorded in mono, it will always have that dated feel to it, but the audio presented here is of very good quality, all things considered. The audio never gives out or cracks during high notes in a song or loud screams, and the typical background noise (that horrible "shhhhhhh" sound) is virtually nonexistent. Also, the opening and ending themes, although remaining in their broadcast mono forms, have been greatly improved and sound very close to stereo quality.
Dragon Book
The Dragon Book is 128 pages in length and is closest in size to JIS B5 format (18.2 × 25.7 cm). The covers are soft, but are very sturdy, being printed on a thick, almost cardboard-type paper. The covers of the book are also done in mat, which reduces the chances of them becoming scratched or damaged. The actual pages in the book are in full color and are complete with a nice finish (similar to a gloss, giving thickness and durability to the paper). As with most Japanese books, the book is designed to be read from right to left.
Dragon Book Contents
Intro / Dragon Book Contents

Unlike every other Dragon Book included with the Dragon Boxes, this is the only one to not contain an introduction from Akira Toriyama. The entire book includes images from the anime, along with some brand new artwork (including a two-page spread at the beginning of the book).

Opening
006

Lyrics to the full opening theme with screen shots from both animations.

Overview of the Main Characters and Seven Dragon Balls
016

This overview provides biographies of approximately 58 main characters (with images), as well as a quick look at the Dragon Balls and their use.

A Thorough Explanation of All 153 Episodes
038

Son Goku: Adventure Path
040

This section takes a brief look at the various arcs of Dragon Ball, which are broken down by episode.

Discs 1–26 (episodes 1–153)
042

The section is essentially an episode guide that examines the series' 153 episodes, which are divided up by disc. Each episode listing includes the episode title, original air date, respective credits (director, scenario, animation supervisor, and artwork), episode description, and a few screen shots. Each page of the episode guide includes a memo (26 in total), which notes various points of interest for those particular episodes. These pages also include various character, item, and outfit design sketches (100 in total) related to those particular episodes.

The Best Character Collection Set
113

A collection of various character and item designs used for the anime, including character head/expression shots, detailed vehicle designs, Kinto-Un motion designs, etc.

The Best Art Collection Set
119

A collection of location/set designs used for the anime, including the floor map of Kame House, the Tenka'ichi Budōkai arena, etc.

Bonus Material
122

An explanation of all the bonus material included on the final disc of the Dragon Box.

Ending
126

Lyrics to the full ending theme with screen shots from all four animations.

Handling with Care / How to Use the Menu
128

Dragon Interview

Masako Nozawa
008

Six page interview with Son Goku voice actress Masako Nozawa.

Keizou Shichijou
034

Three page interview with series planner Keizou Shichijou.

Hiromi Tsuru
064

Four page interview with Bulma voice actress Hiromi Tsuru.

Minoru Okazaki
078

One page interview with series director Minoru Okazaki.

Daisuke Nishio
079

One page interview with series director Daisuke Nishio.

Takao Koyama
080

One page interview with series organizer and scenario writer Takao Koyama.

Mayumi Tanaka
106

Four page interview with Kuririn voice actress Mayumi Tanaka.

Minoru Maeda
112

One page interview with chief animator Minoru Maeda.

Tadanao Tsuji
118

One page interview with chief designer Tadanao Tsuji.

Dragon Column

These columns examining various parts of the Dragon Ball series are scattered throughout the Dragon Book and vary from a few paragraphs, to full pages in length.

Column 1 — Three occurrences of original anime in the series
052

Discusses the three main filler arcs (Solo Training arc, Heavenly Training arc, and Wedding Dress arc).

Column 2 — The charm and personality of the veteran "Dragon Ball" voice actors
053

Discusses the voice actors who made the transition from Dr. Slump to Dragon Ball, as well as some of the new voice talent.

Column 3 — "Dragon Ball" created the template for Jump anime
081

Examines how the Dragon Ball anime became the template for the adaptation of other Jump manga series.

Column 4 — Persnickety fans check the animation staff too!
081

Discusses all the hard work that went into creating a DVD box set that would satisfy both picky fans and the original production staff.

Column 5 — Kame-Sen'nin's previous climbing of Karin Tower
092

A breif examining of Karin's story about Kame-Sen'nin climbing Karin Tower.

Column 6 — Which guest characters had increasing appearances in scenes in the anime?
092

Column 7 — Which regular characters had an increasing amount of activity in the anime?
092

Column 8 — There were four fake Gokus
093

Discusses the various fake Gokus that appear in the series, including Shuu dressed as Goku and the fake Goku that Mister Popo made for training purposes.

Column 9 — The use of insert songs in succession
093

Lists all of the insert songs used throughout the series, along with exactly where they were used.

Column 10 — "Dragon Ball" and Shunsuke Kikuchi
124

Discusses background music composer Shunsuke Kikuchi, including details of his work for Dragon Ball, as well as other anime series that he's done.

Column 11 — What is the number one H [ecchi] scene of the series?
125

Lists some of the most perverted scene from the series in order to determine the best (or in this case worst) one.

Column 12 — The anime version of Karin Tower and the Heavens have extravagant equipment?!
125

Lists all the weird filler items found in Karin Tower and God's Palace (time machines, etc).

Column 13 — Various deadly techniques
125

Lists some of the deadly techniques used throughout the series.
Special Present
The first thing we have here is the special stand-up poster board, which was awarded to people who got their orders in before 29 February 2004. This is basically just a little advertising board that you might see displayed on the front counter of a local video store. Nothing special, but is still very neat to have.
Of course, the main present that came with this Dragon box is the Akira Toriyama designed Tenka'ichi Budōkai diorama set! I could go on and on about how cool this is, but in this case I think images really do speak louder than words, so here you go!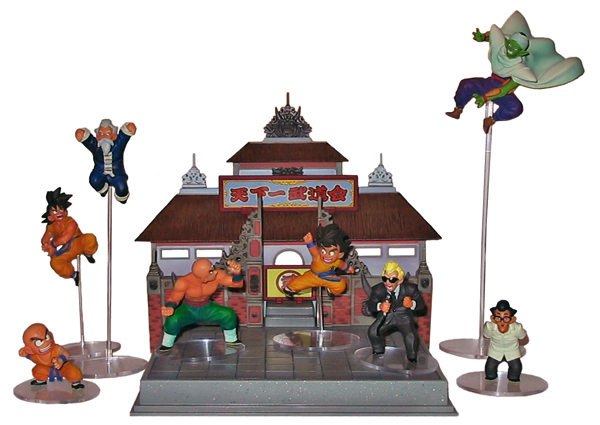 Negative Aspects
Of course, it wouldn't be fair to not list the downsides of this release, although luckily there isn't much to complain about here.
The first (and biggest) negative aspect to this set is the lack of a preview for Dragon Ball Z episode 001. At the very end of the final Dragon Ball episode, there should be a preview announcing the new Z series, but for reasons unknown it has not been included.
The Dragon Ball series contains two opening animations and four ending animation, yet we only get creditless versions for one of each. Why is this?
The final complaint is really quite trivial, but the two public service videos have not been remastered. Granted, they are just fun little bonus features, but the image on these videos is quite grainy and has suffered some minor damage. A quick little clean-up of these features would have been a very nice treat!
NOT a Negative Aspect!
Let me just state for the record that this release not having English subtitles, contrary to popular belief, is NOT a negative. This release was intended for the Japanese public, not Dragon Ball fans who live on the other side of the planet. Arguing these sets not having English subtitles as being a negative aspect is about as logical as arguing for Korean, Portuguese, or German subtitles. Not to say that I don't sympathize with the people who want/need English subtitles, but you simply must realize that if you are so desperately in need of subtitles, then these DVDs weren't really created for you to begin with.
On to Dragon Box Z Volume 1!
オッス、オラドラゴンボールウイズドム!
We now leave the happily married couple to go about their business, but don't worry, we'll be sure to check up on them again in about five years time! Be sure to check out everything that happens in the next exciting edition of the Dragon Box series!
次回、ドラゴンボクスゼット: ミニDBWはおぼっちゃま!ボクフジオです。
お父さん、死ぬないで!!!