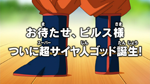 0906 September 2015

Sorry About the Wait, Beerus-
sama
Finally, Super Saiyan God is Born!
"Super" News ∙ Series Info ∙ Episode List
The Fuji TV website has announced that Kenji Yamamoto will be responsible for the background music of Dragon Ball Kai.
While it is unfortunate that Shunsuke Kikuchi's score will not be making a return, those unfamiliar with Kenji Yamamoto will be happy to hear that he has actually been involved with the series and its spin-off properties for around twenty years, himself. Yamamoto is responsible for the arrangement of many TV and movie theme songs throughout the years, including TV songs like "CHA-LA HEAD-CHA-LA" and "Unmei no Hi ~Tamashî VS Tamashî~", as well as movie songs like DBZ movie 6 closing theme "Hero (Kimi ga Hîrō)" and DBZ movie 2 insert song "Pikkoro-san Da~isuki". In addition to direct involvement with the animated series, Yamamoto has been responsible for the scores of countless Dragon Ball video games like the Super Butōden series from the Super Famicom era, all the way up through more current games like Burst Limit.
Our personal opinion is that if there was going to have to be a background score replacement, this is how we would want it handled. We have full confidence in its integrity and its ability to fit the mood and tone of the series. Of course, we will just have to wait and see what the final product looks (and sounds!) like come April 5th…!
For the record, this Kenji Yamamoto is different than the Kenji Yamamoto responsible for Metroid music. They are two different people that spell their names with different kanji.
Our old buddy Greg (who ran "The Ulimate DBZ Info Site" for many years, starting it up back in 1997, a year before this site began) has posted up his review and thoughts on Dragon Ball Evolution over in our forum. Hopefully we will be able to get Julian to go see it this weekend, and we will all just have to wait another month before it hits our theaters.
Beware that there are a few spoilers in the thread… unless, of course, you are looking for that kind of thing.
While we anticipated scenes were being redrawn, a little visual confirmation never hurts. The blog "We Remember Love", maintained by ghostlightning, recently (February 7th) posted an update covering his tour of Toei Animation's Philippines branch. While he was there an in-between animator for Toei let him take a crack at re-drawing a frame for Dragon Ball Kai.
Here is what ghostlightning had to say about the remastering of Dragon Ball Kai:
…I actually went to TOEI Animation Philippines and confirmed it. TOEI is producing Dragonball Z in High Definition. They no longer have the original cels or artwork, which means they are re-drawing on captured images from the existing videos. Some new art will be drawn to expand the dimensions to fit wide-screen aspect ratios. It's hard to explain the process, but I actually got to do it myself.
This is the same thing our pal Wasted Wisher has been saying for a while now. In the long run, it makes one question just how representative the recent promotional video is of the final product. It also raises the question: will they be correcting any of the bad animation that appears throughout Dragon Ball Z?
The official website for Dragon Ball Kai has updated with details on the upcoming Tokyo International Anime Fair and its Dragon Ball-related events. We knew from a prior update that on March 20th the singer of the new theme song would appear, and that Masako Nozawa would also be on-hand for an interview. Since then, we have learned about Takayoshi Tanimoto and his performance of the new theme songs (OP: "Dragon Soul"; ED: "Yeah! Break! Care Break!").
The new update confirms that beginning at 10:00 am on the 20th they will distribute tickets to a special event (which will take place from 11:00 to 11:30) where Masako Nozawa will host a sort of "kick-off party" for Dragon Ball Kai. Also on-hand will be Hiromi Tsuru (Bulma) and Toshio Furukawa (Piccolo). Finally, Takayoshi Tanimoto will perform the new opening theme!
It looks like next week will see a couple CD releases that those looking forward to the upcoming Dragon Ball Evolution might be interested in. Amazon has listings for both the "soundtrack" for $14.99 and another "soundtrack" (which is actually the movie's score as composed by Brian Tyler) for $17.99, both listing for about the $18 point MSRP and both due out 17 March 2009.
It is a little confusing, since the entry for the "soundtrack" that has "Original Score" in the URL is not the same entry that has the front and back cover clearly showing that it is, in fact, the original score. Maybe Amazon crossed their streams…? Nothing good ever comes of that. Thanks for the heads up, Tanooki.
Episode #0167 of the podcast is available for download! Since the "Rule" CD single didn't come in until recording day (which actually lets us do an all-Evolution episode next week), we decided to bring on prior guests Hujio and Corey to talk some more DragonBall Kai with us. We have all seen the new commercial and its selective re-framing on the cropping, and it's safe to say that everyone has an opinion on the situation. Tune in to hear what's going on and what the current situation is. Beyond that, we've got your regular news, releases, e-mails, and a ton more. Definitely check it out.
SHOW DESCRIPTION:
Episode #0167! VegettoEX and Meri bring on Hujio (Kanzentai) and Corey to discuss the most recent information and commercial for "DragonBall Kai" and all of its implications. There appears to be re-framed cropping going on, so how does this compare and contrast with FUNimation's faux-"remastered" release? Random bits of news, March's releases, and your e-mails round out the episode.
REFERENCED SITES:
Daizenshuu EX: The Podcast - Episode #0167
[ 1:11:02 ]
Play Now
|
Play in Popup
|
Download
Coming hot on the heels of the recently-released Super Exciting Guide – Story Volume is the Character Volume, set for release from Shueisha 03 April 2009 in Japan. Stay tuned for more details as they come in.
We have been following these manga delays for a while, so it is no real surprise to see that a couple of the upcoming omnibus "Viz Big" editions for the "DBZ" portion of the manga have been delayed… again. DBZ #4 (covering tankōbon 26-28) has been pushed back from 21 April 2009 to 23 June 2009, while DBZ #5 (covering tankōbon 29-31) has been pushed back from 21 July 2009 to 20 October 2009 according to their Amazon listings.
A new page from Jump details all sorts of new tidbits about the upcoming Dragon Ball Kai:
Both the (new) opening and ending themes will be performed by Takayoshi Tanimoto, known for theme song performances in shows like Konjiki no Gash Bell!!. The new opening is called "Dragon Soul" and the new closing is called "Yeah! Break! Care Break!" (both of which are written out in English). There is no word on whether these two songs will last the entire length of the series, or if there will be a theme song shift at any point.
Also provided on the page is a list of all of the original voice actors and actresses for the series. Interestingly, Tenshinhan is not included on this list at all, providing no further information on a possible (more formal) replacement for the late Hirotaka Suzuoki. While Tenshinhan was played by Eiji Takamoto in the video game Sparking! METEOR back in 2007, Tenshinhan did not appear in the recent Jump Super Anime Tour Special, and there have been no further appearances of the character to be voiced. Neither "Kame-Sen'nin" or "Muten-Roshi" are listed on the page, either, so it will be interesting to see which of the many voices ends up taking over the role.
The characters listed are:
Son Goku & Son Gohan (Masako Nozawa)
Bulma (Hiromi Tsuru)
Kuririn (Mayumi Tanaka)
Yamcha (Tōru Furuya)
Oolong (Naoki Tatsuta)
Chiaotzu (Hiroko Emori)
Gyū-Maō / Ox Demon King (Daisuke Gōri)
Chi-Chi (Naoko Watanabe)
Kami-sama / God (Takeshi Aono)
Piccolo (Toshio Furukawa)
Raditz (Shigeru Chiba)
Vegeta (Ryō Horikawa)
Freeza (Ryūsei Nakao)
Narration (Jōji Yanami)
All have their expected performers (with the exception of Chi-Chi's second voice doing the earlier parts of the series where it was originally Mayumi Shō), so this (again) leaves us with more questions than answers.
There is no confirmation on whether or not the full background music score will be a replacement of Shunsuke Kikuchi's original work or if it will be an enhancement of that work.
Our buddy Greg popped over to our forum with a couple quick bits from the new Dragon Ball: Super Exciting Guide – Story Volume guide book that came out this week in Japan. Greg notes that while most of the material is information we have seen packaged and repackaged many times before, there are a couple new bits by way of a new interview with Toriyama. In it, the author notes that in discussing how to make Goku stronger with his assistant Matsuyama, by making Goku's hair "blonde" (or "gold" or "yellow" or however you would like to describe it), it actually made it easier on them since they would no longer have to color in all of Goku's hair, which took a long time to dry. Toriyama also lists out his five favorite battles (#1 was Goku vs Piccolo-Daimaō), and a few other nice little tidbits.