1411 October 2015

This is Every Last Bit of My Power!
The Battle of Gods Concludes!
"Super" News ∙ Series Info ∙ Episode List
As we predicted based on the short blurb about a CD single release for the Dragon Ball Kai opening theme, we are going to get double-dipped with the new opening and ending themes getting their own separate releases.
CDJapan is listing the opening theme, "Dragon Soul", coming out 20 May 2009 in both a regular (COCC-16247, ¥1200) and "Limited Edition" (COCC-16273, ¥1300) version. There is no full track listing yet, and there are no details on what additional material the "Limited Edition" will come with.
CDJapan is also listing the closing theme, "Yeah! Break! Care Break!" (though mis-titled with "Year!" as the first word), as coming out the next month 24 June 2009. This one will also come in both a regular (COCC-16248, ¥1200) and "Limited Edition" (COCC-16283, ¥1300) version. As with the opening, there are no details on a full track listing or additional material in the "Limited Edition" beyond receiving a sticker.
Both songs will be performed by Takayoshi Tanimoto, though the new closing is also listing Takafumi Iwasaki as a performer.
Our buddy Marc (The Fanboy Review) has a few gaming tidbits for us. Apparently Dragon Ball Evolution for the PSP did around a mere 1,200 copies in its first day. A Japanese blog gives a little break-down of first-day sales for other recent Dragon Ball games, so you can see just how much of a gap there is with this latest one — even the Xbox 360 version of Burst Limit did better.
On the American side of things, Dragon Ball is actually the 12th top-selling game franchise. More than 14 million units have been sold since 2002, coming out to over $300 million.
Digital Media is reporting that five marketing agencies went after the Dragon Ball Online market in Asia, but it went to TBWA in the end. The account is estimated at 2 billion KRW (or approximately $1.34 million). TBWA will be handling a full-scale marketing blitz for the game from April to August.
Toei Animation has announced that Plus Licens has been granted the license to the Dragon Ball franchise in "Nordic and Eastern Europe". This license covers television, home video, and merchandising rights, but does not extend to video games and publishing.
"We are very pleased to be working with Plus Licens AB, who is one of the top licensing brokers in the Nordic countries and Eastern Europe," explained Kanji Kazahaya, director of international at Toei.

"We believe that they have a deep commitment to continuing Dragon Ball's licensing success and we look forward to working with them on expanding the brand in this vital region."
Any east-Europeans out there have anything to say in the matter? Have you had a severe lack of merchandise lately, and are you happy to hear about this? Let us know.
The April schedule for Dragon Ball Kai was printed in this month's issue of V-Jump, which included episode titles for the first four episodes. It should be noted that the titles for episodes 3 and 4 have "tentative" titles, and are subject to change: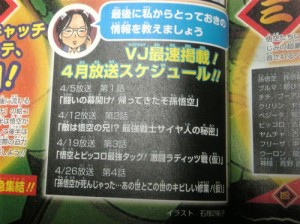 April 5th ~ Episode 1
「闘いの幕開け!帰ってきたぞ孫悟空」
"The Curtain Opens on the Battle! Son Goku Returns"
April 12th ~ Episode 2
「敵は悟空の兄!?最強戦士サイヤ人の秘密」
"The Enemy is Goku's Older Brother!? The Secret of the Saiyans, Strongest of Warriors"
April 19th ~ Episode 3
「悟空とピッコロ最強タッグ!激闘ラディッツ戦(仮)」
"Goku and Piccolo's Strongest Tag-Team! The Fierce Battle Against Raditz (tentative title)"
April 26th ~ Episode 4
「孫悟空が死んじゃった…あの世とこの世のキビしい修行!(仮)」
"Son Goku is Dead… Fierce Training in the Afterlife and Living World! (tentative title)"
It sounds like the first episode of Dragon Ball Kai will have some flashbacks to earlier Dragon Ball (non-"Z") material, as well as some of the Bardock TV special. Very interesting!
Also, as Julian pointed out in our most recent podcast episode (which you should listen to, as we review anything and everything Dragon Ball Evolution!), the new ending theme to Dragon Ball Kai is actually a play on words similar to "CHA-LA HEAD-CHA-LA" being a spin on hetchara, which means "carefree". While the new closing is written out in English as "Yeah! Break! Care Break", it is a play on yaburekabure, which means "utter desperation".
Episode #0168 of the podcast is available for download! You know, we joke time and time again how if we discuss the live-action movie on the podcast, it will "blow up" or otherwise give us horrible technical problems (like it genuinely did back on Episode #0148). Sure enough, while editing the podcast I noticed how either Meri's mic itself or the XLR cable fritzed out occasionally. In addition to that, random background noise would temporarily overtake the local recording track. Thankfully we do multi-track recording here, and I was able to (mostly) edit around Meri's issues, and simply silence out those strange anomalies. We will overcome this curse once and for all at some point in time, I assure you.
This episode, we did anything and everything DragonBall Evolution. That's right. We start out with Ayumi Hamasaki's CD single and music video for "Rule" (the movie's theme song), go into the VizKids adaptation of the story for their "Junior Novel", and finally… the big one… Julian reviews the movie itself from its Japanese theatrical debut. Definitely check it out. You don't want to miss this one.
SHOW DESCRIPTION:
Episode #0168! VegettoEX, Meri, and Julian review all things "Dragon Ball Evolution". We start out with Ayumi Hamasaki's CD single for the movie's theme song ("Rule"), go into the VizKids junior novel adaptation, and finally… the big one… Julian reviews the actual movie itself from its Japanese theatrical debut. It seems like it has been such a long time coming, and an impossibility, at that. How does it all stack up? Is it even worth the ticket price? Some random news bits, March's releases, and a quick e-mail round out the episode.
REFERENCED SITES:
Daizenshuu EX: The Podcast - Episode #0168
[ 1:02:13 ]
Play Now
|
Play in Popup
|
Download
Toshio Furukawa (Piccolo) gives us more information regarding Dragon Ball Kai with another blog update from the other day. Masaharu Satō will be playing the role of Kame-Sen'nin, as opposed to what seemed (and what we would have guessed) to be the character's formal replacement actor, Hiroshi Masuoka.
As a bit of background, Kame-Sen'nin's original actor, Kōhei Miyauchi, passed away in 1995 just before the end of the Drtagon Ball Z TV series. While Masaharu Satō and Kinya Aikawa stepped in at various points to play small bits of dialogue for the character, the entirety of Dragon Ball GT (and many other spin-off items like video games) were performed by Hiroshi Masuoka.
Furukawa updated his blog with this information and the following picture, showcasing (left to right, back to front) Masaharu Satō (Kame-Sen'nin), Ryō Horikawa (Vegeta), Toshio Furukawa (Piccolo), Shigeru Chiba (Raditz), Jōji Yanami (Narration, Kaiō-sama), Mayumi Tanaka (Kuririn), and Masako Nozawa (Son Goku, etc.):
The Fuji TV website has announced that Kenji Yamamoto will be responsible for the background music of Dragon Ball Kai.
While it is unfortunate that Shunsuke Kikuchi's score will not be making a return, those unfamiliar with Kenji Yamamoto will be happy to hear that he has actually been involved with the series and its spin-off properties for around twenty years, himself. Yamamoto is responsible for the arrangement of many TV and movie theme songs throughout the years, including TV songs like "CHA-LA HEAD-CHA-LA" and "Unmei no Hi ~Tamashî VS Tamashî~", as well as movie songs like DBZ movie 6 closing theme "Hero (Kimi ga Hîrō)" and DBZ movie 2 insert song "Pikkoro-san Da~isuki". In addition to direct involvement with the animated series, Yamamoto has been responsible for the scores of countless Dragon Ball video games like the Super Butōden series from the Super Famicom era, all the way up through more current games like Burst Limit.
Our personal opinion is that if there was going to have to be a background score replacement, this is how we would want it handled. We have full confidence in its integrity and its ability to fit the mood and tone of the series. Of course, we will just have to wait and see what the final product looks (and sounds!) like come April 5th…!
For the record, this Kenji Yamamoto is different than the Kenji Yamamoto responsible for Metroid music. They are two different people that spell their names with different kanji.
Our old buddy Greg (who ran "The Ulimate DBZ Info Site" for many years, starting it up back in 1997, a year before this site began) has posted up his review and thoughts on Dragon Ball Evolution over in our forum. Hopefully we will be able to get Julian to go see it this weekend, and we will all just have to wait another month before it hits our theaters.
Beware that there are a few spoilers in the thread… unless, of course, you are looking for that kind of thing.