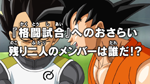 3007 February 2016

Rehearsing for the "Martial Arts Match"
Who Are the Two Remaining Members?!
"Super" News ∙ Series Info ∙ Episode List
It is impossible for FUNimation to ignore it at this point, so their hint that we will just have to wait until Anime Expo for the full, real, true confirmation will have to suffice for now in terms of an "official" statement.
Visitor EDDYS318 sent us a note with a link to a very real trailer for the first season DVD set over on the YouTube profile of Welch Compositions. Jim Welch is a "music composer and sound designer" that does work for companies like FUNimation, and has done trailer music for properties like One Piece and Romeo x Juliet.
Whether or not this is a true, accidental "leak" or if FUNimation just figures the cat is out of the bag at this point, all it does is end up as pretty brilliant marketing… I mean, we continue to go on and on about it, right? To be fair, since this will be the first time ever that the first 13 episodes of the franchise as a whole will be available uncut and in its original Japanese language in North America, it is a pretty big deal.
The commercial is played in a 4:3 aspect ratio (conflicting with the "widescreen" listings online), and notes that the first set will contain 31 episodes spanned across 5 DVDs, and will be "digitally remastered" (seemingly closer to the Dragon Ball GT style of "remastering" than the Dragon Ball Z style). No release date is set, though online listings (as we know) peg it for 15 September 2009 for an MSRP of $49.98, though it should be clear that those details are subject to change.
In addition to the cover art, the official website for Tenka'ichi Dai-Bōken confirms that the game will have multiple control schemes including Wii Remote + Nunchuck, Classic Controller, and even the Gamecube controller:
The latest commercial on the website also confirms a new theme song by Hiroki Takahashi (the performer of "Makafushigi Adobenchā!", the opening theme to the original Dragon Ball TV series).
As we mentioned in our last Blu-ray/DVD release update, Amazon Japan had listed the Blu-rays as being presented in the original 4:3 full screen aspect ratio. This fact has been confirmed on Happinet's website, which lists the screen size for the Blu-ray releases as 4:3 full screen (full HD) and the DVD releases as 16:9 widescreen. Obviously everything was remastered in full screen, but cropped simply for broadcast. Which begs the question — why did they crop it to begin with? Is there some television restriction in Japan that requires high definition broadcasts be in widescreen? All of this really raises more questions than anything, especially considering they are now releasing Blu-rays in the original aspect ratio but DVDs in the new cropped widescreen. We are so confused Toei!
So, what is the 4:3 full screen going to look like? Well, we actually got a bit of a preview on Fuji TV following the last Dragon Ball Kai episode when they aired a commercial for the first Blu-ray and DVD releases. Here are some comparisons, and you will have to excuse the difference in picture quality, but that is just the video quality of the live stream:
We also initially mentioned that it was not clear if there would be multiple individual Blu-ray volumes, or just the one already announced. Well, according to Happinet's site, there will in fact be only the one individual volume, but confirms that there will be a 4th box set, as we originally only knew about the first 3 box sets. This box set will retail for ¥15,960 (~$166) and is set to be released sometime in June 2010. It is listed to contain 10 episodes, which we assume will be episodes 40-49. Be sure to note this episode count.
From Amazon Japan's listings, we know there will be at least 10 individual DVD volumes, but Happinet's site has now listed an additional 7 volumes, bringing the total to 17. I will note that it mentions nothing about any DVD box sets which I think we can assume means we will not be seeing any, or at least not until after the series ends. Volumes 11-16 will contain 3 episodes each and is retailing for ¥2,940 (~$30), while volume 17 will contain 2 episodes and is retailing for ¥1,995 (~$20). At the moment, there are no set release dates for these volumes. So, with the first 16 volumes containing 3 episodes and volume 17 containing 2 episodes, this brings us to a total of 50 episodes. If you will remember, this differs from the Blu-ray release, which covers 49 episodes. It makes you wonder why the 4th Blu-ray box set does not contain 11 episodes, instead of 10, to bring it up to 50 episodes. Oh well…
The upcoming Dragon Ball video game for the Nintendo Wii, Tenka'ichi Dai-Bōken (The World's Greatest Adventure), finally has some cover art:
The game is set to be released 23 July 2009 and is retailing for ¥7,140 (~$75). However, Amazon Japan has it available for a pre-order price of ¥5,712 (~$54).
While no cover art is present (unlike the Wal-Mart listing), RightStuf now has an entry for the first season of Dragon Ball uncut on DVD, specifically noted as "hybrid" (meaning it will include both the Japanese and English audio tracks). It has the same information we have seen elsewhere (September 15th, $49.98)…
Meanwhile, FUNimation's official Twitter account now states:
At Anime Expo 2009, we'll FINALLY be able to announce a release that you know about already!
What could it be…?!
Episode #0180 of the podcast is available for download! With "season one" of the fantastically hilarious "DBZ Abridged" now complete, we decided it was time to bring some of the guys from TeamFourStar back on the show to talk about the project. This week we have KaiserNeko and MasakoX talking about the journey through the first season, the writing process, voicing Goku, and so much more! Download the show now, or head on over to the podcast page for more information or to subscribe.
Finally, big congrats to Stephen for winning our "Dragon Soul" CD single contest. Stay tuned for another contest in the very near future when we'll be giving away the Kai closing theme CD single, "Yeah! Break! Care! Break!"
SHOW DESCRIPTION:
Episode #0180! VegettoEX and Meri discuss the crazy news involving Blu-ray "Kai" boxsets in Japan and the original DB forthcoming "remastered" sets from FUNimation. Julian and Jeff then join in for a wonderful interview with members of TeamFourStar! "DBZ Abridged" has now completed its first season, so we brought on KaiserNeko and MasakoX to reflect on where the series has taken them and what to expect in the future. June's releases, an e-mail, and the giveaway of the "Dragon Soul" CD single round out the episode!
REFERENCED SITES:
Daizenshuu EX: The Podcast - Episode #0180
[ 42:59 ]
Play Now
|
Play in Popup
|
Download
We already told you all about how Wal-Mart's website updated with a listing for a so-called "Dragon Ball: Season One (Widescreen)" set, which FUNimation has officially stated was a "mistake". Well, now that Wal-Mart's listing has gone even further and included cover art for the set, it is pretty safe to assume that the "mistake" was on FUNimation's part for leaking information to retailers ahead of time yet again (just like in 2006 with the original remastered "Z" sets).
Unless there is some cunningly-nefarious IT intern at Wal-Mart that specifically has it out for North American-based Dragon Ball fans, we are getting pretty close to calling bullocks on FUNimation's denials, here. The box art falls right in line with the "remastered" releases for both the DBZ and DBGT TV series, and is different enough from the original 1995 dub's box art and the box art used for the Australian release of these episodes in conjunction with Madman (where Lionsgate's sub-license did not apply).
We will continue to keep you updated as this develops, but it does not seem like much more needs to "develop"… with the exception of FUNimation coming out and admitting it is coming, anyway! As it stands right now, the set appears to be coming out 15 September 2009 for an MSRP of $49.98. The Wal-Mart listing indicates it will be "widescreen", most likely in the faux-"remastered" style of the DBZ TV sets. There is no word on running time or the number of episodes it will contain, as well as the story with the oft-forgotten first Dragon Ball movie.
A quick article over on ICv2 about Navarre/FUNimation notes that they have extended their license on the Dragon Ball franchise for another five years. Nothing is stated with regards to when their prior license agreement runs (or ran) out, and what the new end-date in their contract may be.
Navarre, FUNimation's parent company, issued their annual report earlier this month. There are quite a few interesting tidbits we can pull out of this relating to Dragon Ball. Here are just a few of them:
In particular, one licensed property accounted for $32.0 million, or 46%, of FUNimation's revenues for the fiscal year ended March 31, 2009.
Seems pretty safe to assume that this "one licensed property" was DragonBall. It is certainly interesting how the property seems to account for half the money its licensees make.
Our gross profit decreased to $67.0 million or 10.6% of net sales for fiscal 2009 compared with $101.6 million or 15.4% of net sales for fiscal 2008. The decrease in gross margin of $34.6 million was a result of:

• impairment and other charges of $16.4 million related to accounts receivable reserves, inventory and prepaid royalties associated with the BCI restructuring;

• impairment and other charges of $8.8 million related to license advances, production costs and inventory associated with the FUNimation restructuring; and

• decreased sales volume.
While the restructuring over at FUNimation certainly caused a bit of a hit, it was no surprise and most likely necessary for them to continue operations.
In connection with the FUNimation acquisition, the Company entered into an employment agreement with a key FUNimation employee providing for his employment as President and Chief Executive Officer of FUNimation Productions, Ltd. ("the FUNimation CEO"). Among other items, the agreement provides the FUNimation CEO with the ability to earn two performance-based bonuses in the event that certain financial targets are met by the FUNimation business during the fiscal years ending March 31, 2006-2010. If the total earnings before interest and tax ("EBIT") of the FUNimation business is in excess of $60.0 million during the period consisting of the fiscal years ending March 31, 2009 and 2010, the FUNimation CEO is entitled to receive a bonus payment in an amount equal to 5% of the EBIT that exceeds $60.0 million; however, this bonus payment shall not exceed $4.0 million. No amounts have been expensed or paid under this agreement as the targets have not been achieved.
While we have noted this plenty of times before, we will continue to bring it up as we get closer to the magical money date for Gen Fukunaga. It appears that they have still not hit the threshold for the bonus payout. 2010 seems to be a de facto big ending point for a lot of organizations, with the Atari license also supposedly ending in January 2010 (but with Namco-Bandai seemingly releasing things on their own, already… who knows?).
The big news of the day is clearly the Dragon Ball Kai Blu-ray and DVD sets and their listed details. The first Blu-ray set is due out 23 October 2009; keep in mind that the first disc (with the first three episodes) is due out 18 September 2009. That first disc is important because this first set appears to contain only episodes 4-15, rather than the entire 1-15. Amazon Japan has it with a list price of ¥15,960 (~$163) but with a decent pre-order price of ¥11,810 (~$120).
Furthermore, the description for the box specifically details it as being 4:3 with a description of now seeing the full image from the broadcast 16:9 version and how we will now finally be able to see everything in full detail. While we are excited to see someone take the lead with a high-def release of the series in its intended aspect ratio, this goes against everything we have seen and heard so far with regards to Kai and its production. Extras with this first set will include a promotional video for the upcoming Raging Blast PS3/360 game, creditless versions of the opening and ending, and more.
Amazon Japan actually has release dates for the first three Blu-ray sets:
Episode 028 appears to have vanished — if we had to guess, we would say the last box set actually contains episodes 028-039. From these details, it seems that the Blu-ray version of the release will start with the single disc, and then move on to box sets only.
The DVD release on the other hand appears to be single discs only with no box sets at all. Amazon Japan has updated with release dates for the first ten volumes on DVD:
Although the first volume is retailing for ¥1,995 (~$20), volumes 02-10 are retailing for ¥2,940 (~$30). Much like the Blu-ray release, you can pick up the first few episodes on the cheap to see if you are into the series. Once again, episode 028 is not listed for some reason.
All of the case artwork will be drawn by Naoyoshi Yamamuro, a veteran animator involved with all three series and one of the animators responsible for the opening and ending animations in Dragon Ball Kai. You may not know it, but you've seen his work before — he is responsible for all of the artwork for the Dragon Box individual discs, Dragon Box The Movies, and the recent Jump Super Anime Tour DVD. Some of his new art is also being used as a place holder on Amazon Japan and the official release site.
We will continue to keep you updated as more information about these sets leaks its way to us.