Goku will be making a not-all-that-unexpected appearance in the upcoming "Dr. Slump & Arale-chan" on the Nintendo DS, due out 30 October 2008 in Japan.
I would not hold my breath for a domestic release on this one…
The upcoming "Dragon Ball Z: Infinite World" for the PS2 has been getting a lot of press thanks to the currently-on-going Tokyo Game Show. Namco-Bandai has been showcasing it among all of their other games, and we have been able to learn a little more about it.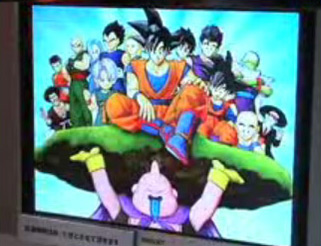 It appears that the opening sequence to the game is going to be CG-based (like Spike's "Sparking!" series) rather than traditional 2D animation (like Dimps' "Budokai 2″ and "Budokai 3″). Thankfully, it looks much more faithful to the source material than Spike's efforts. You can catch a glimpse of it thanks to a video by DigInfo floating around on YouTube.
Additionally, a page over on the Atari UK website is noting music by Hironobu Kageyama. Will we be getting yet another new vocal theme song?! Here's hoping! It could just be a recycled older song (similar to "Sparking!" and "Sparking! NEO", along with "Super Dragon Ball Z" in a way), so we will have to wait for more solid confirmation on that.
If you need even more to salivate over, IGN has a crap-ton of screen shots up.
"Famitsu" had some new "Infinite World" screens up this week:
Sounds like we have some nice little mini-games coming our way. That first one is of Trunks training with Vegeta in the Room of Spirit and Time (hopefully it will be better than the respective stage in "Sagas", which if I remember correctly is where I threw the controller at the wall and gave up for good). The second is looking to be my favorite so far, which is taking control of Freeza from a first-person perspective and shooting some Namekian arse out of the sky!
"Infinite World" is due out on the PS2 in Japan 04 December 2008, but in the US earlier on 04 November 2008.
Episode #0148 of the podcast is available for download! This was an interesting episode, because it was supposed to be about the upcoming live-action movie, and more specifically about the trailer(s) that leaked online earlier this month. However, it simply was not meant to be. Due to some slight incompetence on my end, and a little bit of Linux being a jerk, the entire topic-portion of the show is more or less a lost cause. Instead, what we have for you is the opening conversation, and then a story from Herms of Kanzentai about how he tried to sneak into the Jump Anime Tour to catch a showing of the new DBZ special! Definitely check it out.
SHOW DESCRIPTION:
Episode #0148! VegettoEX, Meri, Julian, and even Jeff ATTEMPT to talk about the live-action movie and the recent trailers that have leaked online, but it was not meant to be. Is this a sign? An omen from the heavens? Who knows?! We stitch together the coherent beginning conversation, and even get an extra story from Herms about trying to sneak in to the Jump Anime Tour!
REFERENCED SITES:
Jump Anime Tour Special Synopsis @ Kanzentai
Daizenshuu EX: The Podcast - Episode #0148
[ 24:19 ]
Play Now
|
Play in Popup
|
Download
Episode #0147 of the podcast is available for download! We are easing our way back into doing the podcast again after a week off, but we've certainly got some content for you. We took a look at three different CDs this week (Burst Limit OST, Dragon '98 Live Special, and Animelody Night), complete with samples from each. Definitely check it out.
SHOW DESCRIPTION:
Episode #0147! VegettoEX and Meri recap AWA and all of the shenanigans that went on. We also review three CDs ("Burst Limit" OST, Dragon '98 Special Live, Animelody Night). Some e-mail and music discussion and general awesomeness rounds out the episode.
REFERENCED SITES:
Daizenshuu EX: The Podcast - Episode #0147
[ 34:56 ]
Play Now
|
Play in Popup
|
Download
We have been back in town since Sunday evening, but I suppose you could say that we are still recovering from Anime Weekend Atlanta. We had a very nice time and got to meet a few new people, so all is well and great with the world.
But hey, a lot of you seem to be showing up thanks to the awesome video the guys over at TeamFourStar made for our panel at the convention. Welcome! There is a ton of stuff for you to check out on the website. Browse through all of the sections, but let me immediately point you over to our weekly podcast. We actually interviewed KaiserNeko and Lanipator back on Episode #0135, so that should be right up your alley. Big thanks to those guys for the amazing hard work and all the plugs!
Despite receiving a title change from "Dragon Ball DS" to "Dragon Ball: Origins", the game is indeed keeping the original Japanese cover art:
The Japanese release comes out 18 September 2008, while the American release is looking like 04 November 2008.
Both "Dragon Ball: Origins" (known in Japan as "Dragon Ball DS") and "Dragon Ball Z: Infinite World" were shown off at Atari's recent press event / gamer's day. You can read all about them over at places like Kotaku and IGN. The most important things to take away? "Infinite World" does indeed have a selectable Japanese voice cast, and the capsule system from previous "Budokai" games is back. Additionally, our buddy Dogasu has put up some thoughts on the Japanese "Dragon Ball DS" demo over on our forum.
In somewhat-related gaming news, Infogrames has entered into a partnership with Namco-Bandai, exclusively handling their distribution over in Europe. Infogrames is not stopping there, however, and expects to strike similar deals with other gaming companies, adding approximately €95 million in additional value to the company.