Anime Weekend Atlanta 2014 took place over the weekend and with several friends of the site in attendance we have been able to secure a couple quick Dragon Ball voice actor updates.
Jourdan ("Kakarot88″) passes along word that Yūko Minaguchi confirmed she would return as the voice of Videl in the upcoming video game Dragon Ball XENOVERSE. Minaguchi added that she would also return to voice Videl and Pan again in the future, and that the Majin Buu arc of Dragon Ball Kai has been an exception due to her living in New York at the time; the role of Videl has been taken by Shino Kakinuma for the final arc of the "refreshed" series.
William ("theoriginalbilis") also passes along word by way of "OmegaRockman" that Scott McNeil continued to confirm the existence of an alternate English dub of Dragon Ball Kai sourcing many actors from the original Ocean Studios pool (used in FUNimation's original 1996-1998 Dragon Ball Z dub and a later alternate dub primarily produced for the UK market). It was also slipped that the role of Goku has indeed been re-cast (yet again) to the heavily-suspected Richard Ian Cox. This will be the fourth actor from said voice pool to play Goku (Ian Corlett, Peter Kelamis, Kirby Morrow, and now Cox); Morrow noted in a 2010 podcast appearance that the new production company found his portrayal to be "too cool" for the character.
Said alternate dub of Dragon Ball Kai has never been officially confirmed by any production company or television network, though voice actors for Freeza (Lee Tockar) and the aforementioned Goku (Kirby Morrow) have slipped tidbits about their new castings or replacements, respectively. Earlier this year, what appears to be a replacement opening theme song for the alternate production was discovered on a website for composer Dave Steele.
Set for release this November in Japan is a new anime theme song covers album from none other than Ryō Horikawa (voice actor for Vegeta) entitled — amusingly enough — "Ryō Horikawa's I-Tried-Singing-Anime-Tunes" (堀川りょうのアニソン歌ってみた Horikawa Ryō no Anison Utatte Mita).
While no full track listing is available yet, songs from such popular anime as Fist of the North Star, Tomorrow's Joe, Space Battleship Yamato, Neon Genesis Evangelion, and Saint Seiya are set for inclusion.
The album (DDCZ-1990) will drop 05 November 2014 for ¥1,620 and is available for pre-order from CDJapan and Amazon Japan.
In-character as Vegeta, Horikawa has performed two Dragon Ball songs: a Dragon Ball Z image song entitled "Lord Vegeta's Cooking Hell!!: Okonomiyaki Recipe" in 1989, and a Dragon Ball Kai insert song entitled "Saiyan Blood" in 2009.
Horkiawa released a voice acting coach DVD, Seiyu ni Naro Voice Acting Studio, back in 2009.
The American branch of Bandai Namco has announced they will participate — alongside the European and Japanese branches — in the second phase of the Dragon Ball XENOVERSE network test in October.
Unlike the first phase, which was exclusive to Japanese account holders and was entered via lottery courtesy of a PlayStation Network download item, the American branch will dish out download codes to the first 20,000 North and South American players who grab them 03 October 2014.
When is the test?

Network Test servers will go live Oct 4th at 5:00 AM PDT
Network Test will end Oct 5th at 8:00 AM PDT

How can I participate?

On Oct 3rd, we will share a download code on the Dragon Ball Z Games Facebook Page that is redeemable via the PlayStation Store for the first 20,000 players who enter it.
After 9:00 AM PDT on Oct 3rd, players can start downloading the client.
After 5:00 AM PDT on Oct 4th, players can begin playing. As this is a Network Test, players must be connected to the PlayStation Network and can only play while the servers are live. The servers will go offline Oct 5th at 8:00 AM PDT.
Tune in to Podcast Episode #0370 for a quick recap and review of the first phase of the network test.
Dragon Ball XENOVERSE — currently in development by Dimps for Bandai Namco — will be released on the PlayStation 4, Xbox One, PlayStation 3, Xbox 360 and PC (via Steam) some time in early 2015, though no concrete release date has been set. The game's story is set to adapt many elements from the now-defunct MMORPG Dragon Ball Online.
Media Create has released sales figures for the week of 15 September 2014 to 21 September 2014, noting that Dragon Ball Heroes: Ultimate Mission 2 for the Nintendo 3DS — a sequel to the first portable version of the nearly-four-year-old, still-going-strong, card-based arcade game — pushed another 2,792 copies during its seventh week in Japan.
This places the game at 139,934 total copies sold thus far. Its predecessor had pushed more copies by its respective seventh week, but fell off the charts for about a month before seeing a large resurgence in sales starting with its tenth week after release.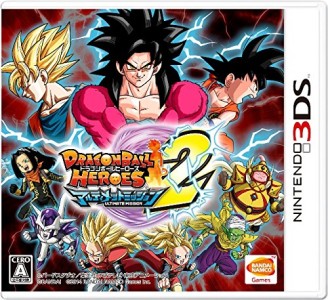 Dragon Ball Heroes: Ultimate Mission 2 is available for purchase at CDJapan and Play-Asia. A Japanese system is required to play the (region-locked) game.
This week has basically been all-XENOVERSE all the time! We have a short episode for you this time around, but it is a great catch-up on all the latest news for the game as well as experiences with the recent Japanese network test on the PlayStation 3. Tune in for the full scoop!
SHOW DESCRIPTION:
Episode #0370! VegettoEX dives into all the latest news on the upcoming "Dragon Ball XENOVERSE" video game (Towa and Mira from "Dragon Ball Online", PC announcement, etc.) before reviewing the game's recent Japanese network test. How much is the game an MMO in comparison to being a fighting game and how does it feel so far? Your thoughts and a special musical treat from Vitek round out the episode!
REFERENCED SITES:
Enjoy! Discuss this episode on the Kanzenshuu forum, and be sure to connect with us on Twitter, Facebook,Google+, and Tumblr.
Kanzenshuu - The Podcast: Episode #0370
[ 31:28 ]
Play Now
|
Play in Popup
|
Download
After several weeks of teasing a new initiative that would "surpass" Shōnen Jump, Shueisha has unveiled their new "Shōnen Jump+" project.
The new "Shōnen Jump+" app — available for iOS, Android, and PC viewing — provides access to a digital version of Weekly Shōnen Jump day-and-date with the print edition. Individual issues (which lack the ads and product spotlights of the print version, but instead include bonuses like colorized chapters and other extra content) are available for ¥300 each or a ¥900/month subscription. Subscriptions also include the latest issue of Jump NEXT!!, a special edition of Jump that is released every few months.
In addition to all of the above (the "Plus" in the title), the app also features over 25 titles for free. New entries revealed thus far include one-shots from well-known Jump artists, new app-exclusive series, material previously serialized through the "Jump LIVE" app (such as ēldLIVE and Rough Diamond), and at least one series that ran in Saikyō Jump prior to its bimonthly revamp (Fuwari! Don Patch, Yoshio Sawai's gently-paced slice-of-life spinoff of Bobobo-bo Bo-bobo).
Additionally, readers will be able to check out chapters of selected past hits like Dragon Ball (which appears to be two chapters at a time, starting from Volume 36).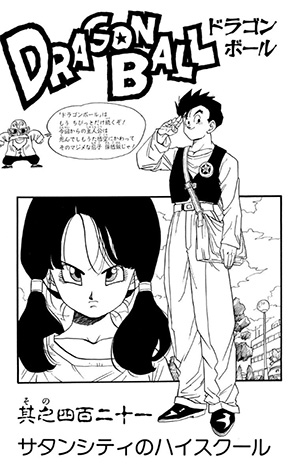 "Shōnen Jump+" currently offers the latest issue (2014 #43) with back issues going back to June's 2014 #27 issue (available for individual purchase only).
After shuttering their monthly print publication, Viz launched their English-language "Shonen Jump Alpha" online product in 2011 with series delayed two weeks behind their Japanese counterparts. The company moved to a day-and-date digital version of "Weekly Shonen Jump" in 2013 which has included publication of Jaco the Galactic Patrolman and the "Full Color" edition of the Dragon Ball manga. While Shueisha has previously offered certain issues of the Japanese Weekly Shōnen Jump (such as the 45th Anniversary issue in 2013) through the "Jump Book STORE!" app, this marks the first time that the company has attempted a regular digital edition of one of its manga anthologies.
After originally debuting during a Tokyo Game Show 2014 live video stream in Japanese, Bandai Namco have begun unveiling a special extended trailer across their social media channels to promote the upcoming Dragon Ball XENOVERSE video game:
The promotional video covers the same material as the previously-released 60-second version, but goes on to showcase your potential avatar characters using signature techniques from the Dragon Ball cast, a plethora of customizable clothing options, the Toki Toki City hub, as well as a glimpse at the new antagonists, Towa and Mira. Types of matches available to players will include 1-vs-1 up to 3-vs-3.
Dragon Ball XENOVERSE — currently in development by Dimps for Bandai Namco — will be released on the PlayStation 4, Xbox One, PlayStation 3, Xbox 360 and PC some time in early 2015, though no concrete release date has been set. A network test will be conducted in two phases on the PlayStation 3, with the first happening over the weekend for Japanese players and the second phase coming in October to global players.
This week's November 2014 issue of V-Jump in Japan unveils a new smartphone game on the way from Bandai Namco entitled Dragon Ball Z: Dokkan Battle.
In conjunction with Tokyo Game Show 2014, the company provided a short teaser for the game:
Very little is stated or explained about it, though it is listed as a "Destruction Battle" game.
An official website was also opened at dbz-dokkan.bngames.net. The game is scheduled for release this winter in Japan. Nikkei and Famitsu report that the game will also make its way abroad with specific mentions given to mainland Asia, Europe, and the United States.
While Bandai Namco has released several Dragon Ball smartphone games in recent years (including Dragon Ball: Tap Battle and Dragon Ball RPG: Boyhood Arc), none have made their way to a global release as seems to be in the cards for Dokkan Battle.
The upcoming Dragon Ball XENOVERSE video game, previously announced for the PlayStation 4, PlayStation 3, Xbox One, and Xbox 360, has now been announced for release on the PC by way of Steam:
An English-subtitled version of the game's 60-second promotional video released earlier today also confirms the same platform:
Dragon Ball XENOVERSE — currently in development by Dimps for Bandai Namco — will be released some time in early 2015, though no concrete release date has been set. A network test will be conducted in two phases on the PlayStation 3, with the first coming this weekend for Japanese players and the second phase coming in October to global players.
Having been teased for a while, and set to make a larger debut during a live stream 05 October 2014 (as a part of the "Super Saiyan 4 Broli Explosive Birth Festival" for the fourth anniversary of Dragon Ball Heroes), Broli also makes an appearance in Super Saiyan 4 courtesy of the 25th chapter of Dragon Ball Hereos: Victory Mission by "Toyotarō" in the November 2014 issue of V-Jump.
In the chapter (悪魔の急襲!!! Akuma no Kyūshū!!! / "The Devil's Surprise Attack!!!"), after dispatching the Three-Star Dragon (who itself was manhandling Kabra's cards), Broli shows up again at a different battlefield to pummel Kagyu. Now that Froze and Beat have shown up, Broli appears behind them, looking like he is itching for a fight. Is Broli after the Dragon Balls, too…?!
Stay tuned for even more coverage of Dragon Ball Heroes and its spin-off manga Victory Mission in the near future!