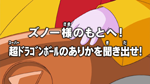 3114 February 2016

To Lord Zuno! Ask About the Location of the Super Dragon Balls!
"Super" News ∙ Series Info ∙ Episode List
The official Dragon Ball 30th anniversary website has launched a new special page covering the upcoming 30th Anniversary Dragon Ball Super History Book set to hit shelves 21 January 2016. The page includes the book's final cover design and notes it will include a "reversible special poster" featuring the first chapter's title page on one side and the final chapter's title page on the other.
The book will feature a lengthy interview with original author Akira Toriyama, who shares his "secret" stories and memories from the series serialization in Weekly Shōnen Jump. The interview is advertised to be his "last super long interview", although the page does not clarify what exactly this means. In addition to the interview, Toriyama will also provide commentary on some of his Weekly Shōnen Jump cover illustrations. The book will also feature some of Toriyama's previously unpublished illustrations, including character and setting sketches, the final chapter's storyboard, and character and set designs for Dragon Ball Super.
In addition to the Toriyama-related material, the book will also detail the animated TV series and movies, card games, video games, and various other merchandising items released over the last 30 years. The section will also include production staff interviews.
The 248-page, B5-sized book will retail for ¥3,500 (+ tax) and is currently available for pre-order via CDJapan and Amazon Japan.
Columbia has announced the first soundtrack for the Dragon Ball Super TV series will be available in Japan 24 February 2016, the same day as the "Dragon Ball Godly BEST" theme song compilation.
The soundtrack (COCX-39463; ¥3,500 + tax), featuring music from the TV series by composer Norihito Sumitomo, will also include TV-sized versions of the opening theme ("Chōzetsu ☆ Dynamic!" by Kazuya Yoshii) and first closing theme ("Hello Hello Hello" by Good Morning America). A track listing is currently not available.
The soundtrack is available for pre-order via CDJapan and Amazon Japan.
The official Dragon Ball Super Twitter account recently revealed that a new theme song compilation will see its release 24 February 2016 in Japan as part of the TV anime's 30th anniversary celebration.
アニメ放送30周年を記念して、初代オープニング曲「魔訶不思議アドベンチャー!」から「ドラゴンボール超」主題歌まで、シリーズ歴代主題歌を集めたアルバム「ドラゴンボール 神 BEST」2月24日発売決定!

---

To commemorate the 30th anniversary of the TV anime's broadcast, the series' historical theme songs, from the first opening theme "Mystical Adventure!" to the Dragon Ball Super theme song, will be collected on the "Dragon Ball Godly BEST" album set to be released February 24th.
The Dragon Ball Godly BEST (ドラゴンボール 神 BEST) album will contain an array of theme songs starting with "Mystical Adventure!" from the original Dragon Ball TV series, which will have premiered almost exactly 30 years prior (26 February 1986) to the album's release. The album will also include "CHA-LA HEAD-CHA-LA" from Dragon Ball Z and the most recent theme song "Chōzetsu ☆ Dynamic!" from Dragon Ball Super. The album is set to be released 24 February 2016 for ¥2,778 with a catalog number of COCX-39493-4.
Columbia's website also includes a listing for a "Limited Edition" with a catalog number of COZX-1144-6, indicating that the CD+DVD combo pack will include two music CDs and a bonus DVD for ¥3,500 (+ tax). The "Limited Edition" DVD will include videos of the theme song's opening animations. The regular and "Limited Edition" versions are currently available for pre-order at CDJapan.
Though previously confirmed via leaked pages from the February 2016 issue of V-Jump, which was officially released 19 December 2015 in Japan, the official Dragon Ball Super Twitter account and website have confirmed that the TV series will kick-off the "God of Destruction Champa arc" beginning 24 January 2016 with the show's twenty-eighth episode.
Fuji TV producer Osamu Nozaki commented on the significance of this new story arc and its timing with the TV anime's 30th anniversary:
アニメ放送開始から30周年という記念すべきタイミングで、『ドラゴンボール超』の物語はいまだかつて、コミック、テレビシリーズ、劇場版など一切描かれてこなかった前人未到の領域に突入します。

遂に新キャラクター・破壊神シャンパの正体が明らかになるなど、鳥山原作の新キャラクターが続々登場し、活躍します。

---

The 30th anniversary of the TV anime's broadcast will have memorable timing, as Dragon Ball Super's current story, which is based around the past comics and TV series, will now move into an unexplored area that hasn't been portrayed at all, such as in a movie.

The true identity of the new character God of Destruction Champa will at last be revealed, with original new characters from [Akira] Toriyama appearing one after another.
The manga adaptation by Toyotarō, published monthly in V-Jump, charged forward with Champa material ahead of the TV series beginning with last month's January 2016 issue and the series' sixth chapter. The February 2016 issue of V-Jump contains the series' seventh chapter and introduces Beerus' Universe 7 team (top) who will compete in a tournament against Champa's Universe 6 team (bottom).
Though Champa and his attendant Vados were introduced back in the manga's second chapter, the duo did not make an appearance in the TV series until last month's eighteenth episode.
Original manga author Akira Toriyama is providing the character designs and underlying story for the upcoming Universe 6 / Champa story arc.
Dragon Ball Super airs Sunday mornings at 9:00 a.m. on Fuji TV in Japan. An English dub for the Toonami Asia market has been announced as the first international release of the series.
The fourth collected volume of Dragon Ball SD is on its way from Shueisha and will hit Japanese shelves 04 February 2016 for ¥600 + tax in print with a digital edition also expected.
The release will mark more than a full year since the third collected volume, no doubt due to the current bi-monthly schedule of Saikyō Jump were Naho Ooishi's "chibi" spin-off manga is serialized.
The fourth volume will pick up with the Uranai Baba arc in Dragon Ball SD chapter 29. If the previous volumes and their roughly ten chapters' worth of standard material are any indication, the volume should take us well into the 22nd Tenka'ichi Budōkai. The volume is available for pre-order at Amazon Japan.
The January 2016 issue of Saikyō Jump, released earlier this month (04 December 2015), contained the spin-off manga's 40th chapter since its 2011/2012 reboot.
Japanese rock band LACCO TOWER has announced that their upcoming single — "Light Pink" (薄紅) — will take over as the third ending theme song for the Dragon Ball Super TV series beginning 10 January 2016. This will correspond to episode 26, as the series will be on break the week prior.
The band's vocalist, Keisuke Matsukawa, made the following comment on OKMusic:
まるでドラゴンボールを7つ揃えたかのように、願いが一つ叶いました。
幼少の頃、マンガといえば「ドラゴンボール」。人生最初の英雄は「孫悟空」。いつか本当に出るんじゃないかと思って何度も練習した「かめはめ波」。フリーザが変身した時は第1形態ですでに興奮最高潮。超サイヤ人になりたくてずーっと力を溜めてみたり。

僕を含め多くの人が、同じようにこんな道を歩いてきたんじゃないかと思います。

そんな壮大な思い入れのあるアニメのエンディングテーマに、今回ありがたくもLACCO TOWERのニューシングル「薄紅」が抜擢されました。
今までのバンド人生の中でこれほど嬉しかった事はありません。

強靭な敵と出会い、たとえ負けても修行を繰り返し、また立ち向かい、ついには撃破する。
今思えば日々孫悟空のような戦いを繰り返している僕らに、ドラゴンボールはいろんな事を教えてくれている気がします。
そして今なお進化を続けるドラゴンボールのように、今回僕等も今までの自分たちを「超」える作品を用意することが出来ました。

紛れもない最高傑作です。
最強のアニメのエンディングテーマに恥じないバンドであるように、また僕等も修行を続けます。是非この機会に、LACCO TOWERに、そして「薄紅」に触れてみてください。


---

It's as if I gathered the seven Dragon Balls and had my wish granted. When I was little, Dragon Ball was the manga. "Son Goku" was my very first hero. I practiced doing the "Kamehameha" countless times on the off chance that I might eventually manage to fire one off. When Freeza transformed, I was already at the peak of excitement with his 1st form. I wanted to become a Super Saiyan, so I tried charging up my power.

I think there are probably loads of people who have had the same experiences.

I'm grateful that LACCO TOWER's new single "Light Pink" has been selected as the ending theme for an anime that I have such tremendous emotional attachment for.

Never before in my entire career have I been so happy.

Encountering powerful enemies, and even when you lose still continuing to train so you can face them once again and finally prevail. Thinking back on it now, I get the feeling that Dragon Ball teaches us a lot as we go on battling each day like Son Goku. And just as Dragon Ball keeps on evolving, we've likewise managed to prepare a song that surpasses our previous efforts.

It is beyond a doubt a masterpiece of the highest order.

We'll go on training too, in order to be a band worthy to perform the ending theme for the mightiest of anime. Please take this opportunity to give LACCO TOWER and "Light Pink" a shot.
The single is currently available for pre-order via Amazon Japan and CDJapan. It will include two new singles, a re-recorded song track, and each track's corresponding instrumental track.
薄紅
"Light Pink"
奇々怪々
"Bizarre"
灯源 (Re-Recording)
"Light Source" (Re-Recording)
薄紅 -Instrumental-
"Light Pink" -Instrumental-
奇々怪々 -Instrumental-
"Bizarre" -Instrumental-
灯源 (Re-Recording) -Instrumental-
"Light Source" (Re-Recording) -Instrumental-
CD singles for the show's first two ending themes — "Hello Hello Hello" by Good Morning America and "Starring Star" by KEYTALK — have been released. A CD single for the show's opening theme — "Chōzetsu ☆ Dynamic!" by Kazuya Yoshii — was released 07 October 2015.
Music has been in the DNA of this website going all the way back to not just Daizenshuu EX but even VegettoEX's Home Page before it. From track listings to lyrics to reviews and beyond, we absolutely adore the music in Dragon Ball. Join us for an introductory course on the main figureheads behind the franchise's music (yes, including those in Japan and North America, believe it or not…!) as we attempt to discover what it truly is that defines the music in Dragon Ball.
SHOW DESCRIPTION:
Episode #0392! VegettoEX and Kirbopher trek through a sea of Dragon Ball music composers in an attempt to answer the big question: what defines Dragon Ball music? Is it the instrumentation or the raw compositions? What aspects can be found in each different musical score? Join us for an in-depth look!
REFERENCED SITES:
Enjoy! Discuss this episode on the Kanzenshuu forum, and be sure to connect with us on Twitter, Facebook, Instagram, Google+, and Tumblr.
Kanzenshuu - The Podcast: Episode #0392
[ 1:40:14 ]
Play Now
|
Play in Popup
|
Download
Here at Kanzenshuu, we have inadvertently produced a podcast mini-series on critical thinking over the years: back in 2013 with a supposed new series announcement, and again just recently with a supposed new movie announcement. In each case, we tracked information back to the original source, dissected various statements, provided independent translations, etc.
We of course realize and understand that not every fan is capable of doing research to this extent on their own, and we deeply appreciate that you turn to us for analysis and confirmations. That being said, there are steps that anyone can take to start the process on their own. The following example is a great case study, and we invite you to follow along for yet another primer in critical thinking with regard to Dragon Ball information that you may come across in the rustling grass of the wild Internet.
STEP 0: THE CLAIM
A statement in the Dragon Ball Super: Super Start Guide explains that Beerus is the first character in the series to exceed the speed of light.
STEP 1: THE SOURCE
A Google+ user named Wade "Zaddy" Strine made the following post on November 26 within the "Battle Kingdom" community:
Beerus Was the First Character In DBZ to be FTL

Some of you may know about the Dragon Ball Super Start Guide, but I am guessing you haven't read it. The reason I am guessing that is because it is only in Japanese, and full copies are very hard to find. Well, I met up with a friend recently who I had not seen in a long time. He is one of the only Anime fans I know, and, as he is Filipino, he actually speaks fluent Japanese.

(The Guide, for those of you who don't know)
http://dragonball.wikia.com/wiki/Dragon_Ball_Super_Start_Guide

So, he was showing me his collection, and this one stuck out because it was all Japanese. I was wandering what it was about, as I saw DBZ on the cover. Contrary to what a lot of you may believe, I AM a huge fan of the series, and I was also wearing a DBZ shirt at the time. Lol.

Well, he showed me it. He got it from this site, but they are currently out of print.

http://www.cdjapan.co.jp/product/NEOBK-1827129

He was flipping through, showing me this different passages, and we came across one, towards the beginning of the book, detailing the arrival of Beerus.

Here is a scan I took using his printer. (I went ahead and underlined it on MS Paint so you guys could tell which part I was talking about.

Underlined part says, "ビルス の登場!光の速度を超えることができたZ-ファイターズが満たされている最初の文字!"

The part translates directly to this, "The emergence of Beerus ! First character Z- fighters which can exceed the speed of light are met !"

That is really sloppy because of the translating, but what it is saying is "The arrival of Beerus! The first character the Z-Fighters have met who can exceed the speed of light!"

So, according to this databook, no character before Beerus' arrival was FTL. Damn.

I am known as a down player, but even I wouldn't go that far. Lol.

What do you guys think? Does this put a damper on the databooks' reputation?
An additional Google+ user linked to the article garnering responses of their own (with the post having since been removed), while users on social media began to approach Kanzenshuu and its administrators yesterday with the following image, asking for verification:
STEP 3: THE CITATIONS
The original post in question refers to a book called the "Dragon Ball Super Start Guide" [sic], and links to both a Wikia article and CDJapan entry as proof of its existence. Indeed, the Dragon Ball Super: Super Start Guide is a real book released in Japan earlier this year, just ahead of the Dragon Ball Super TV series' debut.
People making false claims may point to imaginary sources (such as the non-existent Akira Toriyama interview with "Nirazaki Tihashiberi" in the fabled "Super Otaku Magazine", itself erroneously cited by "ryandbeast" within the post's comments). Oftentimes these same types of people will name-drop legitimate sources to suggest the appearance of authority. In this case, Strine cited the Super Start Guide as his source. This citation works in his favor as being a legitimate magazine, but also one that was in short supply and has indeed since gone out-of-print. Those looking to independently confirm the information would either have to order a copy on the second-hand market, or find someone who had purchased it during its original release window.
STEP 4: CRITICAL THINKING
Truth be told, the Japanese production staff are even less interested in describing and confirming these "feats" than we at Kanzenshuu are in translating them (that is to say: not at all). Statements about power, speed, and strength in Japanese Dragon Ball guide books are traditionally vague and open to interpretation (simply toss the phrase "Daizenshuu says Goten = Gohan" at any given "versus debate" fan and see where you end up). It seems very unlikely that a promotional guide book — put out ahead of its respective TV series' debut, and therefore ahead of the battles supposedly being described — would make such a claim. Additionally, the book has been released and in the wild for five months; any surprising or genuinely-new tidbits of information likely would have made their way out in that time.
Strine invokes the "appeal to / argument from authority" fallacy common to these claims: that he has a friend fluent in Japanese. Strine also claims the image to be a scan, though the text in the image is rather clearly just text typed directly into a computer and screen-capped: it is crisp, perfectly aligned, and the pixels are visible upon close inspection. It is of course possible to clean up a scan, but for it to appear so "perfect" in such a spot online is unlikely. People with questions about guide book information generally provide either a full-page scan, or the typical "potato quality" cell phone photo which also provides surrounding context (images, text, etc.) on the page.
The text splash on the subsequent image is riddled with typos: "Kaizenshuu", "teeporting", "tanslation", etc. While various points are indeed accurate (瞬間移動 shunkan-idō, literally "instantaneous movement", is the colloquial phrase for "teleportation"), the entire image comes across — and may have been intended — as a parody when viewed through a critical lens. The poor color choices and layout, typos, and comparisons to random American comic book characters should be enough to raise an eyebrow.
STEP 5: EXAMINE THE AGENDA
A cursory glance at some of Strine's posts showcase active "versus debates" in both Google+ communities and abroad, all filled with sarcastic and dismissive comments… until this revelatory post of his own, which suddenly invites feedback and opinions after humbly admitting that, contrary to what his readers may think, he is indeed a fan of the series.
STEP 6: FULL ANALYSIS
The sentences that mention Beerus are not coherent Japanese; for example, instead of the relevant word for "character", the post uses a term that means a letter in a word rather than an individual in a work of fiction. The sentence was, in all likelihood, constructed via Google Translate. Indeed, plugging in Strine's own "translation" as the English text nets you the exact Japanese text purported to be from the book:
Perhaps most hilarious of all, the surrounding text is taken from a vibrator review:
"Before I married my current husband, I used this out of interest [when I saw it] at a love hotel. It felt sooo good, I had it used on me every time I went to one. After 9 years of marriage, I was dissatisfied with My married life, which had started to be just going through the motions, but of course I couldn't say that [to him]… [but then] I happened upon this by chance and quietly bought it. I use it in secret from my husband. BEERUS' ARRIVAL! THE FIRST LETTER OF THE FULFILLED Z-FIGHTERS WHO COULD EXCEED THE SPEED OF LIGHT! I can't come with my husband, but I do it right away with this. You might suppose that neither 'low' nor 'high' would do it for you, but 'high' is painful. I'm enjoying this nice and slow on 'low'."
CONCLUSION
We do not hold the exclusive rights to miscellaneous Dragon Ball information translations. It is entirely possible that someone else may get to something before us.
The intent here from Strine, however, was to deceive his readers and laugh at their expense from the very beginning. That his post would be used in a case study such as this one likely only fuels the flames of his personal enjoyment. His audience is minuscule and he serves to lose nothing (credibility, readership, etc.) by pulling such a stunt. If anything, our dedicating this amount of research and time only gives the trolls more reason to pull such stunts: they know the general "versus debate" audience will eat it up and come running to Kanzenshuu for confirmation (see: 1, 2, 3, 4), thereby taking valuable time away from more important/fulfilling work.
We love that our readers and fans have come to expect accuracy and reliability from us here at Kanzenshuu, and we of course encourage you to ask questions; rarely will we turn down an opportunity to learn something new or at least have a good laugh. That being said, the above outline should provide you with the tools and examples necessary to begin gauging information on your own before ever needing to hit that Japanese-to-English Kanzenshuu Panic Button™. The red flags are always there, and they are impossible to cover up by inexperienced trolls just trying to get some message board lulz. You have the tools! Use them well, save yourself some time, and save us some time in the process!
Ten years ago we started our podcast as a way to expand to new audiences and have fun while developing new content for the website. Nearly 400 episodes later, we are still at it! This week on the show, the original duo of Mike and Julian reflect on the news stories from a decade ago and what the podcast has contributed both to the website as a larger whole and to our own lives as fans of Dragon Ball.
SHOW DESCRIPTION:
Episode #0391! VegettoEX and Julian reflect on ten years of the podcast. What were the big stories from ten years ago, what products had not even been released yet at that time, and what was going on in fandom? We also discuss what the podcast has meant to the website and to our own lives! Join us for a bit of self-indulgent reminiscence.
Enjoy! Discuss this episode on the Kanzenshuu forum, and be sure to connect with us on Twitter, Facebook, Instagram, Google+, and Tumblr.
Kanzenshuu - The Podcast: Episode #0391
[ 49:46 ]
Play Now
|
Play in Popup
|
Download