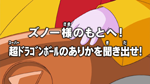 3114 February 2016

To Lord Zuno! Ask About the Location of the Super Dragon Balls!
"Super" News ∙ Series Info ∙ Episode List
The first issue of Shueisha's "Jump Ryū!" (ジャンプ流! / "Jump School!") manga artist collection covering Akira Toriyama will be widely available across Japan this week (07 January 2016), and thus of course globally through numerous online retailers. Each issue of the "Jump Ryū!" collection will cover individual Weekly Shōnen Jump manga artists — as well as lessons on various manga drawing techniques — and comes packed with a DVD, a special booklet, and two exclusive replica prints (Toriyama's is the only volume set to include three). The first volume will retail for ¥650 (~$5.50), with each subsequent volume retailing for ¥1,290 (~$10.90). The first three volumes of the collection previously received a release exclusively in the Shizuoka region of Japan on 03 September 2015 as a limited run.
Having purchased a copy of the limited release for ourselves, let's take a look at what exactly comes packaged in this mook ("magazine book")!
The first thing to note is that the contents of the two releases are identical, with the special booklet, DVD, and bonus material in the nationwide release all being exact reprints of those included in the limited release. The only obvious exception is the mook's cover, which has been slightly redesigned and now features Super Saiyan Son Goku for the nationwide release.
Packaging
The main packaging is constructed with a small cardboard box, approximately 12 by 9.5 inches, or roughly the same size as the Dragon Ball Super: Super Start Guide, and not quite one inch thick. The front of the mook opens in a tri-fold fashion to reveal its contents. The special booklet is slipped into the left flap and the three exclusive replica prints are concealed within a tearaway pouch in the right flap. The slim DVD case is enclosed in the center of the box, and the box must be opened from the top in order to remove the DVD.
Special Booklet
The 18-page special booklet is the same size as the mook and shares the same cover illustration as the limited release mook. It is printed on high-quality paper with a gloss finish on the outside cover. The book's contents are split up into four main sections, with the first three covering Akira Toriyama, along with two shorter columns and a letter of reflection from Toriyama at the end.
ROAD to JUMP: The Manga Artist's Untold Debut Story (pp. 4-5)
In this two-page interview, author Akira Toriyama discusses his debut in Weekly Shōnen Jump and the events leading up to him becoming a professional manga artist in the first place. As he has described in previous interviews, he only sent in a submission to a new-talent contest running in Jump for the prize money after quitting his job as a graphic designer at an advertising firm.
Jump Research: A Fun, Uncluttered Manga Drawing Technique (pp. 6-9)
This section examines Toriyama's unique manga story-telling aspects and how they help make his manga so popular. These aspects include his memorable and forgettable characters, their naming schemes and puns, the beautiful scenery and landscapes, direction and the camera work between panels, and his unique mechanical designs influenced by his hobby of making plastic models.
Jump Storyboard Replica Lesson: Dragon Ball Chapter 191, "The Ten Count" (pp. 10-13)
In this lesson, a four-step process is laid out for inking the replica copy of the 9th page of Dragon Ball chapter 191 provided with the mook. It also includes a full B4-sized print of the original inked page for comparison purposes, as well as a word of advice from author Akira Toriyama.
The Fundamentals of Manga: Chapter 1, "Learning How to Draw Satisfactory Lines" (pp. 14-16)
This first chapter of manga fundamentals covers the different types of pens used to ink manga, such as a G-pen, mapping pen, and millipen. It also details the various pen nibs, pen holders, type of ink, and paper sizes that are used, as well as how to properly dip the pen into ink and how to clean it when finished.
Jump Studio Finding Corps / Jump Editorial Department "Secret" Information Bureau (p. 17)
The first half of this page features a few rare photographs of Akira Toriyama and takes a look at his love of Star Wars, including his collection of Star Wars model kits. The bottom of the page includes a few rare items from Toriyama's serialization days with Shueisha, including a copy of his very first memo discussing Awawa World, a few key author comments from Toriyama printed in Weekly Shōnen Jump, and a comment from Toriyama's first editor, Kazuhiko Torishima.
Special Contribution: Akira Toriyama's Reflection (p. 18)
A letter written by Akira Toriyama reflecting on his stature and influence, in which he admits that while he acts as though it is no big deal, he works quite hard from the shadows. He also discusses his forgetful habits, such as changing things from what he had said before. Looking back on it all, his advice to young aspiring artists is to go against trends, and if possible, gain a sense of individuality. Most of all, he wants everyone to work as hard as they can while enjoying themselves.
Jump Ryū! DVD
Packaged in a slim case, the DVD is Region 2 encoded and presented in 16:9 widescreen format. It contains four video features with a total running time of approximately 42 minutes. The DVD cover illustration was originally drawn by Akira Toriyama for the Akira Toriyama The World: Anime Special mook released in October 1990.
A Color Drawing Experience! (16 minutes, 14 seconds)
Filmed in June 1995 at the Nagoya Civic Art Gallery in Aichi Prefecture as part of the Akira Toriyama The World Exhibit, this video features Toriyama drawing, inking, and painting an illustration of Son Goku. It also features Kazuhiko Torishima, Toriyama's first editor, who is on-hand asking Toriyama questions, and laughing at the horrendous condition of his pen holder, while he draws. A replica copy of the illustration is included with the mook.
The Debut's Untold Story is Recalled! (17 minutes, 33 seconds)
This video features an audio interview between author Akira Toriyama and his third editor, Fuyuto Takeda, discussing Toriyama's life leading up to, and the early years after, his debut in Weekly Shōnen Jump. Neither individual actually appear in the video, with the exception of showing old pictures from Toriyama's serialization days.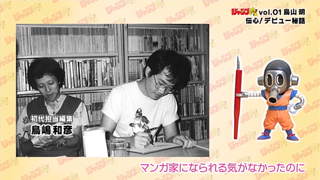 Tasked With a Goku Autograph! (2 minutes, 42 seconds)
In commemoration of the "Jump Ryū!" collection, Akira Toriyama drew an exclusive autograph sign featuring Super Saiyan Son Goku to be included with the mook. As opposed to the colored illustration also included on the DVD, this video was recorded much more recently, possibly corresponding with one of the recent film premieres, although it is not actually specified.
Practical Manga Techniques! (5 minutes, 31 seconds)
The final feature on the DVD is a short lesson on how to select the proper pen for inking a manga panel, which corresponds with "The Fundamentals of Manga" lesson included in the mook's special booklet. The video's sketches and illustrations are drawn by manga artist Atsuhiro Satō, a lecturer and assistant who has worked under professional manga artists Hiroyuki Takei (Shaman King), Takeshi Obata (Death Note), and Masashi Kishimoto (Naruto). It is narrated by Kazuya Nakai, the voice of Zoro in One Piece and Tagoma in Dragon Ball Super.
Printed Material
Included with the mook are printed replica copies of the two illustrations seen being drawn by Akira Toriyama on the DVD, in addition to the storyboard for the lesson featured in the special booklet. All three replicas are printed on A4-sized, high-quality grade paper.
Promotion
In addition to the normal adverts in Jump magazines, Shueisha recently advertised the "Jump Ryū!" lineup at Jump Festa '16 with numerous flyers and large displays of the packaging. The lineup will include a total of 25 manga artists, with the first eight volumes currently set for release up through April 2016. They have also launched Twitter and Facebook pages, both of which are updated with sneak previews and numerous promotional goodies, as well as an official website. Most recently, Shueisha released a 30-second commercial promoting the first three volumes.
The nationwide release of the first "Jump Ryū!" volume focusing on Akira Toriyama is currently available on CDJapan and Amazon Japan.
Today's release of four "Full Color" manga volumes in Japan seems to officially kick off the onslaught of Dragon Ball merchandise heading our way this year. Here is a quick overview of some of the products we already have confirmed for an early 2016 release. Where applicable, we have included referral links to vendors that we at Kanzenshuu have worked with in the past and have a good relationship with; using these links is a great way to support the website as you make your usual purchases. Let us know if you foreign folks have anything else coming your way that we can add to the list.
(Note the inclusion of Viz's "Full Color" Freeza arc for May — we dropped that listing at the end for the good reminder that more is finally on the way!)
04 January 2016
07 January 2016
21 January 2016
25 January 2016
03 February 2016
04 February 2016
05 February 2016
Saikyō Jump: March 2016 Issue (includes franchise news, Dragon Ball SD chapter 41, etc.)
Availability: CDJapan | Amazon Japan
17 February 2016
21 February 2016
V-Jump: April 2016 Issue (includes franchise news, Dragon Ball Super chapter 9, etc.)
Availability: CDJapan | Amazon Japan
24 February 2016
02 March 2016
03 May 2016
2013 and 2014 were enormous years for the Dragon Ball franchise. Beyond an official addition to the manga from its original creator and new theatrical installments also officially continuing the story, there was only one place for 2015 to take us: back to television. As the following statistics are about to prove, not much can compete with that kind of announcement. These were the top five stories of the year according to total website traffic, rate of traffic growth, social media conversations, etc.
---
#5: June 19th – New "Dragon Ball Super" Character Revealed: "Champa"
The production staff behind Dragon Ball Super did a wonderful job with the slow drips of information leading up to (and far into!) the TV series' debut. The reveal of Champa before the show's premiere — tied in with his presence in the opening sequence and eventually in Toyotarō's manga adaptation — has kept us excited about his involvement for months on end. Though he has now technically/actually appeared in the series (finally!), we are still waiting for Champa to truly make an impact. Even when other aspects of our excitement die down, the Champa hype remains real.
#4: March 2nd – New "Dragon Ball Z: Revival of 'F'" Trailer Reveals Freeza Form
Revival of "F" / Resurrection 'F' feels a million years old at this point, doesn't it? The anticipation of what Freeza might have up his sleeve was enough for at least one non-Dragon Ball Super news story to crack the top five! Other reveals (including Jaco and ominous bits of dialog) were just the icing on the cake.
#3: July 1st – "Dragon Ball Super" Complete Showcase Event Reveals Series Plot
The "Dragon Ball Super Complete Showcase Event" in Tokyo recapped a slew of information we already knew about the then-upcoming Dragon Ball Super TV series, but it was the reveal that Toriyama himself was working on the "Universe 6" material that grabbed everyone's attention. We would still have to slog through two movie re-tellings to get to that point, but knowing we had all-new material on the horizon has remained one of the most exciting parts of tuning in each week. Toyotarō's manga teases sure didn't hurt, either. As 2016 begins and we approach the end of the Freeza revival arc, this post remains one of the most-linked news stories around the web as fans look for clarification on Toriyama's involvement and confirmations on where the series might be heading.
#2: June 26th – New Fuji TV "Dragon Ball Super" Website Posts 30-Second Preview
Fuji TV accidentally spill the beans when their own Dragon Ball Super website (itself separate from Toei Animation's main Dragon Ball Super website) posted a 30-second preview for the upcoming series, which had been scheduled to air alongside the final Dragon Ball Kai episode. The preview included a shot of Champa and Vados visiting Beerus and Whis amidst footage that was otherwise just the first few episodes. It was a great tease, albeit one that perhaps came a few days early thanks to one branch of the marketing machine clearly not knowing what the other already had in the hopper.
#1: April 28th – New "Dragon Ball Super" TV Series Announced For 2015
As if there could be any debate about what the most-read, most-linked, most-discussed Dragon Ball news story in 2015 might be.
We have been around long enough to see spin-offs, parodies, special features, movies, and even manga additions revealed. However, nothing has ever come close to the traffic we received for the Dragon Ball Super announcement. There was no contest here; we are talking about an order of magnitude above and beyond not just any other story in 2015, but any other news story in the history of Kanzenshuu (even extending back to Daizenshuu EX and Kanzentai).
What else can we say? It was the announcement of the Dragon Ball franchise's return to a weekly TV format for the first time in eighteen years. The "Rumor Guide" needs some serious updating thanks to 2015.
---
In terms of popular content this year, our Revival of "F" / Resurrection 'F' page in the "Movie Guide" was the clear winner courtesy of our synopsis following its original Japanese theatrical debut (along with the page's character designs, production staff interview translations, etc.). Perhaps needless to say, the Dragon Ball Super episode guide main page has also seen an enormous amount of traffic.
The "Animation Styles Guide" and "Intended Endings Guide" remain fan-favorites as well, while our Dragon Ball GT ending analysis continues to chart year-after-year. It will be interesting to see whether or not Dragon Ball Super (and in particular wherever its story may take us in the timeline) has any effect on that page's enduring popularity.
We are tempted to say that 2016 may be one of the more predictable years due to the on-going TV series. After all, why add to the noise? If the last few years have taught us anything, however, it is that we are 100% incapable of calling what Akira Toriyama, Shueisha, Toei, and Bandai Namco have planned for the Dragon Ball franchise. In a way, it's oddly reminiscent of Toriyama's writing style back during its original serialization: even he didn't know where it would end up!
Cheers to an amazing 2015! Onward to 2016!
Shueisha has announced four additional volumes of the "Boyhood Arc" for the "Full Color" print editions. These additional volumes are set to drop 04 February 2016 in Japan, with each retailing for ¥600 (+ tax). The story material will cover General Blue's assault up through the appearance of Piccolo Daimaō following the 22nd Tenka'ichi Budōkai. The four volumes are available for pre-order via Amazon Japan.
The first four volumes of the "Boyhood Arc", covering the series' first chapter up through the demise of Muscle Tower, are set to be released 04 January 2016.
The "Full Color" version of the Dragon Ball manga began back in June 2009. Over a five-month period, Shueisha released — for free, in both Japanese and in English with Viz's existing translation — the first 23 chapters of the series. After this abrupt end, things fell silent for nearly three years. In late 2012 the company released the original black-and-white/monochrome version of the manga to digital retailers, and then a print version of the Saiyan arc in the "Full Color" format. Soon after, the full digital strategy was laid out with them going back to the beginning as digital-only, and eventually they released the entire series in a colorized digital format, with the "Z"-portion also receiving a print release.
Viz initially released the Saiyan arc in their digital Weekly Shonen Jump publication before exclusively moving to print for the series. The three-volume Saiyan arc has been the only release thus far from Viz, with the Freeza arc finally seeing the light of day in Spring 2016.
Listings for the third Dragon Ball Super DVD & Blu-ray box set have begun to appear on various online retailer websites. The box set will contain episodes 25 to 36 on two discs and is set to be released 02 June 2016, with the DVD set retailing for ¥11,200 and the Blu-ray set available for ¥15,200. In addition to the special booklet and box with a new illustration, on-disc extras will include a creditless version of the third series ending theme, "Light Pink".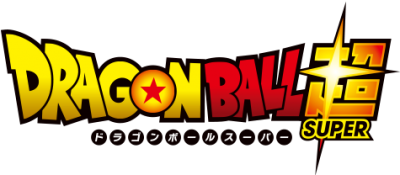 The first box set (episodes 1-12) was recently released 02 December 2015 and the second box set is scheduled to be released 02 March 2016. The third box set is currently available for pre-order via Amazon Japan (DVD / Blu-ray).
The official Dragon Ball 30th anniversary website has launched a new special page covering the upcoming 30th Anniversary Dragon Ball Super History Book set to hit shelves 21 January 2016. The page includes the book's final cover design and notes it will include a "reversible special poster" featuring the first chapter's title page on one side and the final chapter's title page on the other.
The book will feature a lengthy interview with original author Akira Toriyama, who shares his "secret" stories and memories from the series serialization in Weekly Shōnen Jump. The interview is advertised to be his "last super long interview", although the page does not clarify what exactly this means. In addition to the interview, Toriyama will also provide commentary on some of his Weekly Shōnen Jump cover illustrations. The book will also feature some of Toriyama's previously unpublished illustrations, including character and setting sketches, the final chapter's storyboard, and character and set designs for Dragon Ball Super.
In addition to the Toriyama-related material, the book will also detail the animated TV series and movies, card games, video games, and various other merchandising items released over the last 30 years. The section will also include production staff interviews.
The 248-page, B5-sized book will retail for ¥3,500 (+ tax) and is currently available for pre-order via CDJapan and Amazon Japan.
Columbia has announced the first soundtrack for the Dragon Ball Super TV series will be available in Japan 24 February 2016, the same day as the "Dragon Ball Godly BEST" theme song compilation.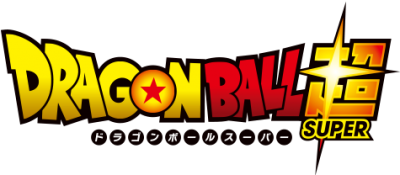 The soundtrack (COCX-39463; ¥3,500 + tax), featuring music from the TV series by composer Norihito Sumitomo, will also include TV-sized versions of the opening theme ("Chōzetsu ☆ Dynamic!" by Kazuya Yoshii) and first closing theme ("Hello Hello Hello" by Good Morning America). A track listing is currently not available.
The soundtrack is available for pre-order via CDJapan and Amazon Japan.
The official Dragon Ball Super Twitter account recently revealed that a new theme song compilation will see its release 24 February 2016 in Japan as part of the TV anime's 30th anniversary celebration.
アニメ放送30周年を記念して、初代オープニング曲「魔訶不思議アドベンチャー!」から「ドラゴンボール超」主題歌まで、シリーズ歴代主題歌を集めたアルバム「ドラゴンボール 神 BEST」2月24日発売決定!

---

To commemorate the 30th anniversary of the TV anime's broadcast, the series' historical theme songs, from the first opening theme "Mystical Adventure!" to the Dragon Ball Super theme song, will be collected on the "Dragon Ball Godly BEST" album set to be released February 24th.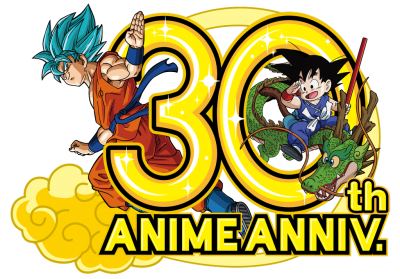 The Dragon Ball Godly BEST (ドラゴンボール 神 BEST) album will contain an array of theme songs starting with "Mystical Adventure!" from the original Dragon Ball TV series, which will have premiered almost exactly 30 years prior (26 February 1986) to the album's release. The album will also include "CHA-LA HEAD-CHA-LA" from Dragon Ball Z and the most recent theme song "Chōzetsu ☆ Dynamic!" from Dragon Ball Super. The album is set to be released 24 February 2016 for ¥2,778 with a catalog number of COCX-39493-4.
Columbia's website also includes a listing for a "Limited Edition" with a catalog number of COZX-1144-6, indicating that the CD+DVD combo pack will include two music CDs and a bonus DVD for ¥3,500 (+ tax). The "Limited Edition" DVD will include videos of the theme song's opening animations. The regular and "Limited Edition" versions are currently available for pre-order at CDJapan.
Though previously confirmed via leaked pages from the February 2016 issue of V-Jump, which was officially released 19 December 2015 in Japan, the official Dragon Ball Super Twitter account and website have confirmed that the TV series will kick-off the "God of Destruction Champa arc" beginning 24 January 2016 with the show's twenty-eighth episode.
Fuji TV producer Osamu Nozaki commented on the significance of this new story arc and its timing with the TV anime's 30th anniversary:
アニメ放送開始から30周年という記念すべきタイミングで、『ドラゴンボール超』の物語はいまだかつて、コミック、テレビシリーズ、劇場版など一切描かれてこなかった前人未到の領域に突入します。

遂に新キャラクター・破壊神シャンパの正体が明らかになるなど、鳥山原作の新キャラクターが続々登場し、活躍します。

---

The 30th anniversary of the TV anime's broadcast will have memorable timing, as Dragon Ball Super's current story, which is based around the past comics and TV series, will now move into an unexplored area that hasn't been portrayed at all, such as in a movie.

The true identity of the new character God of Destruction Champa will at last be revealed, with original new characters from [Akira] Toriyama appearing one after another.
The manga adaptation by Toyotarō, published monthly in V-Jump, charged forward with Champa material ahead of the TV series beginning with last month's January 2016 issue and the series' sixth chapter. The February 2016 issue of V-Jump contains the series' seventh chapter and introduces Beerus' Universe 7 team (top) who will compete in a tournament against Champa's Universe 6 team (bottom).
Though Champa and his attendant Vados were introduced back in the manga's second chapter, the duo did not make an appearance in the TV series until last month's eighteenth episode.
Original manga author Akira Toriyama is providing the character designs and underlying story for the upcoming Universe 6 / Champa story arc.
Dragon Ball Super airs Sunday mornings at 9:00 a.m. on Fuji TV in Japan. An English dub for the Toonami Asia market has been announced as the first international release of the series.