Having been teased for a while, and set to make a larger debut during a live stream 05 October 2014 (as a part of the "Super Saiyan 4 Broli Explosive Birth Festival" for the fourth anniversary of Dragon Ball Heroes), Broli also makes an appearance in Super Saiyan 4 courtesy of the 25th chapter of Dragon Ball Hereos: Victory Mission by "Toyotarō" in the November 2014 issue of V-Jump.
In the chapter (悪魔の急襲!!! Akuma no Kyūshū!!! / "The Devil's Surprise Attack!!!"), after dispatching the Three-Star Dragon (who itself was manhandling Kabra's cards), Broli shows up again at a different battlefield to pummel Kagyu. Now that Froze and Beat have shown up, Broli appears behind them, looking like he is itching for a fight. Is Broli after the Dragon Balls, too…?!
Stay tuned for even more coverage of Dragon Ball Heroes and its spin-off manga Victory Mission in the near future!
Dragon Ball XENOVERSE receives massive coverage in the November 2014 issue of V-Jump officially releasing tomorrow (20 September 2014) in Japan.
In addition to other playable races previously unveiled, the issue reveals that you as the "Future Warrior" can create a playable character of Freeza's race (with the example given being the Hero-type avatar design from Dragon Ball Heroes). A the "Future Warrior" you are part of the Time Patrol.
Perhaps most importantly, the issue reveals the inclusion of Towa (トワ) and Mira (ミラ), villains originally from Dragon Ball Online. The upcoming 2014 #43 issue of Weekly Shōnen Jump also describes the two:
Towa: A scientist from the Dark Demon Realm, who possesses a cold beauty. She seeks the destruction of history, and energy called "Kiri".

Mira: An artificial life-form who wields a menace with transcendent power as his weapon. Aiming to become the "strongest" he works with Towa to bring about the destruction of history.
The issue touts a "master system" by which you can be trained by the Z-Warriors in order to fight against Mira and Towa.
Other new characters include the Kaiōshin of Time, a mysterious life-form that looks like a little girl but is actually at least 75 million years old. With the time-traveler Trunks at her command, she aims to grant a certain wish…! Toki-Toki is another mysterious life-form that lives in Toki Toki City and is able to create time itself. 75 million years ago, the Kaiōshin of Time raised it into an adult and gained her current position. The magazine notes that, perhaps because of Towa and Mira's influence, Toki-Toki has been acting strangely.
As we do not yet know how much of the pre-existing Dragon Ball Online story XENOVERSE may cover or overwrite entirely, please be aware that the following character and event descriptions may contain "spoilers":
WARNING: Spoilers Ahead!
Mira, an Earthling from the future, is an artificial being created by condensing the DNA harvested from various "star seekers". In Age 851, Mira and his army invade and destroy New Namek, forcing hundreds of Namekians to emigrate to Earth once again. In Age 999, Piccolo returns from an investigation to warn Dende and the others about Mira's arrival on and threat to Earth, but no warrior exists to protect and save them should Mira take action. Dende creates new sets of lower-powered Dragon Balls to encourage up-and-coming warriors to rise to the challenge, leading directly into the events of the actual Dragon Ball Online game in Age 1000.
Meanwhile, Mira has stolen a Time Passport from the Time God and is wreaking havoc throughout history by creating paradoxes that strain the fabric of space and time itself. The Trunks from the future timeline has been assigned the role of a Time Patrolman in exchange for not being punished for using his mother's time machine. Alongside other missions, Trunks and the patrol force return to Age 762 during Goku's fight against Vegeta where they do battle with a masked man (whom they have encountered before) as well as Mira himself. The masked man is revealed to be Bardock, who turns on Mira when his mind-control device is broken during the fight. Trunks and the others return to Age 1000, but when the smoke clears it is shown that Mira is still alive.
It is here that Towa enters the story. Originally a brilliant scientist from the Demon World, Towa betrayed her world after joining up with Mira. Over the course of several more missions, Trunks and the others encounter Towa as she brainwashes former villains and continues her attempts to destroy the universe through time corruption. Towa and Mira have a son named Fu, and after spending time with his family and experiencing so many battles, Mira's mind begins to change about simply becoming the strongest with no regard for companionship.
For those looking to dig even further into the existing Dragon Ball Online storyline, our community member TheDevilsCorpse has coordinated massive translation projects from the original Korean game's timeline and supplementary material.
—
Dragon Ball XENOVERSE — currently in development by Dimps for Bandai Namco — will be released on the PlayStation 4, Xbox One, PlayStation 3, and Xbox 360 some time in 2015, though no concrete release date has been set. A network test will be conducted in two phases on the PlayStation 3, with the first coming this weekend for Japanese players and the second phase coming in October to global players.
The November 2014 issue of V-Jump reveals that Raditz (Goku's Saiyan brother) and Paikuhan (Afterlife Tournament, DBZ Movie 12) will be joining the roster of playable character in Zenkai Battle Royale, the Japan-exclusive, arcade-only, multiplayer fighting game this winter.
Raditz excels at many-versus-one. He is quite strong as an interference-type character and is able to launch a simultaneous attack at two people.
Paikuhan is described as a warrior of the afterlife boasting the fastest speeds in history. He is able to rush to an ally's aid and deliver a homing dash.
The two characters will be discussed in more depth in the December 2014 issue of V-Jump.
The most recent additions to the roster have included Vegetto and Janenba. Zenkai Battle Royale first test-launched in Japanese arcades at the end of 2010 and, while it has continued to receive constant updates since then, has not had a home port announced.
FUNimation has unveiled the final, colorized version of the cover art spread for the (currently available) seventh and upcoming eighth and ninth Blu-ray "season" sets for the Dragon Ball Z TV series via the company's blog.
As with previous sets, the pencil sketches used in their production were also shared:
The first trio of covers were revealed in an exclusive Q&A with Kanzenshuu community members back in December 2013 discussing the decisions behind and marketing of these latest sets.
In conjunction with the game's showcase at Tokyo Game Show 2014 this week, Bandai Namco has unveiled a new trailer for the upcoming game Dragon Ball XENOVERSE:
The 60-second promotional video starts out with typical scenes of Dragon Ball characters fighting, but midway through things turn more ominous. We hear Trunks say that history is changing, and space/time itself is warping. The text mentions a "god who governs time" and a "battle throughout time". The "Dragon Ball" everyone already knows and loves is in danger! What does that mean? In concrete terms, we see that famous moments from throughout the series are being changed for the worse. Raditz dodges Gohan's attack (his eyes mysteriously glow red as he does so), leaving Goku to get killed by Piccolo's Makankōsappō. Buu gets the jump on Super Saiyan 3 Goku, and Cell sports the same red eyes as Raditz. The text also describes a "warrior of hope" summoned by Shenlong. That warrior is…you! In other words, you are the customizable player character original to the game. Trunks explains to the player character that the two of them must personally correct the "changes to history" and restore the original outcomes of events. The trailer wraps up by showing the player character and Trunks fighting alongside Goku and friends in major battles from the series.
The PlayStation 4 version of the game is currently on display at the event.
Dragon Ball XENOVERSE — currently in development by Dimps for Bandai Namco — will be released on the PlayStation 4, Xbox One, PlayStation 3, and Xbox 360, though no release date has been set beyond "Early 2015″. A network test will be conducted in two phases on the PlayStation 3, with the first coming this weekend for Japanese players and the second phase coming in October to global players.
The official website for Super Dragon Ball Z — the arcade (2005) and PlayStation 2 (2006) fighting game from Crafts & Meister — was a wealth of amazing information and content in its day. In addition to an original sketch and comment from Akira Toriyama himself, the website later updated with comments from three lead members of the game's production staff: Ryūichirō Baba (Banpresto Producer), Noritaka Funamizu (Crafts & Meister Executive Director), and Akira Nishitani (ARIKA Director).
Check out a complete translation of their comments over in — appropriately enough! — our "Translations" section. More from Funamizu is on its way soon, so stay tuned!
Bandai Namco had already announced that the upcoming Dragon Ball XENOVERSE video game would be both on display and playable at the upcoming Tokyo Game Show, and now the company has updated with additional plans and schedules for the impending event.
At the Bandai Namco booth, individuals appearing at a stage event Saturday morning will include Masayuki Mirano (Dragon Ball XENOVERSE producer), Hisashi Koinuma (Koei Tecmo Games), Kōji Nakajima (One Piece: Pirate Warriors 3 producer), and more special guests. In terms of overall presence at the show itself, there will be trial play areas at the Bandai Namco Games booth and the Sony Computer Entertainment booth, with the latest XENOVERSE trailer at these plus the Microsoft booth.
The PlayStation 4 version of XENOVERSE will be the one playable on the show floor.
Dragon Ball XENOVERSE — currently in development by Dimps for Bandai Namco — will be released on the PlayStation 4, Xbox One, PlayStation 3, and Xbox 360, though no release date has been set. A network test will be conducted in two phases on the PlayStation 3, with the first coming this weekend for Japanese players and the second phase coming in October to global players.
Media Create has released sales figures for the week of 08 September 2014 to 14 September 2014, noting that Dragon Ball Heroes: Ultimate Mission 2 for the Nintendo 3DS — a sequel to the first portable version of the nearly-four-year-old, still-going-strong, card-based arcade game — pushed another 4,084 copies during its sixth week in Japan.
This places the game at 137,142 total copies sold thus far. Its predecessor had pushed 151,882 copies by its sixth week, then began falling off the charts for about a month before making one last push for its tenth week onward.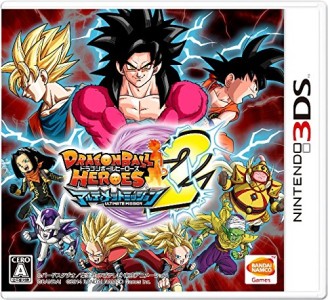 Dragon Ball Heroes: Ultimate Mission 2 is available for purchase at CDJapan and Play-Asia. A Japanese system is required to play the (region-locked) game.
We have a wealth of content regarding the 2005 (arcade) / 2006 (PlayStation 2) video game Super Dragon Ball Z coming to the website! We kicked things off yesterday with an original sketch and quote from none other than Akira Toriyama himself looking forward to the game's official debut. There are even more quotes coming from various members of the game's production staff, so stay tuned for those.
In conjunction with this podcast episode, we also have a massive addition to our "Rumor Guide" that longtime fans may be able to already guess. This week on the show, we provide a behind-the-scenes look at how we got to the bottom of that rumor: did Akira Toriyama actually design the new version of Mecha Freeza?


SHOW DESCRIPTION:
Episode #0369! VegettoEX and Julian dive into the archives to determine once and for all if Akira Toriyama had any involvement in Mecha Freeza's upgraded design for "Super Dragon Ball Z". A recap of a trip to the "Dragon Ball Meets Science" exhibit at Nagoya City Science Museum, coverage of upcoming video game updates, and more wraps up our show for the week!
REFERENCED SITES:
Enjoy! Discuss this episode on the Kanzenshuu forum, and be sure to connect with us on Twitter, Facebook, Google+, and Tumblr.
Kanzenshuu - The Podcast: Episode #0369
[ 1:07:45 ]
Play Now
|
Play in Popup
|
Download
Something that has been passed around as accepted fact over the years is that Akira Toriyama went on to design a special upgraded version of Mecha Freeza for the PlayStation 2 home release of Super Dragon Ball Z. We here at Kanzenshuu even incorporated this into our accepted knowledge base without really questioning it.
It turns out this may not actually be true.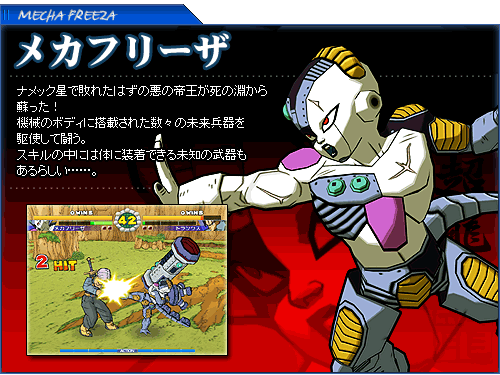 Check out the "Video Games" page of our "Rumor Guide" for the full scoop on this and many other questionable tidbits of knowledge!