As reported on Anime News Network, in conjunction with today's 2014 #42 issue of Weekly Shōnen Jump in Japan, Shueisha has released artwork from Akira Toriyama and Eiichirō Oda of Son Goku (Dragon Ball) and Monkey D. Luffy (One Piece) teasing a new "Shonen Jump+" project.
少年ジャンプ、おまえを
超える!

---

Shōnen Jump, I will
surpass you!
A full-sized, textless version of the image is also available on the official website:
The image of Goku comes from Chapter 390 of the Dragon Ball manga as the character sizes-up Cell:
The previous two weeks worth of images have included contributions from Hirohiko Araki (Jojo's Bizarre Adventure) and Akira Amano (Katekyo Hitman Reborn!). Each image has revealed one more subsequent line in the full sentence. A fourth update is scheduled for 22 September 2014.
The third ending theme for the Majin Buu arc of Dragon Ball Kai has been revealed: "Oh Yeah!!!!!!!" by Czecho No Republic. The song will be the band's first major-label single.
The song will take the slot from "Junjō" ("Pure Heart") by singer-songwriter Leo Ieiri starting with the 05 October 2014 episode of the "refreshed" version of the series currently airing on Fuji TV in Japan.
The CD single has also been announced for 12 November 2014 and will come in two versions:
COZA-992~3, ¥1,300 + tax
A first-pressing "Limited Edition" featuring four tracks ("Oh Yeah!!!!!!!" / "Come On" / "Sunday Juggler" / [to be determined]) and a special DVD featuring the music videos for the band's songs "Neverland", "MUSIC", "No Way", and "Amazing Parade" along with live footage
COCA-16956, ¥1,000 + tax
A regular, CD-only edition with the same four songs
Pre-orders for both the regular and "Limited Edition" versions are already available on CDJapan.
The band will also embark on a "one-man tour" between 19 September 2014 and 10 October 2014, hitting up places from Sapporo on down to Fukuoka and then back through Osaka, Nagoya, and Tokyo.
A message from the band's bassist/vocalist Masami Takei accompanies the announcement:
『まさか自分がドラゴンボールに関わる事が出来るなんて夢にも思っていませんでした!
好きすぎるが故にどんな曲を書こうか最初は正直悩みました。悩みに悩み空を見上げると、
空にはでっかい満月が。「こ、これだ!大猿に変身するサイヤ人の鼓動のリズムだ!」
そのまま一気に書きあげました。何か上手いことを言おうとしても嘘くさくなりそう。ならばハイテンションに
Oh Yeah!!!!!!!と叫ぶことが自分なりのドラゴンボールへの最大限の愛だなと思いこのタイトルにしました。
みんなにも是非大きな声で叫んで欲しいです。ちなみにタイトルのビックリマークの数はドラゴンボールということで
7個にしました。やはり4個目のビックリマークに愛着が湧いてます。』

---

I had never even dreamed that I'd be able to be involved with Dragon Ball!

I like it so much, at first I worried about what kind of song to write. And as I worried, I looked up to the sky, and in the sky there was a huge full moon. "Th-, that's it! The rhythm of the heartbeat of a Saiyan transforming into a Great Ape!"

And just like that, I finished writing it all at once. Though I might try to say something smooth, it would just sound contrived. That being the case, I felt like just shouting "Oh Yeah!!!!!!!" with my high energy would, in my own way, be the absolute greatest love for Dragon Ball, so I went with that title.

By all means, I'd like for all of you to shout it out loud, as well. Incidentally, since it's Dragon Ball, I went with seven for the number of exclamation marks. Sure enough, I well up with fondness at the fourth exclamation mark.
"Oh Yeah!!!!!!!" will be the fifth ending theme for the Japanese broadcast of the "refreshed" series overall, following "Yeah! Break! Care! Break!" by Dragon Soul (1-54), "Kokoro no Hane" by Team Dragon from AKB48 (55-98), "Dear Zarathustra" by Good Morning America (99-112), and "Junjō" by Leo Ieiri (113-present).
Four ending themes are expected for the Japanese broadcast of the Majin Buu arc of Dragon Ball Kai. The international broadcast, currently airing both in South Korea and France, features entirely separate opening and ending themes.
Sony began e-mailing out confirmations and download codes this morning for users who had registered for the upcoming Dragon Ball XENOVERSE Japanese network test. Our own code came in, and several community members also reported receiving codes! Subject lines will read as (in Japanese):
"PS3″『ドラゴンボール ゼノバース』ネットワークテスト参加プロダクトコード

---

"PS3″ Dragon Ball XENOVERSE Network Test Participation Product Code
The official website for the game has reflected these date changes, noting that confirmations will indeed start going out today, and that the entry period has been extended through to 30 September 2014.
The network test will run its first phase over a 27-hour period from 20 September 2014 at 9:00 p.m. JST to 22 September 2014 at 12:00 a.m. JST. The second round of participants will (still, as previously announced) be notified starting 03 October 2014 with the test running over another 27-hour period from 04 October 2014 at 9:00 p.m. JST to 06 October 2014 at 12:00 a.m. JST.
Additionally, the European branch of Bandai Namco have unveiled their participation for the second phase:
DRAGON BALL XENOVERSE – Network Test is coming!
September 11, 2014

For the first time ever a game based on the mythical DRAGON BALL license will benefit from a Network Test!

All European DRAGON BALL fans will be delighted to discover that BANDAI NAMCO Games is planning a Network Test from 4th Oct 12:00 to 5th Oct 15:00 GMT. (27 hours)

Thanks to this Network Test, fans will be involved in the game's development and will be able to give their feedbacks, support BANDAI NAMCO Games in its Servers stress-test and above all: get their hands on the game and get a first glimpse at it ! Players can register themselves here from now on!

To celebrate this, DRAGON BALL XENOVERSE gets a brand new website: www.DragonBallXenoverse.com.! This portal will be updated regularly with the latest news and assets! All fans should keep an attentive on it, surprises might occur!
The new website offers a link for European PS3 owners to register for the second phase of the network test.
Dragon Ball XENOVERSE — currently in development by Dimps for Bandai Namco — will be released on the PlayStation 4, Xbox One, PlayStation 3, and Xbox 360, though no release date has been set.
In celebration of four years of Dragon Ball Heroes, Bandai Namco will host a video stream, to be broadcast via Nico Nico, 05 October 2014 at 3:00 p.m. JST.
The event will cover the competition finals, reveal new information about the game, discuss the history of the Carddass series, and more. Guests set to appear include:
Masako Nozawa (voice of Son Goku, et al.)
Bin Shimada (voice of Broli)
Engineer Yoshito-kun, Battle Navigator Tsubasa, and Battle Princess Momo-chan
The event's stream listing directly addresses Super Saiyan 4 Broli by name ("Super Saiyan 4 Broli Explosive Birth Festival"), and with his voice actor included on the guest panel, we can assume the formal reveal will be a part of the event.
Look forward to more coverage of Dragon Ball Heroes and the upcoming stream here at Kanzenshuu in the coming weeks and months!
Media Create has released sales figures for the week of 01 September August 2014 to 07 September 2014, noting that Dragon Ball Heroes: Ultimate Mission 2 for the Nintendo 3DS — a sequel to the first portable version of the nearly-four-year-old, still-going-strong, card-based arcade game — pushed another 5,009 copies during its fifth week in Japan.
This places the game at 133,059 total copies sold thus far. Its predecessor pushed 9,414 copies during its fifth week back in March 2013 putting it at life-to-date sales at the time of 140,208 copies.
The game's official website recently added a video with Trunks explaining that his family finally bought him the game, while Goten notes that you can play from his dad's childhood all the way up to the latest story. The characters discuss how you fight against strong opponents, and that there are lots of other ways to play, as well. Goten wants the game, too!
The first game had reached 283,959 lifetime sales as of May 2014 with a long period of floating in and out of sales charts corresponding to arcade version promotions, the release of Dragon Ball Z: Battle of Gods in theaters, and holiday breaks.
Dragon Ball Heroes: Ultimate Mission 2 is available for purchase at CDJapan and Play-Asia. A Japanese system is required to play the (region-locked) game.
The official website for Zenkai Battle Royale — the Japan-exclusive, arcade-only, multiplayer fighting game — provides an update on six new costumes available for players to unlock until 15 September 2014.
Included are:
Tenshinhan (green outfit from near the end of the series)
Mr. Satan (fancy purple outfit from the 2008 Jump Super Anime Tour Special)
Super Saiyan Son Goku (Saiyan/Freeza armor)
Super Saiyan Trunks (his early-teenage outfit from the Trunks TV Special)
Yamcha (kung-fu outfit)
Videl (blue tank-top with "FIGHT")
Through special "item acquisition battles" these costumes can be unlocked that adjust your character's outfit by taking first place under battle royale and team battle rules by yourself or with a friend.
Zenkai Battle Royale first test-launched in Japanese arcades at the end of 2010 and, while it has continued to receive constant updates since then, has not had a home port announced. The most recent roster additions include Vegetto and Janenba.
No doubt fueled by the massive "Anime Sale" held mid-August, Dragon Ball Z: Battle of Z for the PlayStation 3 and Vita managed to jump in as top-ten-sellers on the North American PlayStation Store during August 2014.
The downloadable PlayStation 3 version of the game came in at the #6 spot while the Vita version (available exclusively as a download version in North America) came in at the #3 spot.
On the European side of things, Battle of Z returned to the Vita chart at #11.
Dragon Ball Z: Battle of Z recently dropped its MSRP from $59.99 to $39.99 for both retail and digital versions (PlayStation Store / Xbox Live), while the Vita version is down from $39.99 to $29.99 (PlayStation Store only).
A calendar is released for the Dragon Ball franchise each year in Japan, and 2015 brings things back to the Kai branding (which has been absent for a while), no doubt due to the current broadcast of the Majin Buu arc of the "refreshed" series. The calendar will be comprised of seven A2-sized sheets with a featured image on top and two months detailed below:
The Dragon Ball Kai 2015 calendar will retail for ¥1,500 (plus tax), will be available 13 September 2014, and is available for purchase from CDJapan and Amazon Japan.
The new "Dimension of DRAGONBALL" figure for Piccolo, originally teased with the Son Goku figure announcement back in July, has been formally unveiled by Toei and Megahouse: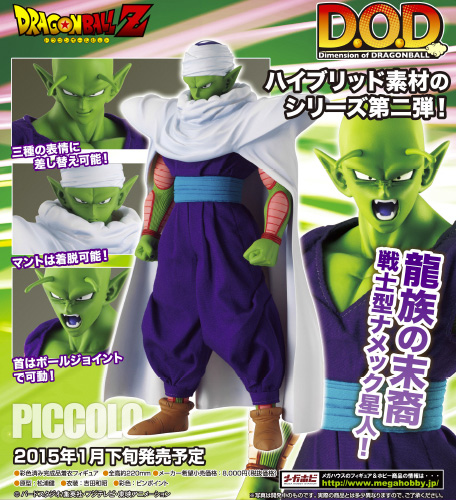 As with the Son Goku figure, the vinyl/PVC Piccolo figure comes with three heads with different facial expressions (neutral, smirking, and yelling) along with a soft, cloth outfit.


Pre-orders for the 220mm figure officially open today (04 September 2014) with an expected release date in late-January 2015. The figure will retail for ¥8,000 (plus tax) and is currently available for pre-order via CDJapan and Amazon Japan.
The official website for Dragon Ball Heroes — the nearly-four-year-old, still-going-strong, card-based arcade game — has updated with a slew of promotional material for its upcoming Ja'aku Ryū Mishion 6 ("Evil Dragons Mission 6″ or "JM6″) update coming this month.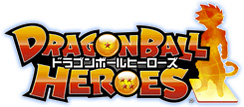 The 15-second commercial focuses on a brief overview of the new cards along with the inclusion of Time Patrol Trunks (of prior Dragon Ball Online and upcoming Dragon Ball XENOVERSE fame).
The minute-long "Special Movie" acts as the sort of "opening" theme and animation for the update, showcasing the Dragon Ball Z Movie 2 villains as well as the Four-Star Dragon (Sì Xīng Lóng) entering the battle against the current, GT-era heroes in the on-going "JM" updates.
The three-minute-long "How to Play" video provides an overview of just that along with showcasing some of the new abilities such as the "Card Action Ability: Merge Sparking" for Goku and Vegeta referenced earlier this week in Weekly Shōnen Jump. We also get a better glimpse at the "Son Goku: Boyhood" card with the playable version of the character from Jaco the Galactic Patrolman!
The "JM6″ update to Dragon Ball Heroes will be released 11 September 2014 and players will receive 1.5X the experience points for playing during the period of 12 September 2014 to 16 September 2014. Dragon Ball Heroes: Ultimate Mission 2, covering up through the "JM3″ update, hit the Japanese 3DS last month.