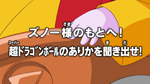 3114 February 2016

To Lord Zuno! Ask About the Location of the Super Dragon Balls!
"Super" News ∙ Series Info ∙ Episode List
Online retailers have updated their listings for the first Dragon Ball Super home video box set to include packaging beyond just the cover image:
The disc label art is recycled character design artwork from the 2013 theatrical film, Dragon Ball Z: Battle of Gods. The specific contents of the "Special Booklet" are still unknown. Similar booklets in past releases have included items such as character biographies, sketches, episode summaries, and quotes from various cast and production crew members.
Amazon Japan's exclusive version will also come packed with a special tote bag.
Toei and Happinet will release the series in DVD and Blu-ray box sets of 12 episodes each, with the first set dropping 02 December 2015 (episodes 1-12) and the second set dropping 02 March 2016 (episodes 13-24). In addition to a special booklet and box with a new illustration, on-disc extras will include a creditless opening and ending.
DVD sets are listed at ¥12,096 with Blu-ray sets at ¥16,416. Both DVD and Blu-ray sets are listed as two discs each. Sets are available to pre-order via CDJapan and Amazon Japan.
The podcast is our chance to be a bit more personable and editorialize on the news… and this week's episode may be the ultimate example of this show format. We at Kanzenshuu have been extremely disappointed in two items over the last week or so: (1) fandom's incredulous response to the audacity of any company other than FUNimation to announce an English dub of Dragon Ball Super, and (2) a particular Spanish website's unbelievably stubborn refusal to issue a correction on a major news item mistranslation.
Punches will not be pulled. Filters are off. This is our cathartic decompression and we're gonna rant like it's 1999.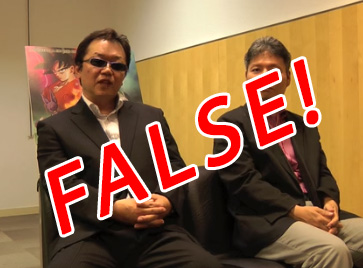 SHOW DESCRIPTION:
Episode #0390! VegettoEX and Hujio hold nothing back as they criticize fandom's response to a "Dragon Ball Super" English dub announcement for Asia. We also track the entire story behind a major news item mistranslation: there was no new movie announced for a trilogy of films during a convention in Spain, and the evidence is right there on the table for anyone to analyze.
REFERENCED SITES:
Enjoy! Discuss this episode on the Kanzenshuu forum, and be sure to connect with us on Twitter, Facebook, Instagram, Google+, and Tumblr.
Kanzenshuu - The Podcast: Episode #0390
[ 54:57 ]
Play Now
|
Play in Popup
|
Download
Over the past few weeks, the Dragon Ball fanbase has been inundated with reports and articles of a new Dragon Ball Z movie being produced to complete the "trilogy" of recent films, as was supposedly confirmed by veteran Dragon Ball animator, character designer, and director Tadayoshi Yamamuro in Spain. We at Kanzenshuu have not reported this story as we had determined the information provided to support it was being misrepresented, or more likely, misinterpreted. Despite how many Spanish sites translated the interview, Yamamuro makes absolutely no mention of a "trilogy" and offers no concrete confirmation of a new theatrical film in the near future.
The story was first reported on 30 October 2015 by Ramen Para Dos, a Spanish anime and manga news site, based on a convention panel featuring Yamamuro at the XXI Salón del manga de Barcelona ("21st Barcelona Manga Fair"). Ramen Para Dos initially reported that during the panel, also featuring producer Norihiro Hayashida, that Yamamuro let slip that the events following Battle of Gods and Resurrection "F" will be depicted in a "new movie" to create a "trilogy series of films".
While the panel was underway, an article was posted with a rough transcription of the panel's events, and was eventually updated with video footage of the panel itself. It was determined that Yamamuro had made no such mention of a "new movie" during the panel itself, let alone a "trilogy" of films. Then earlier today, Ramen Para Dos posted a one-on-one interview with Yamamuro conducted earlier in the morning before his panel, citing it as the actual source for their original article. In addition to the interview's video footage (posted below), which has been subtitled in Spanish, the article includes a transcription of the interview.
The portion of the interview in question begins at roughly 6:55 into the video where the question posed to Yamamuro by the interviewer in Japanese is:
あのう、今までは映画と、その、アニメーション… (テレビ)アニメは、全然と話が違ったんですが、…あのう、例えば『超(スーパー)』と、あのう、例えば、あのう、えー、『バトル・オブ・ゴッド(神と神)』と、とか、今回のヤツを今日観ると、なんか、ストーリー的に、平行性がある…と思うんですけど、…で、その、同じ、えー、そのストーリーを、違うバージョンで完全してるんでっですよね?今後、そういった、あのう、方向に、『ドラゴンボール』は、あのう、なっていくんでしょうか、という質問…

---

Before now, the movies and TV anime have had totally different stories, but… Well for instance, "Super" and "Battle of Gods", or this current one we saw today, I think story-wise they are parallel. So they're making different versions of the same story, aren't they? My question is, will Dragon Ball continue in this trend going forward…?
Here is Yamamuro's response as to whether Dragon Ball Super will continue to be nearly identical to the stories established in the recent films:
山室:今テレビで放送されてるのは『復活の「F」』をもうちょっと詳しく描いたバージョンで、で…あー…『神と神』があって、その後『復活の「F」』が来て、で、ここに、あの…オリジナルの…先生のオリジナルのやつが、別のやつが入ります。
会見者:あ、もう一本?
山室:うん。

---

Yamamuro: Currently a slightly more detailed version of "Revival of 'F'" is being broadcast on TV, and… er… there was "Battle of Gods", then after that came "Revival of F", so here [in the TV series] we're adding in that… original… [Toriyama]-sensei's original thing, something different.
Interviewer: Oh, one more?
Yamamuro: Yeah.
Near the end of his response, Yamamuro mentions that Toriyama's "original thing" will follow. This is in reference to Toriyama's original "Universe 6" story arc featuring Champa and Vados that is set to follow the the recent film's stories which are currently being adapted in Dragon Ball Super. All of this information was first revealed by original author Akira Toriyama at the "Dragon Ball Super Complete Showcase Event" hosted by the V-Jump Channel on 01 July 2015. That aside, everything Yamamuro is talking about is in terms of Dragon Ball Super, and he again makes absolutely no mention of a "trilogy" nor offers any sort of confirmation concerning a new theatrical film in the near future.
Now, for all intents and purposes, the Spanish subtitles pose the same question as asked by the interviewer in Japanese. However, here is Yamamuro's translated response as depicted in the Spanish subtitles:
Hay tres películas. …Battle of Gods, La Resurrección de F, …y otra. Esta trilogía se desarrolla mas en la serie Dragon Ball Súper, donde se explica mejor la trama de las películas.

---

There are three films. …Battle of Gods, Resurrection "F",… and another. This trilogy is more developed in the Dragon Ball Super series, which further explain the plot of the movies.
These subtitles make it seem that Yamamuro is hinting at there being another movie, which as shown above is clearly not the case. However, the transcription also provided by Ramen Para Dos paints an entirely different picture, making it seem that instead of hinting at a new movie, Yamamuro just flat out says it is in production:
Hay tres películas: Battle of Gods, La Resurrección de F y otra más en producción. Esta trilogía se desarrollará mucho más en Dragon Ball Super, explicando en la serie los acontecimientos de las películas de manera más detallada.

---

There are three films: Battle of Gods, Resurrection "F", and another in production. This trilogy will develop much more in Dragon Ball Super, explaining events from the series of films in more detail.
At this point it is obvious that something was clearly lost in translation, or misinterpreted, and with statements being further embellished, it is easy to see how such misinformation could spread. Of course there very well could be a new movie one day, but Tadayoshi Yamamuro certainly did not confirm a new one here, plain and simple. So for now, the movies will have to live on in Dragon Ball Super.
Toonami Faithful reports that Toonami (Asia) has announced via a press release that they have acquired the distribution rights to premiere the first international broadcast of Dragon Ball Super in Southeast Asia and India. In addition to being the first international release, the broadcast will feature the first English-language dub of the series.
HONG KONG (NOVEMBER 10, 2015) – Toonami, Turner's kids brand dedicated to delivering the best superhero and action-adventure animation in South and Southeast Asia, has snapped up the latest installment of the Dragon Ball franchise from Toei Animation.

Dragon Ball Super (52×30′) is the first all-new Dragon Ball television series to be produced in nearly 20 years, and will make its pan-regional launch on Toonami in mid-2016. It will be an exclusive first-run premiere on Toonami in Southeast Asia and India, which will also be its English-language world premiere.

"This announcement is huge for fanboys and girls in Asia. Dragon Ball is undoubtedly the original and world's biggest anime export, and is a cornerstone of our programming on Toonami," said Mark Eyers, Chief Content Officer for Turner's Kids Networks in Asia Pacific. "Since the channel launched in 2012, Toonami has been airing episodes of Dragon Ball Z and Dragon Ball Z Kai, and to premiere Dragon Ball Super demonstrates the channel's continued commitment to securing must-have and must-see content, first on Toonami."

Reuniting the franchise's iconic characters, Dragon Ball Super follows the aftermath of Goku's fierce battle with Majin Boo, as he attempts to maintain earth's fragile peace. Overseen by Dragon Ball's original creator, Akira Toriyama and produced with Fuji Television, Dragon Ball Super will draw on its historic past to create a bold, new universe welcoming to fans and endearing to new viewers.

Introduced as a manga in Weekly Shonen Jump in 1984, Dragon Ball has evolved into a globally beloved brand. Seen around the world, with over 230 million copies of its comic books sold, Dragon Ball is one of the most popular anime franchises of all time.
Toonami (Asia) is currently available in markets including Indonesia, Philippines, Thailand, Hong Kong, Singapore, Taiwan, Pakistan, Maldives, and India. It is not yet clear which company will be producing the English dub slated to be broadcast, but in all likelihood it will be an English dub exclusive to these regions as has been done with previous series and films. We have reached out to Toonami (Asia) and FUNimation for clarification on the matter.
UPDATE: A representative for FUNimation has confirmed to us that the company is not involved with the English dub set to premiere on Toonami (Asia), stating:
FUNimation has no connection with the Toonami Asia Announcement or the premiere of its English language version of Dragon Ball Super in mid-2016.
It is still not yet known which company will be producing the English dub.
Today's eighteenth episode of Dragon Ball Super in Japan introduced Champa and Vados for the first time in the TV series. The ending credits list Mitsuo Iwata as the voice of Champa, while Yuriko Yamaguchi provides the voice of Vados.
Champa, the God of Destruction for Universe 6, was introduced and teased earlier this year ahead of the TV series' debut. "Champa" (シャンパ / shanpa) is pronounced with a "sh" sound at the beginning, in all likelihood taking its inspiration from シャンパン (shanpan or "champagne"), following with Beerus' and Whis' name pun series.
Though introduced early on in the promotional cycle as well, it was not until last month's fifth chapter of Toyotarō's Dragon Ball Super manga adaptation in V-Jump that Vados received a name. Vados' name (ヴァドス / vadosu) is likely taken from "calvados" (カルヴァドス / ka·ru·va·do·su), an apple brandy also of French origin.
Both characters appeared early on in Toyotarō's Dragon Ball Super manga adaptation, though they have not shown up in any of the corresponding TV episode material; their introduction here in episode eighteen roughly matches the material at the end of the fourth manga chapter. The V-Jump manga has recently moved on ahead with future Champa material, having skipped the forthcoming Freeza story arc.
Beginning today and running for approximately two weeks, McDonald's in Japan will run a promotional Dragon Ball Super campaign with their Happy Meal combos (called "Happy Set" in Japan).
Six cards for the Dragon Ball Heroes arcade game will be available: Son Goku (in his Resurrection 'F' outfit), Vegeta (also in his Resurrection 'F' outfit), Beerus, Whis, Freeza, and Super Saiyan God Son Goku.
McDonald's in Japan has run various Dragon Ball promotional campaigns in the past, such as their 2006 and 2008 lines of figures.
The first Dragon Ball Super DVD release hits the Japanese rental market today (03 November 2015). This first rental volume contains episodes one, two, and three.
The second rental DVD (containing episodes 4-6) hits Japan 02 December 2015, the same day as the first DVD and Blu-ray box sets for consumer purchase (which contain episodes 1-12).
The North American branches of Bandai Namco and Sony have issued price drops on the downloadable versions of both 2014's Dragon Ball Z: Battle of Z (PlayStation 3, Vita) and 2015's Dragon Ball XENOVERSE (PlayStation 3, PlayStation 4).
Dragon Ball Z: Battle of Z, developed by Artdink for Bandai Namco, was released worldwide in January 2014 for the Xbox 360, PlayStation 3, and Vita. In North America, the Vita version was released exclusively as a downloadable title.
Dragon Ball XENOVERSE, developed by Dimps for Bandai Namco, is the latest console game for the franchise on the PlayStation 4, Xbox One, PlayStation 3, Xbox 360 and PC. The game is available both digitally and in retail disc form for both Sony consoles.
The prices on the game + season pass bundles have also been reduced by the same amount as the main game; however, you will actually save a whopping $0.01 by purchasing the game and season pass separately!
Amazon is currently offering retail versions of the games at similar prices.
Shueisha has announced an "animanga" version of the 2015 theatrical film, Dragon Ball Z: Revival of "F" (Resurrection 'F') for release this December in Japan.

The Dragon Ball Z: Revival of "F" Anime Comic hits shelves 04 December 2015 for ¥1,350 + tax. Cover art and page count information is unavailable at this time. The book is currently available for pre-order via Amazon Japan.
The TV and Film Anime Comics series of books collect screen shots from their respective animation into traditional manga format with dialog bubbles and sound effects written out. The 2013 theatrical film, Battle of Gods, received a Film Anime Comic release in October that year (following its March theatrical debut). A lower-priced "Shueisha Jump Remix" version was released the following year.
With this week's release of V-Jump's December 2015 issue, a wealth of new Dragon Ball Super information is making its way through fandom. As expected from a tease in Weekly Shōnen Jump earlier this month, Toyotarō's Dragon Ball Super manga — now in its fifth chapter — has skipped the Dragon Ball Z: Revival of "F" (Resurrection 'F') re-telling arc to move into new territory. We have made extensive updates to the Dragon Ball Super section of our manga guide's "Official Spin-Offs" area to document all of these new reveals!
In particular, chapter five brings us two new names: an alternate name for the "Super Saiyan God Super Saiyan" transformation, and (finally!) a name for Champa's attendant.
After tripping over his words and biting his tongue, Goku asks Vegeta if they can do something about the "Super Saiyan God Super Saiyan" name. Having noted the blue hair earlier, Whis suggests the name "Super Saiyan Blue" (超サイヤ人ブルー; sūpā saiya-jin burū) instead. Mid-chapter, while explaining how Goku and Vegeta defeated Freeza after his recent resurrection and attack on Earth, the narrator also refers to the form as "Super Saiyan Blue".
The name "Super Saiyan God Super Saiyan", while not actually being spoken aloud in dialog during Revival of "F", was named as such and has been used extensively in guide books, merchandise, etc. up until this point. As of now this alternate name is exclusive to Toyotarō's manga adaptation of the series and it is still unclear whether this name was originally conceived by Akira Toriyama or if Toyotarō himself is using it to poke fun at the form's long name. It remains to be seen if the Dragon Ball Super TV series, which has not yet hit this story material, will similarly adopt the "Super Saiyan Blue" name, particularly in light of the fact that there are numerous differences already been the manga and TV adaptations.
Champa's attendant is revealed to be named "Vados" (ヴァドス; va·do·su), most likely taking her name from "calvados" (カルヴァドス; ka·ru·va·do·su), an apple brandy of French origin. This fits with Champa's name pun, itself likely sourced from (and literally the first few characters of) "champagne".
Toyotarō's Dragon Ball Super manga adaptation runs each month in V-Jump. The December 2015 issue of V-Jump hit Japanese shelves 21 October 2015 and is available for order via CDJapan and Amazon Japan.
This Dragon Ball Super manga series has been thoroughly documented in our manga guide's "Official Spin-Offs" area with a corresponding synopsis, notes, and images for each individual chapter.