The extended edition of Dragon Ball Z: Battle of Gods is in the news all over again courtesy of its home release announcement for both North America and the UK. This week on the show, in addition to some Dragon Ball XENOVERSE news goodness, we take a look at the twenty minutes of extra film footage. What helps the film flow more evenly, what has been added that fills in a few holes, and how does it compare to the original theatrical cut? Tune in for the full scoop!
Be warned: the discussion expects that you have seen at least the theatrical version of Battle of Gods!
SHOW DESCRIPTION:
Episode #0368! VegettoEX and Julian discuss the extended version of "Dragon Ball Z: Battle of Gods" from its original Fuji TV airing earlier in 2014. With a home release of this version planned for both North America and the UK, we dive into the extra footage to discuss its benefits to the film's narrative flow. "Dragon Ball XENOVERSE" news also abounds with previews of its character creation mode and upcoming network test.
REFERENCED SITES:
Enjoy! Discuss this episode on the Kanzenshuu forum, and be sure to connect with us on Twitter, Facebook, Google+, and Tumblr.
Kanzenshuu - The Podcast: Episode #0368
[ 43:45 ]
Play Now
|
Play in Popup
|
Download
This week's October 2014 issue of V-Jump in Japan provides a brief update on Zenkai Battle Royale, the Japan-exclusive, arcade-only, multiplayer fighting game.
Starting at the end of September, and for an unspecified limited time, Dende will be around to heal warriors of damage during their match.
The game's official website also notes that from 24 August 2014 to 10 September 2014, players can obtain an alternate outfit for Vegeta as part of a "new player support/encouragement campaign". All people who play during that window will receive the outfit, though they will need their "Bana Passport" card.
Zenkai Battle Royale first test-launched in Japanese arcades at the end of 2010 and, while it has continued to receive constant updates since then, has not had a home port announced. The most recent roster additions include Vegetto and Janenba.
Tōru Furuya (Yamcha) and Yūko Minaguchi (Videl, Pan) have been announced as guests for Anime Weekend Atlanta this year.


Various voice actors associated with English dubs of Dragon Ball will also be attending as guests, including Scott McNeil, Vic Mignogna, and J. Michael Tatum.
While the Kanzenshuu staff themselves will not be attending the convention, longtime community member theoriginalbilis will be hosting a panel entitled "DragonBall Z: Stuff You've Never Seen".
Anime Weekend Atlanta will take place 26 September 2014 to 28 September 2014 at the Renaissance Atlanta Waverly Hotel in Atlanta, Georgia. Pre-registration is still available for $55 per individual.
The previously-announced network test for the upcoming video game Dragon Ball XENOVERSE has been announced on the game's official Japanese website.

The Japanese network test will be limited to PlayStation 3 owners. Participation will be assigned via a lottery system — not a first-come, first-serve basis — with registration done via the PlayStation Store. To enter, players must "Search" with the PlayStation Store for ネットワークテスト用応募券 ("Entry Ticket for Network Test"); clicking "Download" on this item enters you into the selection pool. Players who are selected will only be able to play the network test on the account that they registered with and will be notified by e-mail.
Entries to the network test lottery pool will be accepted 21 August 2014 at 9:00 p.m. JST to midnight on 18 September 2014.
Two phases of network test game time are scheduled. The first round of winners will be notified starting 19 September 2014 with the test running over a 27-hour period from 20 September 2014 at 9:00 p.m. JST to 22 September 2014 at 12:00 a.m. JST. The second round of winners will be notified starting 03 October 2014 with the test running over another 27-hour period from 04 October 2014 at 9:00 p.m. JST to 06 October 2014 at 12:00 a.m. JST.
The first round of testing is only for Japan, while the second round will be worldwide. Some functions will be added for the second test. The European branch of Bandai Namco has been referencing an upcoming "Closed Beta", which will presumably be within this second period.
A network test is a pre-release inspection where individuals selected randomly as testers play the game in advance of the official start of service.

By performing a network load test, we will inspect various technologies of the online system. We await everyone's participation in order to make Dragon Ball XENOVERSE even better.

Concept: The Dragon Ball XENOVERSE network test will be performed with the following as its objectives. This test will be in order to check the game system and to correct issues with it. Because of this, the game data is still under development, and some issues may arise during play. We request your understanding and acceptance of this fact.

Server Load Inspection: We will conduct simultaneous connections under specific conditions, and inspect gameplay with the game server, under load.

Multiplayer Inspection: We will conduct an inspection of various phenomena that arise with many people participating, such as troubles that arise with players doing multiplayer through different network environments.

Gameplay, System Inspection: We will conduct miscellaneous bug inspections and balance adjustments related to actual gameplay.

Entry Qualifications: Owning a PlayStation 3 connected to the Internet, having a Sony Entertainment Network account, being able to actively participate in the test and report issues/errors, and agreeing with the terms of use for the Dragon Ball XENOVERSE Network Test Version.
Dragon Ball XENOVERSE — currently in development by Dimps for Bandai Namco — will be released on the PlayStation 4, Xbox One, PlayStation 3, and Xbox 360, though no release date has been set.
Earlier this year, GungHo Online Entertainment released a Dragon Ball Kai-themed update to their popular mobile game Puzzle & Dragons. The company has announced a second phase for this collaboration:
So far the text and image on the page simply says that the second collaboration has been announced, and to please look forward to it.
An English-language version of Puzzle & Dragons is also available on the iTunes Store and Google Play marketplace, though the Dragon Ball Kai collaboration has not made its way across the language barrier.
Thanks to Super Saiyan Prime for the heads-up.
The official "Dragon Ball Z – Games" Facebook page updated this morning with the base artwork and screen shots used in the concurrent V-Jump feature on the upcoming video game Dragon Ball XENOVERSE.
Three possible options for character customization, as shown in V-Jump, are detailed:
Some of the customization options and characters mid-battle are also displayed:
The Facebook update also notes the same network test / closed beta referenced in the V-Jump spread:
In Dragon Ball Xenoverse, all of the major DRAGON BALL's species will be available as a basis for the players' avatars, among them we can already count: Earthling, Majin, Namekian and SAIYAN! After Trunks summons the player's Avatar, he will have to go through a series of tests! Is Trunks checking if the hero is worthy enough fulfil his quest? Whether the Hero succeeds or not in this deadly test, he will be able to gather with other online players in the futuristic hub: Toki Toki City!

And in case you forgot, we will be holding a Closed Beta Test in the future! More details on this Closed Beta test and the game will be revealed within the next weeks!
Dragon Ball XENOVERSE — currently in development by Dimps for Bandai Namco — will be released on the PlayStation 4, Xbox One, PlayStation 3, and Xbox 360, though no release date has been set.
FUNimation has announced that their home video release for the film Dragon Ball Z: Battle of Gods will drop 07 October 2014 in North America on DVD and Blu-ray.
As hinted at by Manga UK's previously-announced release (set for November 10th), the release will feature both the original theatrical version of the film along with the extended edition aired on Fuji TV earlier this year.
A Blu-ray/DVD combo pack (MSRP $34.98), DVD-only set, and digital download versions will be available.
The extended version of the film is not available on home video in Japan.
Flower Mound, Texas (August 19, 2014) – FUNimation® Entertainment, North America's leading anime company, is bringing Dragon Ball Z to Blu-ray & DVD in a big way. Right on the heels of its limited-run, highly successful theatrical release, Dragon Ball Z: Battle of Gods will be hitting online and retail shelves October 7, 2014. "We're thrilled to be able to bring new Dragon Ball Z content back into homes after so many years" said Gen Fukunaga, President and CEO of FUNimation Entertainment.

Fans of the series have a lot in store for them with this home video release. The Dragon Ball Z: Battle of Gods Extended Edition on Blu-ray/DVD Combo Pack comes with two versions of the film: the Uncut Version – which includes an additional 20 minutes of never-before-seen footage – and the Theatrical Version. It also includes over 30 minutes of extra features, including an in-the-booth featurette with the fan favorite cast.
FUNimation recently toured the movie's English dub in a limited run across North American theaters, grossing $1 million its first night.
The October 2014 issue of V-Jump hits Japanese shelves tomorrow (21 August 2014) in Japan and contains a huge amount of new information for the upcoming video game Dragon Ball XENOVERSE.
Tied in with the character creation mode revealed earlier this month, the magazine notes that you as the player will take on the role of the "Future Warrior" who travels to various points in Dragon Ball's history to do battle with legendary warriors.
You will be able to choose your character's gender and beginning appearance, then customize their looks with a variety of parts, at least some of which are obtained over the course of playing the game (including both equipment and items). Three possible characters are showcased in the magazine: two male Saiyans (including the one used in promotional materials up until this point), and one female Saiyan. The male characters are used to demonstrate how your character can range from "smart" to "macho" while, for the female character, it points out the color of her hair and clothes and notes that she seems energetic. The female Saiyan is also shown in a screen shot becoming a Super Saiyan in a fight against Vegeta.
We know that other races will be included, but the magazine does not detail anything on them just yet.
Expanding upon Trunks' role in the game, the magazine notes that he calls the Time Patrol warriors to him to deal with the problem of time itself. You will fly to a variety of Ages from the future city "Timetropolis" (トキトキ都 tokitoki-to), a city in the sky from which there is a way to fly to the world's different eras; apparently, the warriors patrolling time gather here.
Screen shots of this area showcase you as the player being summoned by Trunks through the power of Shenlong for him to test your abilities.
The magazine wraps up its coverage of the game by proclaiming that in the next issue, "…the whole picture of the story will…!?"
A network test for the game will take place at some point in the future, though the magazine only notes to check the game's official website for more information.
Dragon Ball XENOVERSE will be released on the PlayStation 4, Xbox One, PlayStation 3, and Xbox 360, though no release date has been set.
The October 2014 issue of V-Jump goes for ¥580 and is available for order via CDJapan, Play-Asia, and Amazon Japan.
Dragon Ball Heroes: Ultimate Mission 2 for the Nintendo 3DS — a sequel to the first portable version of the nearly-four-year-old, still-going-strong, card-based arcade game — pushed 81,584 copies last week in Japan, it first week on the charts since its release 07 August 2014. Media Create has released sales figures for the week of 11 August 2014 to 17 August 2014, noting that the game has dropped to the fifth-best-selling game of the week moving 27,273 copies. This places the game at 108,857 total copies sold thus far.
This marks a 67% drop in sales from the first to second week, compared to a 75% drop for the time same period for its predecessor back in March 2013.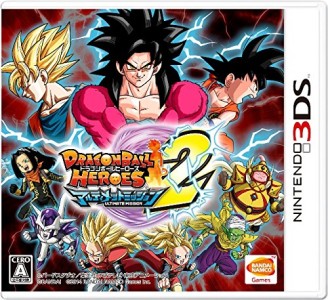 The first game had reached 283,959 lifetime sales as of May 2014 with a long period of floating in and out of sales charts corresponding to arcade version promotions, the release of Dragon Ball Z: Battle of Gods in theaters, and holiday breaks.
A "Shueisha Jump Remix" version of the Dragon Ball Z: Battle of Gods "Film Anime Comic" adaptation will be available tomorrow (16 August 2014) in Japan for ¥667 (+ tax).
The "Film Anime Comics" series collected screen shots from various anime-only stories into manga form, arranging scenes into panels on a page with dialog bubbles. The "Shueisha Jump Remix" series adapted these and other Film/TV Anime Comics into lower-priced versions on cheaper paper, sometimes collecting multiple stories together into a larger book.
The original version of the movie's "Film Anime Comic" was released 04 October 2013 for ¥1,400 (tax included). It came in at 360 pages in the New Book Format (11 × 17 cm). The Shueisha Jump Remix version will come in at 364 pages.
Additionally, double-movie-packed Shueisha Jump Remix releases for Dragon Ball Z Movies 9 & 10 (Bojack / 2nd Broli) and then Movies 5 & 6 (Coola / Metal Coola) will drop 22 August 2014 2014 and 29 August 2014, respectively. Each will sell for ¥619 (+ tax). The Movies 9 & 10 Shueisha Jump Remix version was previously released in 2009.
Re-releases of the standard edition/quality "Film Anime Comics" for Dragon Ball Z Movies 8 (1st Broli) and 12 (Janenba) came out earlier this year.