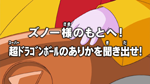 3114 February 2016

To Lord Zuno! Ask About the Location of the Super Dragon Balls!
"Super" News ∙ Series Info ∙ Episode List
Today's eighteenth episode of Dragon Ball Super in Japan introduced Champa and Vados for the first time in the TV series. The ending credits list Mitsuo Iwata as the voice of Champa, while Yuriko Yamaguchi provides the voice of Vados.
Champa, the God of Destruction for Universe 6, was introduced and teased earlier this year ahead of the TV series' debut. "Champa" (シャンパ / shanpa) is pronounced with a "sh" sound at the beginning, in all likelihood taking its inspiration from シャンパン (shanpan or "champagne"), following with Beerus' and Whis' name pun series.
Though introduced early on in the promotional cycle as well, it was not until last month's fifth chapter of Toyotarō's Dragon Ball Super manga adaptation in V-Jump that Vados received a name. Vados' name (ヴァドス / vadosu) is likely taken from "calvados" (カルヴァドス / ka·ru·va·do·su), an apple brandy also of French origin.
Both characters appeared early on in Toyotarō's Dragon Ball Super manga adaptation, though they have not shown up in any of the corresponding TV episode material; their introduction here in episode eighteen roughly matches the material at the end of the fourth manga chapter. The V-Jump manga has recently moved on ahead with future Champa material, having skipped the forthcoming Freeza story arc.
Beginning today and running for approximately two weeks, McDonald's in Japan will run a promotional Dragon Ball Super campaign with their Happy Meal combos (called "Happy Set" in Japan).
Six cards for the Dragon Ball Heroes arcade game will be available: Son Goku (in his Resurrection 'F' outfit), Vegeta (also in his Resurrection 'F' outfit), Beerus, Whis, Freeza, and Super Saiyan God Son Goku.
McDonald's in Japan has run various Dragon Ball promotional campaigns in the past, such as their 2006 and 2008 lines of figures.
The first Dragon Ball Super DVD release hits the Japanese rental market today (03 November 2015). This first rental volume contains episodes one, two, and three.
The second rental DVD (containing episodes 4-6) hits Japan 02 December 2015, the same day as the first DVD and Blu-ray box sets for consumer purchase (which contain episodes 1-12).
The North American branches of Bandai Namco and Sony have issued price drops on the downloadable versions of both 2014's Dragon Ball Z: Battle of Z (PlayStation 3, Vita) and 2015's Dragon Ball XENOVERSE (PlayStation 3, PlayStation 4).
Dragon Ball Z: Battle of Z, developed by Artdink for Bandai Namco, was released worldwide in January 2014 for the Xbox 360, PlayStation 3, and Vita. In North America, the Vita version was released exclusively as a downloadable title.
Dragon Ball XENOVERSE, developed by Dimps for Bandai Namco, is the latest console game for the franchise on the PlayStation 4, Xbox One, PlayStation 3, Xbox 360 and PC. The game is available both digitally and in retail disc form for both Sony consoles.
The prices on the game + season pass bundles have also been reduced by the same amount as the main game; however, you will actually save a whopping $0.01 by purchasing the game and season pass separately!
Amazon is currently offering retail versions of the games at similar prices.
Shueisha has announced an "animanga" version of the 2015 theatrical film, Dragon Ball Z: Revival of "F" (Resurrection 'F') for release this December in Japan.

The Dragon Ball Z: Revival of "F" Anime Comic hits shelves 04 December 2015 for ¥1,350 + tax. Cover art and page count information is unavailable at this time. The book is currently available for pre-order via Amazon Japan.
The TV and Film Anime Comics series of books collect screen shots from their respective animation into traditional manga format with dialog bubbles and sound effects written out. The 2013 theatrical film, Battle of Gods, received a Film Anime Comic release in October that year (following its March theatrical debut). A lower-priced "Shueisha Jump Remix" version was released the following year.
With this week's release of V-Jump's December 2015 issue, a wealth of new Dragon Ball Super information is making its way through fandom. As expected from a tease in Weekly Shōnen Jump earlier this month, Toyotarō's Dragon Ball Super manga — now in its fifth chapter — has skipped the Dragon Ball Z: Revival of "F" (Resurrection 'F') re-telling arc to move into new territory. We have made extensive updates to the Dragon Ball Super section of our manga guide's "Official Spin-Offs" area to document all of these new reveals!
In particular, chapter five brings us two new names: an alternate name for the "Super Saiyan God Super Saiyan" transformation, and (finally!) a name for Champa's attendant.
After tripping over his words and biting his tongue, Goku asks Vegeta if they can do something about the "Super Saiyan God Super Saiyan" name. Having noted the blue hair earlier, Whis suggests the name "Super Saiyan Blue" (超サイヤ人ブルー; sūpā saiya-jin burū) instead. Mid-chapter, while explaining how Goku and Vegeta defeated Freeza after his recent resurrection and attack on Earth, the narrator also refers to the form as "Super Saiyan Blue".
The name "Super Saiyan God Super Saiyan", while not actually being spoken aloud in dialog during Revival of "F", was named as such and has been used extensively in guide books, merchandise, etc. up until this point. As of now this alternate name is exclusive to Toyotarō's manga adaptation of the series and it is still unclear whether this name was originally conceived by Akira Toriyama or if Toyotarō himself is using it to poke fun at the form's long name. It remains to be seen if the Dragon Ball Super TV series, which has not yet hit this story material, will similarly adopt the "Super Saiyan Blue" name, particularly in light of the fact that there are numerous differences already been the manga and TV adaptations.
Champa's attendant is revealed to be named "Vados" (ヴァドス; va·do·su), most likely taking her name from "calvados" (カルヴァドス; ka·ru·va·do·su), an apple brandy of French origin. This fits with Champa's name pun, itself likely sourced from (and literally the first few characters of) "champagne".
Toyotarō's Dragon Ball Super manga adaptation runs each month in V-Jump. The December 2015 issue of V-Jump hit Japanese shelves 21 October 2015 and is available for order via CDJapan and Amazon Japan.
This Dragon Ball Super manga series has been thoroughly documented in our manga guide's "Official Spin-Offs" area with a corresponding synopsis, notes, and images for each individual chapter.
Japanese retailers have begun to update their Dragon Ball Super home release listings with cover art for the first volume, due out 02 December 2015:
The cover features Super Saiyan God Son Goku firing a Kamehameha outward.
Toei and Happinet will release the series in DVD and Blu-ray box sets of 12 episodes each, with the first set dropping 02 December 2015 (episodes 1-12) and the second set dropping 02 March 2016 (episodes 13-24). In addition to a special booklet and box with a new illustration, on-disc extras will include a creditless opening and ending.
DVD sets are listed at ¥12,096 with Blu-ray sets at ¥16,416. Both DVD and Blu-ray sets are listed as two discs each. Sets are available to pre-order via CDJapan and Amazon Japan.
Thanks to MrKaytos for the heads-up.
In conjunction with the 5th anniversary of Dragon Ball Heroes as a whole, the game's official website has announced a daily promotion leading up to new material for Dragon Ball Heroes: Victory Mission, Toyotarō's promotional manga originally serialized in V-Jump.
Beginning today with the first chapter, one chapter will be published daily from the original V-Jump run. This will culminate 19 November 2015 with the "Bandai Official 5th Anniversary Fanbook: Dragon Ball Heroes 5th Anniversary Mission" which will include a new, 29th chapter. Unfortunately, the page does not yet explain how to actually obtain this fanbook; it is listed to "go on sale" next month, which indicates some sort of product, be it physical, digital, or perhaps both.
UPDATE: The official fanbook is available for pre-order via CDJapan for ¥815 + tax.
Dragon Ball Heroes: Victory Mission began in the November 2012 issue of V-Jump as a two-page, seemingly-one-off promotional mini-manga for the card-based arcade game. As the months went on, the chapters expanded to more pages and began directly continuing onward from each other into a traditional, serialized story. New cards, techniques, and characters from the arcade game often showed up in the manga months ahead of time to help promote new updates and campaigns.
The February 2015 V-Jump+ digital bonus material compiled all 28 chapters for readers who entered the code within the allotted time period. As Victory Mission went on hiatus, Toyotarō moved on to a three-chapter, introductory manga adaptation of the 2015 theatrical film, Dragon Ball Z: Revival of "F". Toyotaro is currently responsible for the Dragon Ball Super manga adaptation, also running monthly in V-Jump; the fifth chapter was released yesterday within the December 2015 issue.
Thanks to TheDevilsCorpse for the heads-up!
The 2015 film Dragon Ball Z: Revival of "F" — under its official international English title of Resurrection 'F' — sees its home release tomorrow from FUNimation. Stay tuned here at Kanzenshuu for a more complete review in the near future, but in the meantime, check out these quick facts: it is everything you actually wanted to know about this home release!
What is "Resurrection 'F'"?
Dragon Ball Z: Resurrection 'F' hit Japanese theaters in wide release 18 April 2015. It is the direct follow-up to the 2013 theatrical film, Dragon Ball Z: Battle of Gods. As opposed to Battle of Gods where original manga author Akira Toriyama did not enter the creative process until a script had already been developed, with Resurrection 'F', the majority of the script (including character dialog and designs) was directly handled by Toriyama from the start. Norihito Sumitomo (of Battle of Gods, the Majin Boo arc of Dragon Ball Kai, and now Dragon Ball Super) provided the musical score. Longtime animator and character designer Tadayoshi Yamamuro stepped up into a directorial role for the first time.
Why are there multiple titles for this film?
Upon the film's title unveil in Japanese, we at Kanzenshuu decided on a translation of Revival of "F" (from 復活の「F」 or Fukkatsu no "F"), which stuck heavily within fandom. Months later, Toei began providing licensees with materials that used their own official translation of Resurrection 'F'. Either title is accurate, and is a good look into the art of translation.
Is this release in English or Japanese?
As with pretty much all of FUNimation's home releases since 2000, this release includes the original Japanese audio track (with accompanying English subtitle translations) along with the company's own English dub.
Is a digital release available?
Yes. An Ultraviolet version is included with Blu-ray releases. Digital versions are also available via various rental and streaming services such as iTunes, Amazon, PlayStation Store, Xbox Live, etc. Both the original Japanese version and the English dub are available.
Which region is encoded onto the Blu-ray?
The disc is solely encoded for Region A. Manga UK will be releasing their own version of this release in the near future, following an extension of its successful theatrical run.
Are there any differences between the theatrical version and the home release?
No. Unlike with Battle of Gods, there is no extended edition of Resurrection 'F'. This release is identical to the version screened in theaters.
Who provided the translation for the subtitles?
Long-time Dragon Ball fan and FUNimation translator for the franchise Steven J. "Daimao" Simmons is credited with the translation.
Are all of the audio tracks provided in 5.1 surround sound?
Both the original Japanese and English dub are indeed presented in 5.1 surround sound.
What types of releases are available?
A single-disc DVD release, a two-disc DVD & Blu-ray combo pack, as well as a collector's edition combo pack are available.
What is exclusive to the collector's edition?
In addition to slipcover packaging, also included are four holographic "Frieza Force propaganda postcards."
What kinds of special features are included?
Two featurettes are included along with other, shorter videos:
"The Voices of Dragon Ball Z: They're Back!" (7:03) – Scenes from the film with overlaid boxes of the English voice actors performing the lines.
"The Return of Dragon Ball Z" (40:43) – Footage from FUNimation's April 2015 subtitled theatrical premiere in Los Angeles, FUNimation's July 2015 theatrical English dub premiere in Los Angeles, as well as interview footage with Masako Nozawa, Tadayoshi Yamamuro, and English voice cast & crew
Textless Closing Song (3:43) – A creditless version of the movie's closing theme song.
U.S. Trailer (1:15) – FUNimation's English-language trailer for the film.
Trailers – Promotional videos and trailers for various FUNimation-licensed shows.
FUNimation's pre-show trivia showcase from the American theatrical screenings is not present on the home release.
What is different from the Japanese collector's edition?
The Japanese collector's edition, released earlier this month (07 October 2015), contained a Golden Freeza alarm clock and a 498-page story board book in addition to a standard, 16-page "Special Booklet" featuring character designs, profiles, etc.
Are the original versions of the songs kept in the Japanese language track?
For context: even in the Japanese language audio track, FUNimation's Battle of Gods release featured English versions of both "Hero: Song of Hope" and "CHA-LA HEAD-CHA-LA" performed by FLOW. For Resurrection 'F', the original Japanese version of "F" by Maximum the Hormone is kept in both audio tracks, while Momoiro Clover Z's own English version of "Oath of 'Z'" is present in both audio tracks.
Are the end credits only provided in English?
Yes, the credits are exclusively written in English accompanied by the English version of Momoiro Cover Z's "Oath of 'Z'". The Japanese cast is attributed to character names as they appear in the subtitles (Kuririn, Tenshinhan, etc.). A full translation of the entire credits is available in our "Movie Guide".
Is ______ kept in the English dub?
Check out our "Quick Facts" post from the English dub theatrical premiere — many items of interest have been addressed separately there.
Where can I purchase this home release?
Most retailers carry the movie. It is also available online from retailers such as Amazon.
I want to know more about this movie!
Head on over to the respective page in our "Movie Guide" for anything and everything you ever wanted to know about Resurrection 'F'! We have interview translations, character designs, links to our podcast reviews, and much more.
How does Dragon Ball Super affect this movie's story?
As it did with Battle of Gods, the Dragon Ball Super TV series will also adapt Resurrection 'F' into its own story before heading into all-new material.
The Dragon Ball Super manga has been a fascinating companion to the TV series. Originally debuting within the pages of V-Jump back in June (in the August 2015 issue, two weeks ahead of the TV series' premiere), Toyotarō's manga was our first look at the upcoming story. While the first chapter was essentially a (relatively-faithful) adaptation of the first episode, the second, third, and fourth chapters have hugely expanded on the story by introducing Champa and his attendant… neither of whom have been seen at all in the TV series! Tune in for our take on the promotional manga, its strengths and weaknesses, and what its future may hold for fans.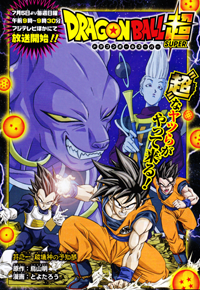 SHOW DESCRIPTION:
Episode #0389! VegettoEX and Hujio discuss the "Dragon Ball Super" manga by Toyotarō published in V-Jump each month. How does the series differ from the TV version in terms of pacing and content? What's the deal with Champa, and why has he still not been included in the TV series despite being fully integrated into the manga? Video game news and "Dragon Ball Super" updates round out our show!
REFERENCED SITES:
Enjoy! Discuss this episode on the Kanzenshuu forum, and be sure to connect with us on Twitter, Facebook, Instagram, Google+, and Tumblr.
Kanzenshuu - The Podcast: Episode #0389
[ 1:00:54 ]
Play Now
|
Play in Popup
|
Download