Bandai Namco Holdings has posted an ¥11.632 billion (approximately $114 million) net income for the first quarter of fiscal year 2015.
Dragon Ball came in as the seventh-best-performing franchise for the company with ¥1.9 billion in net sales (down from ¥2.5 billion the same quarter last year). The company is projecting ¥12.3 billion yen for the full fiscal year, which would be up slightly from last year's ¥11.4 billion.
In terms of general toys and hobby merchandise (non-video games), the franchise dropped slightly in net sales from ¥1.5 billion last year in Q1 2014 to ¥1.3 billion this quarter. The company is forecasting ¥5.5 billion for the year, a drop from the ¥6.4 billion it brought in during the entirety of fiscal 2014.
Dragon Ball Heroes: Ultimate Mission 2 (for the Japanese Nintendo 3DS) only just launched this week, so any potential cumulative sales figures would be reported in the Q2 Fiscal 2015 report.
Alongside the release of Dragon Ball Heroes: Ultimate Mission 2 on the Nintendo 3DS today in Japan comes an "Official Strategy Guide" from Shueisha packed with exclusive bonus material.
The book comes with a (physical, arcade-compatible) "Vegeta: Super Saiyan 3″ card as well as a download code for a V-Jump Books special mission in the game. If you attempt the mission, you get an S-Rare+ Hero Badge ("Headband of Resolve"), and if you successfully complete the mission you will receive an in-game rare promo card.
The 240-page (A5-sized) book is priced at ¥1,350 and is available via CDJapan and Amazon Japan.
Dragon Ball Heroes continues to churn out updates as it approaches its fourth anniversary in Japanese arcades. Those wishing to bring the card-based battles home have been stuck either sliding cards around an empty table or fighting it out on the first home port on the Nintendo 3DS, Dragon Ball Heroes: Ultimate Mission from February 2013. The fight continues on the 3DS today with Dragon Ball Heroes: Ultimate Mission 2.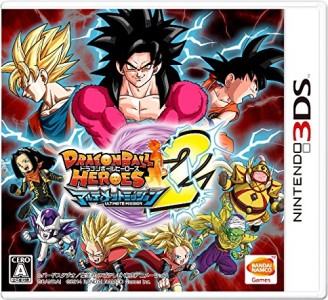 Ultimate Mission 2 is set to include over 2,000 cards and cover the original arcade game's updates from the very beginning up through the third Ja'aku Ryū Mishion ("JM" or "Evil Dragons Mission") update. The game's "Ultimate Universe" mode will take players through the story beginning with Son Goku's childhood all the way through Dragon Ball GT. The "Scouter Mode" and "Burst Limit Mission" will provide other challenges for players, along with an original story chapter entitled "The Birth of Majin Buu".
Owners of the first Ultimate Mission will be able to transfer their cards to the new sequel.
Dragon Ball Heroes: Ultimate Mission 2 retails for ¥6,145 and is available for order via CDJapan and Play-Asia. The game is also available digitally via the Nintendo eShop. The Nintendo 3DS is region-locked, however, and the game will require a Japanese system in order to play and access on the eShop.
Amazon Japan and Happinet have both updated their product listings with the cover art for the first box set of the "Majin Buu arc" of Dragon Ball Kai, which is set to be released 02 September 2014. This first box will contain episodes 99 to 110 of the Japanese broadcast version of the series on 2 discs and comes packaged with non-credit versions of the new opening and first ending themes, along with an exclusive booklet. The Blu-ray box is set at a ¥15,200 (~$148.00) retail price point, while the DVD set comes in a little cheaper at ¥11,200 (~$110.00).
Unlike the previous home video releases for Dragon Ball Kai (Saiyan to Cell arcs), Toei has opted to forgo any individual DVD releases and instead release each box set in both Blu-ray and DVD formats. Also departing from the previous releases, both the Blu-ray and DVD boxes will be available in widescreen formats only.
Pre-orders are currently available at both CDJapan or Amazon Japan.
In addition to revealing a new transformation for Broli in Dragon Ball Heroes, today's (04 August 2014) September 2014 issue of Saikyō Jump provides a quick recap of information for the upcoming console video game for the franchise, Dragon Ball: XENOVERSE.
In addition to reviewing previously-detailed information, the issue's two-page spread does note that the "Future Warrior" is sent to the past from a town led by Trunks, who sends him to various time periods in Dragon Ball's history via the time vault.
Dragon Ball: XENOVERSE will be released on the PlayStation 4, Xbox One, PlayStation 3, and Xbox 360, though no release date has been set.
Originally teased last month in the September 2014 issue of V-Jump in Japan, today's (04 August 2014) September 2014 issue of Saikyō Jump provides a clear shot at a new transformation for Broli in Dragon Ball Heroes: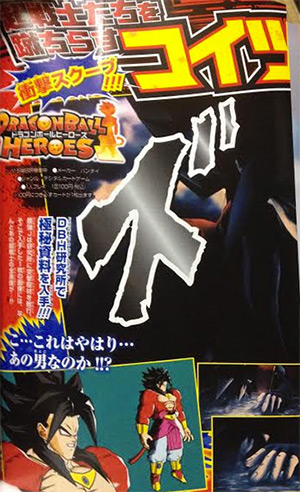 Though not actually named either as a character or by form, we clearly see Broli (originally created for Dragon Ball Z Movie 8) has reached Super Saiyan 4, a transformation from the Dragon Ball GT TV series. There is not much more in the way of information, and even the magazine itself simply says that he is an "utimate warrior" and they have only obtained the single image!
More information will be available in the coming issues of Saikyō Jump and V-Jump as they head toward the game's fourth anniversary. Saikyō Jump itself appears to be going bi-monthly, however, with the next issue due out 03 October 2014.
Dragon Ball Heroes is the card-based arcade game exclusive to Japan that is heading toward its sixth update (Ja'aku Ryū Mishion 6 or "JM6″ / "Evil Dragons Mission 6″) of the third major expansion. A second Nintendo 3DS port, Dragon Ball Heroes: Ultimate Mission 2, is due out this week in Japan.
Earlier this month, on Episode #0365 of our podcast, we discussed a variety of sources that provided more information about what happens to certain characters in the Dragon World. Some of these are common questions fans tend to ask while reading the series ("What happens to the rabbit gang when the moon is destroyed?") while others are new tidbits of information outlining additional jobs and adventures the characters find themselves taking on.
As with many of our podcast episodes, it was a way for us to collect and outline the information ahead of time to later use in a proper section on the website!
The "Character Fates" page has officially been added to our "Tidbits" section. The characters we currently have detailed include:
The Rabbit Gang
Tsuru-Sen'nin & Tao Pai-pai
Lunch
Yamcha
Tenshinhan
Chiaotzu
#17
Son Goku
Read on to learn what happens to these characters! Depending on what news comes our way leading up to the new movie in 2015 (as was the case leading up to Battle of Gods last year), we may even have more entries to add in the coming months!
The Japanese Society for Rights of Authors, Composers and Publishers (JASRAC) database contains a new entry for what appears to be an additional song for the international version of the Majin Buu arc of Dragon Ball Kai: "Let It Burn" with lyrics by JUN, composition by Yasuharu Takanashi, and the song performed by Masatoshi Ono.
The international version of the Majin Buu arc of Dragon Ball Kai is being produced under a subtitle of "The Final Chapters" and has already begun airing in South Korea. This international version is different from the version currently airing in Japan, in that it is the "original" version of the arc; the Japanese broadcast seems to be a haphazard edit with fewer episodes, different background music placement, and entirely different opening and ending themes, but also retains vestiges of the international version's opening in its title card and eyecatch themes.
Masatoshi Ono also performs the international opening theme for the arc, "Fight it out", and had previously contributed to music on the expanded Dragon Ball Kai song collection albums during the "refreshed" series' original run in Japan from 2009-2011. The database listing does not mention whether or not "Let It Burn" is an opening theme, ending theme, or possibly even insert song, but it is specifically attributed to the "overseas/international edition" (海外版より).
Thanks to our buddy kei17 for passing along the find.
In anticipation of next year's new movie, Toei and Megahouse have announced a new "Dimension of DRAGONBALL" figure for Super Saiyan Son Goku.
The vinyl/PVC figure comes with three heads with different facial expressions all as a Super Saiyan. A halo is also an option, and the figure is posable at the neck.



Pre-orders for the 210mm figure officially open today (28 July 2014) with an expected release date of later this year (December). The figure will retail for ¥7,560 and is currently available for pre-order via CDJapan, Amazon Japan, and the Crunchyroll store.
A Piccolo figure is also due in the future, but no timeframe has been announced.