The worldwide celebration for Dragon Ball Z: Battle of Gods continued with last week's North American theatrical debut for the English dubbed version of the film from FUNimation. We had a good idea of what to expect thanks to our buddies checking it out during the red carpet debut last month in California, but we had to check it out for ourselves!
SHOW DESCRIPTION:
Episode #0367! VegettoEX, Hujio, and Herms review the North American theatrical English dub debut for the film "Dragon Ball Z: Battle of Gods". Has FUNimation's experience and new initiatives with "Kai" set the stage for this film? What leftovers from the early days made their way into the final product? Listen in for the full scoop!
REFERENCED SITES:
Enjoy! Discuss this episode on the Kanzenshuu forum, and be sure to connect with us on Twitter, Facebook, Google+, and Tumblr.
Kanzenshuu - The Podcast: Episode #0367
[ 59:16 ]
Play Now
|
Play in Popup
|
Download
Listings for Manga UK's home video release of Dragon Ball Z: Battle of Gods have begun popping up on retailer sites. A listing on anime-on-line.com in particular indicates that the release will be a double-disc edition and will come packed with both the original theatrical cut of the film along with the special extended version that was aired on Fuji TV earlier this year in Japan:
This double disc edition includes both the 85 minute Theatrical Cut and the 105 minute Director's Cut. Both versions include the English and Japanese dubs and English subtitles. This edition also includes bonus content including "The Voices of Dragon Ball Z: Unveiled" and "Behind The Scenes: Battle of Voice Actors!".
A separate listing also confirms a "Collector's Edition" which will come packed with, "…4 collectable art cards and a limited edition o-card."
Manga UK will release the film on both DVD and Blu-ray 10 November 2014.
Back in June, FUNimation voice actor Sean Schemmel tweeted photos from his Battle of Gods recording sessions. One photo in particular contained a scene exclusive to the extended version of the film, prompting the question of whether FUNimation had been able to secure said version of the film for either theatrical or home release. All tweets related to the recording sessions were removed shortly thereafter.
FUNimation's North American theatrical tour of the film wraps up this week. No home release has been announced.
Thanks to our various forum members for digging up the listings!
UPDATE: Listings for the "Collector's Edition" Blu-ray, standard Blu-ray, and DVD versions are now also up on Amazon UK and confirm the same extras, inclusion of the extended edition, etc. Thanks, Baggie_Saiyan!
As a part of their special "Anime Sale" on the PlayStation Network, the digital version of Dragon Ball Z: Battle of Z is available at a reduced price today — when the store updates this evening — through 18 August 2014.
The PlayStation 3 download version (also available as a physical retail product) will run you $19.99, or $10 with a PlayStation Plus membership. The Vita download version (unavailable in North America as a physical retail product) will run you $14.99, or $7.50 with a PlayStation Plus membership.
The MSRP on the game was dropped to $39.99 (Xbox 360 and PlayStation 3) and $29.99 (Vita download) back in June.
Dragon Ball Z: Battle of Z was developed by Artdink for Bandai Namco and released on the Xbox 360, PlayStation 3, and Vita earlier this year. The game features four-versus-four, team-based battles and online play. No local multiplayer is available. Super Vegetto and Super Saiyan Bardock, while already on the disc and a part of the game's story mode, are available for purchase as downloadable content for $2.99 each; the downloads are cross-platform for the PlayStation 3 and Vita in Japan, but not internationally. The Vita version was released internationally dubbed-only, though a download pack for the Japanese cast was later released for free.
As a part of their multi-part "Toriyama Short Stories" series, Carlsen has confirmed their release for both the previously-announced Neko Majin series as well as Jaco the Galactic Patrolman in Germany.
The "Toriyama Short Stories" series is set to contain a wealth of the author's work, both related to Dragon Ball and otherwise. Other stories of interest to Dragon Ball fans in particular include Dragon Boy, one of the main prototypes for the series.
The first book — featuring Go! Go! Ackman! — saw its release 27 May 2014 for €5.95. The second book — featuring Dragon Boy — will launch for the same price this month on 26 August 2014. The fourth book in particular will contain the Neko Majin series. Note that some of the covers are provisional and may change before their final release. All currently-announced volumes are available for order/pre-order on Amazon Germany.
Neko Majin, a story about magical cats released in eight chapters over the course of 1999-2005, increasingly became a Dragon Ball parody and spin-off as it went on. Jaco the Galactic Patrolman debuted as the "…shocking revival of Dragon Ball" and told the story of a galactic patrolman's mission on Earth before winding its way into the main Dragon Ball story.
Many thanks to Javaki on our forum for the detailed heads-up!
Movie box office service Box Office Mojo is reporting that Dragon Ball Z: Battle of Gods grossed $1.07 million opening night (05 August 2014) of its limited North American theatrical run. These results are based on 692 U.S. theaters that reported their earnings. As of this post, following its second day in theaters, the movie has grossed $1.94 million. Many fans across the country have reported sold out showings at their local theaters, and yesterday FUNimation sent out an e-mail thanking fans for showing up in droves.
The limited theatrical run is officially slated to end this Saturday, but some areas will be seeing a delayed released from 14 August 2014 to 17 August 2014, so the final gross totals will not be available until then. However, based on the information available from Box Office Mojo, the United States posted the 4th best international opening day behind Argentina, Mexico, and Italy. Mexico currently holds the highest international total gross for the movie with $4.47 million accrued over its month-long theatrical run.
Be sure to share your Battle of Gods experience with us on our forum, or simply read the experiences from your fellow Dragon Ball fans. Also be sure to check back this weekend for a special podcast episode covering our own adventures to see the movie!
In mid-July Manga UK announced their acquisition of Dragon Ball Z: Battle of Gods, noting that additional details would be forthcoming "in the coming weeks". Well earlier yesterday it was announced via their Instagram account that Battle of Gods is officially slated to be released on DVD and Blu-ray in the United Kingdom on 10 November 2014. Battle of Gods is currently available on home video in Hong Kong, Mexico, and Taiwan with other countries slowly making their way from theatrical screenings to home releases.
In addition, Manga UK has also announced that the movie will be screened at the Scotland Loves Anime Film Festival later this October, with a comment from the company noting this particular screening will be in Japanese with English subtitles. The announcement also indicates that additional screenings of the movie will be announced soon, so stay tuned for those!
Thanks to Anthony for passing this along.
Australian distributor Madman Entertainment announced last September that they had acquired the license to Dragon Ball Z: Battle of Gods, and shortly thereafter it began being screened from October to December at the 17th Japanese Film Festival in Australia and New Zealand. As with all movies shown at the festival, it was presented in its original Japanese with English subtitles. However, Madman has recently announced that they will once again be screening Battle of Gods, only this time it will be a very limited run of FUNimation's English dub of the movie. A region locked trailer was posted along with Madman's official announcement, but it is merely FUNimation's trailer for the movie with swapped out dates and locations.
The movie will be screened in 8 cities in Australia and 4 cities in New Zealand on 30 August 2014 (and exclusively in Melbourne on the 31st) as part of the special "Reel Anime" theatrical event. Tickets can be purchased directly from the participating cinema locations listed here.
Thanks to Matt for the heads up about this.
Bandai Namco Holdings has posted an ¥11.632 billion (approximately $114 million) net income for the first quarter of fiscal year 2015.
Dragon Ball came in as the seventh-best-performing franchise for the company with ¥1.9 billion in net sales (down from ¥2.5 billion the same quarter last year). The company is projecting ¥12.3 billion yen for the full fiscal year, which would be up slightly from last year's ¥11.4 billion.
In terms of general toys and hobby merchandise (non-video games), the franchise dropped slightly in net sales from ¥1.5 billion last year in Q1 2014 to ¥1.3 billion this quarter. The company is forecasting ¥5.5 billion for the year, a drop from the ¥6.4 billion it brought in during the entirety of fiscal 2014.
Dragon Ball Heroes: Ultimate Mission 2 (for the Japanese Nintendo 3DS) only just launched this week, so any potential cumulative sales figures would be reported in the Q2 Fiscal 2015 report.
Alongside the release of Dragon Ball Heroes: Ultimate Mission 2 on the Nintendo 3DS today in Japan comes an "Official Strategy Guide" from Shueisha packed with exclusive bonus material.
The book comes with a (physical, arcade-compatible) "Vegeta: Super Saiyan 3″ card as well as a download code for a V-Jump Books special mission in the game. If you attempt the mission, you get an S-Rare+ Hero Badge ("Headband of Resolve"), and if you successfully complete the mission you will receive an in-game rare promo card.
The 240-page (A5-sized) book is priced at ¥1,350 and is available via CDJapan and Amazon Japan.
Dragon Ball Heroes continues to churn out updates as it approaches its fourth anniversary in Japanese arcades. Those wishing to bring the card-based battles home have been stuck either sliding cards around an empty table or fighting it out on the first home port on the Nintendo 3DS, Dragon Ball Heroes: Ultimate Mission from February 2013. The fight continues on the 3DS today with Dragon Ball Heroes: Ultimate Mission 2.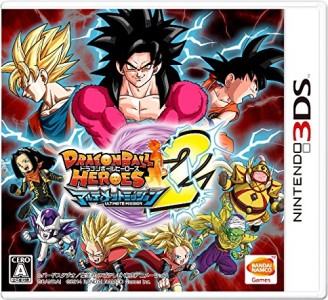 Ultimate Mission 2 is set to include over 2,000 cards and cover the original arcade game's updates from the very beginning up through the third Ja'aku Ryū Mishion ("JM" or "Evil Dragons Mission") update. The game's "Ultimate Universe" mode will take players through the story beginning with Son Goku's childhood all the way through Dragon Ball GT. The "Scouter Mode" and "Burst Limit Mission" will provide other challenges for players, along with an original story chapter entitled "The Birth of Majin Buu".
Owners of the first Ultimate Mission will be able to transfer their cards to the new sequel.
Dragon Ball Heroes: Ultimate Mission 2 retails for ¥6,145 and is available for order via CDJapan and Play-Asia. The game is also available digitally via the Nintendo eShop. The Nintendo 3DS is region-locked, however, and the game will require a Japanese system in order to play and access on the eShop.