It is time to once again to dust off a few issues of V-Jump, pull out a few randomly-purchased magazines, and attempt to put another minor dent in our ever-growing translation backlog! This time around we are hitting a few lengthier interviews, intermixed with some short Q&As and commentaries, with original manga author Akira Toriyama as well as a few others associated with the Dragon Ball franchise.
While not from a print publication, Fuji TV's own website published a brief series of comments with Dragon Ball Kai production staff earlier this year:
Fuji TV Information: "Dragon Ball Kai" Producer Comments
As part of their promotional hype for the revival of Dragon Ball Kai in 2014, Fuji TV's public relations department released statements from two of the series' producers, Osamu Nozaki and Norihiro Hayashida. While they contain nothing too eye-opening regarding the production process, you can certainly "feel" the hype level they are striving for. It also marks the first time anyone associated with its production notes that this new production coincides with the 25th anniversary of Dragon Ball Z.

As always, you can now find these listed on our "Translations" page along with many others. Check back soon for our next batch of translations, as we attempt to clear out as much as we can in preparation for the upcoming 2015 Dragon Ball Z movie!
The recently-announced new Dragon Ball Z film, set to debut during "Golden Week" in 2015, was quickly teased earlier today on Mezamashi TV in Japan.
The images note the same information already provided in the film's original V-Jump reveal, such as its premiere timeframe and quotes from original manga author Akira Toriyama that he has, "…increased the action scenes by a good amount," and that it, "…should be super-duper interesting!" The visuals, however, are all-new and showcase Son Goku becoming a Super Saiyan, a fiery logo, and Shenlong coming out.
Thanks to @rebo59 for the initial heads-up on Twitter, as well as our buddy kei17 for additional materials.
UPDATE: A capture of the teaser has been uploaded to YouTube and features Hironobu Kageyama's original version of "CHA-LA HEAD-CHA-LA" behind the basic narration.
The 2013 Dragon Ball Z film, Battle of Gods, was given similar teases on Mezamashi TV with previews and promotional videos aired both as exclusives and in conjunction with Jump-branded festivals, such as the original CG teaser which debuted almost exactly two years ago (featuring a brief animation not actually used in the final product).
Originally teased in a small splash alongside Vegetto's announcement last month, the September 2014 issue of V-Jump — released last week in Japan — details Janenba's inclusion in the Japan-exclusive, arcade-only, multiplayer fighting game Zenkai Battle Royale.
Janenba's abilities include "Lightning Shower Rain" (a long-distance barrage of piercing energy blasts), "Dimension Magic" (using a portal to warp next to an opponent and deliver a blow without having to actually move anywhere), and "Dimension Sword" (a chain slashing technique using Janenba's sword with the blood-red blade, which allows you to slice up your enemies).


Zenkai Battle Royale has received a significant batch of additions over the last several months including Bardock, Coola, Ultimate Gohan, Spopovitch & Babidi, and Vegetto.
Zenkai Battle Royale first test-launched in Japanese arcades at the end of 2010 and, while it has continued to receive constant updates since then, has not had a home port announced.
Back on Episode #0288 of our podcast, we provided a primer detailing some of the most important Dr. Slump characters (in conjunction with their crossover during the Red Ribbon Army arc of Dragon Ball). With the impending release of Discotek's Dr. Slump Movies 1-5 DVD set — along with some of our own work on said product! — we only thought it was appropriate to revisit Toriyama's original famous series. This time around, we took a look back at some of the ideas that Toriyama first used in Dr. Slump and later borrowed, adapted, or sometimes even flat-out copied for Dragon Ball so many years later!


We are also giving away a free copy of the Dr. Slump movie set!
See below for full details.
SHOW DESCRIPTION:
Episode #0366! VegettoEX and Herms discuss several ideas that originated in "Dr. Slump" that Akira Toriyama either revisited or flat-out recycled later in "Dragon Ball". A mad scientist with a spy robot collecting data on a hero so that he can create killer androids? A tournament to decide the strongest person on Earth? A final villain who happens to be a "majin"? Which series is this?! Buy Discotek's "Dr. Slump" Movies 1-5 set for more fun!
REFERENCED SITES:
CONTEST RULES:
Entry participant must possess a Twitter account (available for free at twitter.com).
Contest open to worldwide participants, with the understanding that the prize is a North American release.
One entry per individual.
Contest is open until Monday, July 28 @ 11:59 p.m. eastern time.
Content of entry must be a Dr. Slump and/or Dragon Ball-related joke that includes a pun.
Entry must be a single tweet in length, including the above handle and hashtag inclusions.
One winner will be selected by the Kanzenshuu staff and will receive one Dr. Slump Movies 1-5 (NTSC, Region 1) DVD set.
These rules may be updated/edited at any time and at the sole discretion of the Kanzenshuu staff.
Enjoy! Discuss this episode on the Kanzenshuu forum, and be sure to connect with us on Twitter, Facebook, Google+, and Tumblr.
Kanzenshuu - The Podcast: Episode #0366
[ 55:22 ]
Play Now
|
Play in Popup
|
Download
Starting this last weekend J-WORLD Tokyo, an indoor amusement park created by Bandai Namco on the third floor of Sunshine City's World Import Mart Building in Ikebukuro, began hosting their special main summer event "Dragon Ball Festival 2014" in commemoration of the Dragon Ball Kai TV anime broadcast covering the revival of Majin Buu. The event will run every day from 19 July 2014 to 15 September 2014 with one-time admission tickets costing ¥700 for adults and ¥500 for children.
This special event will feature two new mini-games, "Super Ghost Kamikaze Attack Bowling" and "Clash! Ultra Buu-Buu Volleyball". Participants will receive exclusive Majin Buu-related prizes based on their performance, including badge pins, tumbler cups, drawstring handbags, and stickers. Both games cost ¥300 per play. There is also a free "Rock-Paper-Scissors Tenka'ichi Budōkai" tournament, with each participant receiving some "Super Saiyan Hair".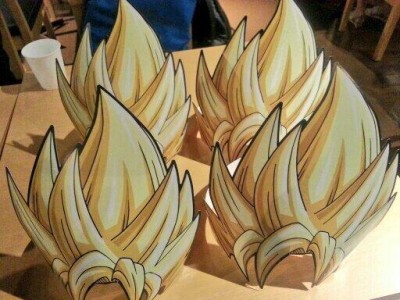 The true highlight of the event is a limited-time showing of "Revive Him! Majin Buu Makes His Appearance!", a 20 minute video featuring live performances from Babidi, Majin Buu, and Mister Satan.
It's a spectator-type show attraction that has admirably brought to life the grand battle between the Dark Mage Babidi and Dragon Ball's heroes through a melding of video and live action.
As a special present, each fan in attendance of the live performance will receive a "Majin Boo Boo Cushion".
Finally, to fulfill the appetite of hungry Dragon Ball fans in attendance, there will be special food provided in the J-WORLD Kitchen in addition to their normal food selection. These delicacies include "Mister Satan's Champion Sandwich" (roast beef), "Goten and Trunks' Fusion Plate" (a combo plate with hamburger, curry, and pasta), and "Majin Buu's Strawberry Cheese Cupcake".
During their panel at this weekend's MCM Comic Con in Manchester, Manga UK announced their license and acquisition of the 2013 film Dragon Ball Z: Battle of Gods. The film is scheduled for a UK release on both DVD and Blu-ray 10 December 2014.
An Instagram recap of the announcement notes that the company will have more details on this and other announcements (related to various properties), "…in the coming weeks."
Dragon Ball Z: Battle of Gods is currently available on home video in Hong Kong, Mexico, and Taiwain with other countries slowly making their way from theatrical screenings to home releases. English-dubbed North American theatrical screenings will take place next month, though FUNimation has not yet announced their own home video release plans.
Bandai Namco's official Facebook page for Dragon Ball video games (previously only open to European fans, but now available worldwide) updated this morning with higher-resolution Dragon Ball: XENOVERSE screen shots. The images had been used in the latest issue of V-Jump for their unveil of the Super Saiyan transformation for the mysterious "Future Warrior":
Recapping some of the information from V-Jump, the Facebook page states:
The Warrior from the future is a Super Saiyan?! An alert received today states that this voyager can transform into a Super Saiyan. Several pictures taken corroborate this exclusive information! After all these years, have we finally found another survivor to Planet Vegeta's destruction? This question remains unanswered …
Our reporters confirm that this enigmatic character has a strong link with the DRAGON BALL world as we know it. He seems to know Yamcha, Trunks and many other characters. Are this connection and his will to intervene in fights strong enough to alter History as we know it? Thanks to our reporters' investigations, his identity might be uncovered in our next report…
DRAGON BALL XENOVERSE will be available on PS4, Xbox One, PS3 and Xbox 360. (6 photos)
Dragon Ball XENOVERSE will be released on the PlayStation 4, Xbox One, PlayStation 3, and Xbox 360, though no release date has been set.
The "Jump Victory Carnival" event is underway this weekend in Tokyo and many Japanese Dragon Ball fans have been tweeting out pictures of a flyer being handed out to attendees for the upcoming Dragon Ball Z movie. The artwork is the same as that used on the movie's official "teaser" website, with the front of the flyer featuring Son Goku and the back showcasing Shenlong, along with a reprint of author Akira Toriyama's initial comments about the movie. The only new piece of information is inconspicuously tucked away in the lower right-hand corner of the front of the flyer, listing veteran animator Tadayoshi Yamamuro as the movie's director.
Earlier today, Japanese entertainment news website Oricon had reported the same:
監督は、アニメ『ドラゴンボール』シリーズの作画監督を長年務めた山室直儀氏が務める。

---

Serving as director will be Tadayoshi Yamamuro, who worked for many years as an animation supervisor for the "Dragon Ball" anime series.
With Tadayoshi Yamamuro becoming Toei Animation's "go-to guy" for anything Dragon Ball-related in the past, including acting as the character designer and chief animation supervisor for Battle of Gods, it is unclear what will be happening with the animation supervisor position for this film. More than likely it will be filled by another animator, as opposed to having Yamamuro perform both roles, but nothing has been officially announced as of yet. Yamamuro has previously only provided direction for the opening and ending animations in Dragon Ball Kai, so it will be interesting to see how he adapts to a much larger, and more important, project such as this.
Thanks to JacobYBM for forwarding the Oricon article onto us!
Though the company registered "dragonball2015.com" in the early hours back on the 15th, Toei Animation has opened an official website for the upcoming new Dragon Ball Z movie at "d2015gw.com".
The website, whose debut is no doubt in conjunction with this week's September 2014 issue of V-Jump (which contains the first official reveal for the movie), currently features an opening splash with an ominous message:
史上最悪の願い。それは、絶望の始まり。

---

The worst wish in history. That is the beginning of despair.
Additionally, the page refreshes to the same image of Goku as seen in the magazine reveals:
The website features little else, other than production information attributed to the generic "2015 Dragon Ball Z Production Committee" and the "GW" in the URL and page text referring to an expected opening during "Golden Week" in 2015.
The new film's story will be crafted by original manga author Akira Toriyama, who stated he is writing it, "…as though it were a continuation of the manga when it was in serialization," and that while it will, "…of course be a continuation of the previous Battle of Gods," he has also, "…deliberately increased the amount of action scenes by a good deal."
An article on Natalie also announces the new film.
Thanks to DongHyun for the heads-up.
Tomorrow's September 2014 issue of V-Jump provides a few new bombshells about the upcoming Dragon Ball: XENOVERSE video game for the PlayStation 4, Xbox One, PlayStation 3, and Xbox 360.
For starters, the mysterious "Future Warrior" can indeed turn into a Super Saiyan!
A blurb on the page goes on to ask:
戦闘中のコミュニケーションが未知なる物語を紡ぎ出す…!?

---

Communication in the middle of battle will spin an unknown tale…?
It would appear that the player will not only intervene in battles, but also talk to the Dragon Ball warriors, which could lead to an expansion of the story! The screen shots on the page showcase Yamcha (during the Cell arc) donating energy to the "Future Warrior" because he does not think he himself will be of any use in battle; Yamcha tells the "Future Warrior" to absolutely defeat their enemies. The captions also say that the "Future Warrior" will have response choices of their own which will influence history. Finally, the page goes on to explain that the "answer" (presumably as to why he can turn into a Super Saiyan) will appear in next month's issue, and that it will all become clear, so absolutely do not miss it!
The September 2014 issue of V-Jump hits Japanese shelves tomorrow (19 July 2014) and is available to order from CDJapan, Play-Asia, and Amazon Japan.