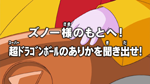 3114 February 2016

To Lord Zuno! Ask About the Location of the Super Dragon Balls!
"Super" News ∙ Series Info ∙ Episode List
Dragon Ball Z: Extreme Butōden received its first patch in Japan yesterday. Version 1.1.0 updates the game to include four new Z-Assist characters: Son Goku (Farmer), Vegeta (Bingo), Mira, and Towa.
Son Goku riding his tractor is a nod to the first episode of the new Dragon Ball Super TV series; Vegeta performing bingo is a nod to his performance in the 2013 film Dragon Ball Z: Battle of Gods; Mira and Towa, originally developed for Dragon Ball Online, also make their way over from recent appearances in Dragon Ball XENOVERSE and Dragon Ball Heroes.
Kuririn (Policeman), the character's special Dragon Ball Z: Revival of "F" outfit, is also available to unlock as a Z-Assist character via a button-press code on the title screen: X Y → → ← ← ↓ ↑ ↓ ↑
Dragon Ball Z: Extreme Butōden launched in Japan 11 June 2015. First-press copies of the game come packed with bonus content, including a downloadable version of the Super Famicom game Dragon Ball Z: Super Butōden 2 (previously included as a part of the J-Legend Retsuden compilation game; albeit now with replacement music). Arc System Works developed the game for Bandai Namco. The developer previously worked on the Bukū… / Supersonic Warriors games on the Nintendo GameBoy Advance and DS.
Dragon Ball Z: Extreme Butōden is currently available for order from CDJapan. The Nintendo 3DS / New Nintendo 3DS are region-locked; a Japanese system is required for the game to play. The game will be available in Europe 16 October 2015, in North and Latin America 20 October 2015, and in Brazil 23 October 2015. A free demo is now available on the Nintendo 3DS eShop.
We have reached out to Bandai Namco for information on whether or not this patch will be made available for the international release either by its release date or in the future.
Dragon Ball XENOVERSE and Battle of Z made strong showings on the PlayStation Store sales charts for September 2015, likely fueled by the four-day "Animation Flash Sale" late in the month.
Dragon Ball XENOVERSE ranked as the #16 game on both on the PlayStation 4 and PlayStation 3 charts.
Dragon Ball Z: Battle of Z for the Vita hit the #3 mark on its respective sales chart.
Dragon Ball Z: Battle of Z, developed by Artdink for Bandai Namco, was released worldwide in January 2014 for the Xbox 360, PlayStation 3, and Vita. In North America, the Vita version was released exclusively as a downloadable title.
Dragon Ball XENOVERSE, developed by Dimps for Bandai Namco, is the latest video game for the franchise on the PlayStation 4, Xbox One, PlayStation 3, Xbox 360 and PC. The game is available both digitally and in retail disc form for both Sony consoles.
Today's 2015 #45 issue of Weekly Shōnen Jump in Japan provides an update on Toyotarō's manga adaptation of Dragon Ball Super, currently running in the monthly V-Jump publication:
Witness it in the manga! An unknown super story development!!!
Speeding up the excitement of the TV anime even more!! Check out this completely new DB manga series!!
Toyotaro-sensei tears it up in V-Jump!! Charging on ahead of the TV anime, the "Champa arc" starts up!!
DB Super is in the midst of a successful run on TV!! And you'll be able to read "what's up ahead" for the TV show in the manga running in V-Jump!! What's the goal of the unknown entity "Champa"!?
The fourth chapter of Toyotarō's manga adaptation (released last month in the November 2015 issue) wrapped up the Battle of Gods re-telling arc and moved ahead into Revival of "F" material. Earlier this year, prior to his work on the Dragon Ball Super manga adaptation, Toyotarō provided V-Jump with an introductory, three-chapter manga adaptation of the Freeza movie. While the Weekly Shōnen Jump description is vague, it may mean that Champa material will continue to be introduced sooner than in the TV series, or they may skip Freeza material entirely in light of the prior manga adaptation.
From the very first chapter, Toyotarō's Dragon Ball Super manga adaptation has included material either not seen in the TV series, or has included minor events that play out differently from what is shown in the TV series, all the meanwhile following the same overall story. While Champa has not yet actually shown up in the TV series beyond the opening theme, he and his attendant appeared in the second chapter of the manga adaptation, and have continued to make appearances intermixed with other material.
Champa was officially revealed back in June as a part of the promotional wheelhouse for Dragon Ball Super. Beyond the antics shown in Toyotarō's manga adaptation, little about Champa and his as-of-yet-unnamed attendant is known.
The December 2015 issue of V-Jump will hit Japanese shelves 21 October 2015 and is currently available for pre-order via Amazon Japan.
The November 2015 issue of Saikyō Jump, released today in Japan (02 October 2015), lays out the upcoming story for Dragon Ball Super up through episode 20:

Episode #13 — 04 October 2015
Super Saiyan God Son Goku and Beerus' super-fierce fight gets more and more intense!!
Episode #14 — 11 October 2015
During his battle with Beerus, an unexpected change happens to Goku, who had been a Super Saiyan God…!?
Episode #15 — 18 October 2015
After the battle with Beerus wraps up, a terrible visitor comes to Satan!?
Episode #16 — 25 October 2015
With the battle over, one day Kuririn visits Goku. His unexpected request is…!?
Episode #17 — 01 November 2015
Some time has passed on Earth. Gohan and Videl's daughter is finally born!!
Episode #18 — 08 November 2015
Goku departs Earth and begins training under Whis. The surprising training method is…!?
Episode #19 — 15 November 2015
Goku throws himself into training under Whis. Meanwhile in Hell, you-know-who suffers intense torment.
Episode #20 — 22 November 2015
An unprecedented threat bears down on Earth!! At this time, an old friend comes to visit Bulma…!?
Judging by the short summaries, the Battle of Gods re-telling will wrap up by Episode 15 as the series then transfers to an interstitial bit of material not actually shown in either Battle of Gods or Revival of "F". Freeza material seemingly begins in Episode 19, with Jaco likely making his appearance in Episode 20.
Dragon Ball Super is expected to re-tell Revival of "F" before making its way to a new story arc involving Universe 6.
Episode 13 of Dragon Ball Super airs this weekend (04 October 2015 at 9:00 a.m. on Fuji TV in Japan), and will mark the debut of the series' second closing theme song, "Starring Star" by KEYTALK.
The November 2015 issue of Saikyō Jump, which comes packed with a B3-sized Dragon Ball Super poster, is available to order via CDJapan and Amazon Japan.
Following a release date change from retailer base.com, Manga UK has officially confirmed their Dragon Ball Z: Resurrection 'F' home release has been delayed from the initially-announced October 26 release date. The as-of-yet undecided release date is due to the "amazing support and enthusiasm for the theatrical release":
I'd like to thank the UK Dragon Ball Z fan community for their amazing support and enthusiasm for the theatrical release of Resurrection of F. Because of you, DBZRF is going out on more screens on its initial opening than any other anime film ever released in the UK previously. That's an amazing accomplishment. However! Because of the unprecedented demand for cinema showings across the country we will have to push back the UK home video release.

One of our retail partners has today notified its customers of a date change. This is not the final date that has been decided. We are currently working very hard to find a new street date that satisfies not only the retailers and theatrical exhibitors requirements, but which also doesn't cause you guys to have to wait any longer than necessary for it on DVD and Blu-ray. Marketing and selling anime is a tricky business as a lot of you know and we are lucky that our audience is especially patient and supportive. I don't think many other companies can claim the same thing. I really hate disappointing you and I can only apologise for any confusion that's been caused by today's events. We will announce a new home video street date imminently and we will work our butts off, as always, to ensure it is as soon as possible.

Thank you so much for helping shape the UK theatrical release of DBZRF and enabling us to get it onto an unprecedented number of screens. This result means that if you are a passionate DBZ fan who wants to see the movie on a local screen, you probably can. That makes me happy. I apologize for any disappointment and inconvenience the home video date change announcement has caused you. Please stay tooned for further announcements from @MangaUK. Meanwhile! Enjoy #DBZRF in cinemas, nationwide from 30th September.
Manga UK will release the film as a stand-alone disc alongside a double-feature pack with the 2013 theatrical film, Dragon Ball Z: Battle of Gods.
Japan will receive their Revival of "F" home release on DVD and Blu-ray 07 October 2015. North America will receive the film from FUNimation 20 October 2015.
The story for Resurrection 'F' (Revival of "F"), which opened nationwide in Japan 18 April 2015 in 2D and IMAX 3D, was crafted by original manga author Akira Toriyama, who stated he wrote it, "…as though it were a continuation of the manga when it was in serialization," and that while it would, "…of course be a continuation of the previous Battle of Gods," he has also, "…deliberately increased the amount of action scenes by a good deal." Tadayoshi Yamamuro, who worked for many years as character designer and animation supervisor on the Dragon Ball franchise, served as the film's director and animation supervisor. Norihito Sumitomo has returned from Battle of Gods and the Majin Boo arc of Dragon Ball Kai for musical composition duties. Momoiro Clover Z contributed "Vow of 'Z'" as the film's main theme alongside Maximum the Hormone, whose "F" is used during the film. Revival of "F" brings back Freeza and includes two new characters (Sorbet and Tagoma), features Beerus and Whis again from Battle of Gods, and much more. The film has been announced for distribution in 74 countries.
Thanks to Baggie_Saiyan for the heads-up.
The official Dragon Ball Super Twitter account and website noted this morning that Naoki Tatsuta (voice actor for Oolong) will take over as the voice of Northern Kaiō and the narrator from Jōji Yanami beginning with this weekend's twelfth episode of the series:
「ドラゴンボール超」において北の界王およびナレーターを務めております声優の八奈見乗児さんの療養に伴い、
第12話の放送より龍田直樹さんが北の界王およびナレーターを務めることとなりました。

八奈見乗児さんの復帰につきましては、回復状況を鑑みて、
ご本人と相談の上、検討したいと考えております。

八奈見乗児さんの回復をスタッフ一同、願っております。
引き続きご声援を賜りますよう、お願い申し上げます。

---

Due to Jōji Yanami-san's hiatus for rest and recuperation, his parts as the North Kaiō and the Narrator will be played by Naoki Tatsuta-san starting with the broadcast of episode 12.

It is our intention to carefully consider Yanami-san's return, taking into account the status of his recovery and upon consultation with the individual himself.

The entire staff is wishing for Yanami-san's recovery. We humbly ask for your continued voices of support [under these difficult circumstances].
Though present in 2013's theatrical film Battle of Gods, Yanami (by extension of his characters not being in the film) was not present in the 2015 film Revival of "F". Additionally, while he continued to play the roles of Northern Kaiō and the narrator in the Majin Boo arc of Dragon Ball Kai, his role of Bobbidi was given to Bin Shimada.
All of us at Kanzenshuu wish Yanami the best and a speedy recovery.
With Dragon Ball taking inspiration from Journey to the West so early on (see the article in our "DB30YEARS" anniversary magazine for more information!), it should be no surprise to hear that many names in the series are Chinese in origin. From Son Goku to Shenlong to Chiaotzu and beyond, tune in for a crash course in transliteration and adapting names between three entirely separate languages!
SHOW DESCRIPTION:
Episode #0388! VegettoEX and Herms detail the Chinese name origins for many Dragon Ball characters, along with how to best represent their names with our English language alphabet. Who is this "Jiaozi" character and why would it be somewhat ridiculous to write the dragon's name as "Shenron"…? Tune in for a crash course in language adaptations!
REFERENCED SITES:
Enjoy! Discuss this episode on the Kanzenshuu forum, and be sure to connect with us on Twitter, Facebook, Google+, and Tumblr.
Kanzenshuu - The Podcast: Episode #0388
[ 50:24 ]
Play Now
|
Play in Popup
|
Download
Today's October 2015 issue of Animage magazine in Japan has unveiled the remaining September schedule of Dragon Ball Super, including episode titles and main staff credits.
The episode air date and titles, which are subject to change, have been added to the series page, along with their main staff credits.
Episode #10 — 13 September 2015
見せろ悟空!超サイヤ人ゴッドの力!!
Misero Gokū! Sūpā Saiya-jin Goddo no Pawā!!
Show Me, Goku! The Power of Super Saiyan God!!
Episode #11 — 20 September 2015
続けようぜビルス様!神と神の戦いを!
Tsudukeyō ze Birusu-sama! Kami to Kami no Tatakai o!
Let's Keep Going Beerus-sama! The Battle of Gods Continues!
Episode #12 — 27 September 2015
宇宙が砕ける!?激突!破壊神VS超サイヤ人ゴッド!
Uchū ga Kudakeru! Haikaishin Tai Sūpā Saiya-jin Goddo!
The Universe Crumbles?! Clash! The God of Destruction vs Super Saiyan God!
Episode #13 — 04 October 2015
悟空よ、超サイヤ人ゴッドを越えて行け!
Gokū yo, Sūpā Saiya-jin Goddo o Koete Ike!
Goku, Go Surpass Super Saiyan God!
As was recently announced, the 13th episode of Dragon Ball Super will correspond to the series' second ending theme, "Starring Star" by KEYTALK. This episode also appears to be the beginning of the series' transition into the Revival of "F" story arc.
Toei Animation's Online Shop has revealed cover art for both the standard and limited edition versions of the upcoming CD single for "Chōzetsu ☆ Dynamic!", the opening theme to the Dragon Ball Super TV series:
Dragon Ball Super, currently adapting the 2013 theatrical film Battle of Gods, will move on to an adaptation of the 2015 theatrical film Revival of "F" before heading into new "Universe 6" territory. The two pieces of art showcase Golden Freeza, Super Saiyan God Super Saiyan Son Goku, Super Saiyan God Super Saiyan Vegeta, God of Destruction Beerus, as well as "Champa", a character new to Dragon Ball Super.
In addition to an English version of the opening theme, a cover of "I'll Give You Romance" (the ending theme to the original Dragon Ball TV series), as well as karaoke versions, will be included. The limited edition version will also come packed with a bonus music video DVD.
All songs are performed by Kazuya Yoshii. Both regular (COCA-17058; ¥1,200) and limited editions (COZA-1114-1115; ¥2,000) will be available 07 October 2015. Pre-orders are available on CDJapan and Amazon Japan.
Columbia also released a short version of the official music video for streaming:
A CD single for the show's first ending theme — "Hello Hello Hello" by Good Morning America — was released 12 August 2015. A CD single for the upcoming, second ending theme — "Starring Star" by KEYTALK — has been announced for 14 October 2015.