It may be a quiet period in between book and home video releases, but the other side of the merchandising machine is alive and well! Just last week, Japan saw the release of two toys to help facilitate a bit of pretend-fighting at home.
The "Zenkai (Full Throttle)! Action Kamehameha" toy slips over your wrist and has a three-axis movement recognition along with 16 types of sounds in total, including special moves such as Goku's Kamehameha, Tenshinhan's Kikō-hō, and even Vegeta's Gyarikku-Hō. The toy retails for ¥3,996 and is available for order via CDJapan and Amazon Japan.
The "Punch Fighter" is a standard type of weighted punching bag for children showcasing some of the heroes from the Majin Buu arc of the series. The inflatable bag is 800mm tall and retails for ¥2,592 and is also available for order via CDJapan and Amazon Japan.
Both products are branded as Dragon Ball Kai and were released 12 July 2014.
The "Full Color" version of the Dragon Ball manga reached the end of its storyline earlier this month with the print-version release of the fourth, fifth, and six volumes in the Majin Buu arc.
The third volume from last month started up a new Q&A session (following up on previous ones, such as the great tidbits from the Cell arc volumes), but did not contain much in the way of exciting new information. This month's releases are a doozy, however! All three sessions have been fully translated and have been archived over in our (appropriately enough!) "Translations" section.
Click through to read each in their entirety, or see below for a sampling of the most revealing new tidbits, such as more about Bibidi and Babidi's dark magic along with a name for Mr. Satan's late wife…!
It's hard, but they can!
I think it's possible to merge no matter the conditions, as long as it all goes well. I even think it's possible for a larger number of people. However, since it's quite hard for both parties to strike that delicate balance, it's very difficult for two extremely different people to fuse. In that sense, synchronized swimmers would probably be really good at Fusion. By the way, there are many different types of Fusion, and the kind Goku learned is the one for increasing battle power.
Bibidi split in two!
Rather than a child, he's more like Bibidi's doppelganger. He'd split up whenever there was anything difficult for just a single person to do. He could increase the number of doppelgangers even more, but his magical powers would weaken in proportion. Now that Bibidi is dead and Babidi has become the only one, he's regained all the original magical power.
Satan's wife was a beautiful singer named Miguel!
Since she was named "Miguel (archangel)", during their marriage a big fuss was made about how "an angel is marrying a devil!"
Our "Tidbits" section is one that we love a lot; it gives us a great place to collect random bits of information that do not make sense to flesh out into an entire multi-page "guide", but still allow us to document some really great material. An upcoming addition to the section will cover a wealth of information documenting the fates of certain characters in the Dragon Ball series. Some of these tidbits come from original manga author Akira Toriyama himself, while others come from various other production committee members and guide books. Tune in this week for a sneak-peek (sneak-listen?) at one of our upcoming pages!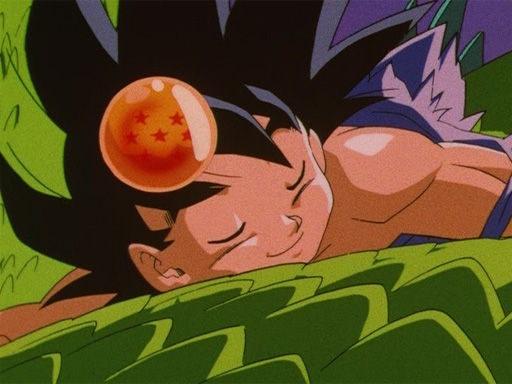 SHOW DESCRIPTION:
Episode #0365! VegettoEX and Hujio discuss various bits of information detailing the fates of characters in the Dragon Ball franchise. Who is still out there drifting through space? What kinds of jobs do some of the old friends take up during times of peace? All this plus a last-minute announcement of a new movie coming in 2015 comes together to form your show for the week!
REFERENCED SITES:
Enjoy! Discuss this episode on the Kanzenshuu forum, and be sure to connect with us on Twitter, Facebook, Google+, and Tumblr.
Kanzenshuu - The Podcast: Episode #0365
[ 43:35 ]
Play Now
|
Play in Popup
|
Download
Bandai Namco has unleashed a new, extended promotional video for the upcoming Dragon Ball Heroes: Ultimate Mission 2 portable conversion for the Nintendo 3DS in Japan:
The new video confirms many of the same tidbits previously revealed, such as including missions from 21 iterations (from the original arcade game's first edition to the "Evil Dragon Mission" 3 update), the inclusion of over 2,000 cards, and the ability to carry over card data from the first game to the second game.
As for new information, the video details that the previously-mentioned "Ultimate Universe" mode will allow you to venture through Goku's childhood up through Dragon Ball GT's storyline. Familiar characters will support you along the way, and you will also be able to use StreetPass for super power-ups. Sometimes you will cooperate, and other times you will face off against one another. There is also a "Scouter Mode" where, if the number is high enough, a giant boss comes out! You can also use the "Scouter Mode" to read QR codes from the regular Dragon Ball Heroes game — as well as V-Jump exclusives — to unlock special missions. "Burst Limit Mission" is a mode where you can only use each card once, and it is a big showdown with up to 40 battles in a row that will test your abilities to their limits.
Perhaps most interestingly, the game also comes with a special, original story entitled "The Birth of Majin Buu". Will this somehow tie in with Akira Toriyama's recent information-dump revealing Buu's true origin and the nature of his summoning by Bibidi…? We will have to wait and see when the game comes out!
Dragon Ball Heroes: Ultimate Mission 2 will see its release 07 August 2014 and is available for pre-order from CDJapan and Play-Asia. Please note that the Nintendo 3DS is a region-locked system; a Japanese console is required to play the game.
The first Ultimate Mission — released back in February 2013 — covered up through the early "Galaxy Mission" updates of the original arcade version of Dragon Ball Heroes. Over an entire half-year, the game swayed in and out of the Famitsu and Media Create top-selling games charts with reliable, if not consistent, sales figures. The game was not released outside of Japan.
The September issue of V-Jump officially hits Japanese store shelves this Saturday (19 July 2014) and, as originally reported by Anime News Network, will contain a "scoop" unveiling a new Dragon Ball Z movie. The movie is currently still in development, with original author Akira Toriyama once again providing the original concept, writing the script, and drawing character designs. Toriyama provides a comment discussing his involvement — and the fact that it will indeed be a brand new story to the series — but teases the events of the story are still a secret. The movie is slated to open during Japan's "Golden Week", most likely sometime in early May 2015.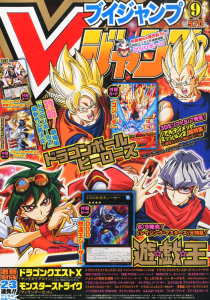 Dragon Ball Z: Battle of Gods, the franchise's most recent film and the first produced in 17 years, premiered on 30 March 2013 and was first announced 14 July 2012 in the 33rd issue of Weekly Shōnen Jump, in which Toriyama also relayed his comments. As soon as we are able to obtain a copy of the magazine ourselves, we will be sure to provide a translation of Toriyama's new comment.
UPDATE: Thanks to our buddy kei17 transcribing the Japanese text for us, we are able to now provide a complete English translation of Toriyama's comments:
こんどの劇場版ドラゴンボールも、マンガで連載していた時の続きのつもりで新ストーリーを考えました。 絵を描いていないだけで、細かいセリフまで徹底的にこだわっています。 まあ、ホントは年齢的にシンドいのでそこまでやるつもりはなかったんですけど、ちょっとお調子に乗ってしまいました。

今回は、もちろん前回の「神と神」の続きになっていますが、意識してアクションシーンを大幅に増やしています。 内容に関しては、なぜかもったいぶって「まだ秘密に!」なんて言われてしまったので触れる事はできませんが、 メチャメチャおもしろいはずですよ!

ホントは派手なアクション物はあまり好きじゃないボクが言うんだからマチガイないっす! めったに褒めない初代担当編集者の鳥嶋氏も珍しく「いいね!」なんて言ったんで。

かなりマチガイないっす!…あんまりデカいこと言ってガッカリされちゃってもマズいのですが、 少なくともファンの方々には、とってもスカッと楽しめる内容になっていると自信を持っています! 現在、新キャラクターなどのデザイン画を描いています。映画の完成はまだ先ですがどうかお楽しみに!!

---

[As with the last movie], I thought up the new story for the next Dragon Ball theatrical movie as though it were a continuation of the manga when it was in serialization. Just the fact that I don't have to draw anything means I can obsess completely over the smallest bits of dialogue. Well, the truth is that I wasn't planning on going that far, since it's pretty exhausting at my age, but I got a little carried away.

This time will of course be a continuation of the previous Battle of Gods, but I've deliberately increased the amount of action scenes by a good deal. With regards to the contents, they told me, "Keep it a secret!" like they're all high-and-mighty, so I can't touch on it yet, but it should be super-duper interesting!

The fact that I'd say that, when I'm not big on the flashy action-stuff, means there's no doubt about it! Even my very first editor Torishima, who rarely ever praises me, said, "This is good!"

Absolutely no doubt about it! …Although it won't be any good if I say that too loudly and people end up disappointed by it, but at the very least, I'm confident that the contents are something that the fans will be able to thoroughly enjoy! Right now, I'm drawing the design illustrations for the new character[s] and such. The movie's completion is still a ways out in the future, but please look forward to it!!
In late 2012 and 2013, a series of figures under the "Capsule R" line — "The Warriors Once Again" and the Saiyan arc — revived popular figures from the series available in capsules, with each also containing a piece that helps add up to an eighth and final figure.
Megahouse has announced a new line under the "Legendary Warriors: Super Saiyan Edition" name.
The figures include:
伝説の戦士目覚める (Densetsu no Senshi Mezameru / The Legendary Warrior Awakens)
Super Saiyan Goku lets his anger loose
超ゴジータ (Sūpā Gojīta / Super Gogeta)
The fusion of Goku and Vegeta from Dragon Ball Z Movie 12
ファイナルフラッシュ (Fainaru Furasshu / Final Flash)
Vegeta prepares to fire his Final Flash attack
伝説の超サイヤ人 ブロリー (Densetsu no Sūpā Saiya-jin Burorī / Broli, the Legendary Super Saiyan)
Broli preparing to fire a ki blast
親子かめはめ波 (Oyako Kamehameha / A Father-Son Kamehameha)
Goku and Gohan firing a Kamehameha together
超ベジータ (Sūpā Bejīta / Super Vegeta)
Vegeta has second-form Cell in a neck hold as they fight
幻の元気玉 (Maboroshi no Genki-Dama / The Ethereal Genki-Dama)
Super Saiyan Goku gathers the energy for a Genki-Dama
As with the previous "Capsule R" line, each capsule contains a piece that can be added together to form one final item: "Portrait of Super Warriors".
A seven-pack is available for ¥5,250 MSRP from both CDJapan and Hobby Link Japan. Be sure to note that although there are seven distinct pieces and seven come in each pack for sale, you are not guaranteed to receive each individual figure in your pack. Pre-orders are now open, with an expected release date of 21 October 2014.
The French publication Le Monde has revealed Glénat's extensive plans for the Dragon Ball franchise in 2015:
Glénat prépare par ailleurs pour 2015 une année spéciale Toriyama, avec l'édition en français de pas moins d'onze œuvres, dont plusieurs animés de la série en version imprimée (comme la période Boo, les anciens films, et le récent Battle of Gods), ainsi que la traduction de sa dernière création, Jaco the galactic Patrolman, avec à la fin l'histoire courte sur la mère de Son Goku. L'éditeur français des aventures de Son Goku s'apprête également à publier Dragon Ball SD, une édition junior, en couleurs, avec une histoire édulcorée et des personnages redessinés en Super Deformed (petit corps et tête disproportionnée) – nouvelle occasion d'ouvrir la saga à un public toujours plus large.

---

Glenat is also preparing a special Toriyama year for 2015, with French editions for as much as eleven works, among which several anime from the franchise in printed form (such as the Boo saga, the old movies and the recent Battle of Gods), along with the translation of his latest creation, Jaco the Galactic Patrolman, which includes the short story about Son Goku's mother at the end. The French publisher of Son Goku's adventures is also about to publish Dragon Ball SD, a junior edition with colors, a kid-friendly version of the story and characters redrawn in Super Deformed style (little bodies and misproportionned heads) – a new occasion to open the saga to an ever-growing audience.
This will be the first international license and translation of Dragon Ball SD by Naho Ooishi, a spin-off/re-telling of the series serialized each month in Saikyō Jump. Akira Toriyama's own Dragon Ball tie-in Jaco the Galactic Patrolman — as well as its "Dragon Ball Minus" bonus chapter — was simultaneously published in Japanese and English, but is otherwise still fresh in its adventures outside of these two languages. France now joins the ranks of Spain, who will also be receiving a translation of the Battle of Gods "Film Anime Comic".
Back in 2012, Glénat originally suspended their work on the "TV Anime Comics" to focus on publishing more of the "Film Anime Comics", which saw their release begin back in January 2013.
More kanzenban releases are also due out and should wrap up in early 2015. Volume 31 (of 34 total) of the manga's "Perfect Edition" was released last month along with the "Film Anime Comic" for Dragon Ball Z Movie 8, with at least another two of each book line due out by October 2014.


Big thanks to "Cold Skin" for the excellent round-up and translations!
Earlier this year we updated with a great batch of new Dragon Ball song lyric translations. Included at the time were lyrics to the short versions the "Galaxy Mission" and "Evil Dragon Mission" theme songs from the Dragon Ball Heroes arcade game updates. This month's "Limited Edition" release of the "Kuu-Zen-Zetsu-Go" CD single came packed with a DVD containing the full-length versions of the songs, so these two lyric pages have been updated!
Alongside these updates are the following all-new entries, all of which have been added to our "Lyrics" section with their original Japanese, romanizations, and English-translated lyrics:
"Kuu-Zen-Zetsu-Go: Like Nothing Before or After"
Takayoshi Tanimoto and "Dragon Soul" contributed the new opening theme to the Japanese television broadcast of the Majin Buu arc of Dragon Ball Kai. The CD single for the song was released 24 May 2014.
"Dear Zarathustra"
The Japanese band "Good Morning America" contributed the third closing theme to Dragon Ball Kai, used as the ending theme for the Majin Buu arc's Japanese television broadcast from episodes 99-111. The CD single for the song was released 06 May 2014.
"Pure Heart"
Japanese singer-songwriter Leo Ieiri contributed the fourth closing theme to Dragon Ball Kai, currently being used as the ending theme for the Majin Buu arc's Japanese television broadcast from episodes 112-onward. The CD single for the song will be released 30 July 2014.
"HERO ~Song of Hope~ (FLOW Official English Version)"
In all international editions of the 2013 film Dragon Ball Z: Battle of Gods, the insert song was replaced with an official English version performed by FLOW, its original Japanese band.
"CHA-LA HEAD-CHA-LA (FLOW Official English Version)"
Similar to the insert song, the ending theme in all international editions of the 2013 film Dragon Ball Z: Battle of Gods was replaced with an official English version performed by FLOW, its original Japanese band.
Enjoy singing along to some of your new favorite Dragon Ball-related tunes!
Back in 2009, a Los Angeles/Mexico-based company by the name of "Magic Sound Records" released what they claimed to be "official" Spanish versions of Dragon Ball Kai songs. Toei's Latin America marketing director, Eduardo Lucio, called Anghelo out as a "pirate", going on to state:
At the moment, there's no authorization that allows the existence of any official product.
It seems Magic Sound Records and Anghelo are at it again, this time releasing a Spanish version of the Dragon Ball Kai Majin Buu arc opening theme, "Kuu-Zen-Zetsu-Go":
The same individuals released a version of FLOW's "CHA-LA HEAD-CHA-LA" from the film Dragon Ball Z: Battle of Gods last year, as well.
When the Majin Buu arc of Dragon Ball Kai hits international markets, if the Korean version is any indication, "Kuu-Zen-Zetsu-Go" will not even be used as the opening theme. Instead, a completely different Japanese-produced song named "Fight it out" will be used.
Thanks to @JetJagg for the heads-up!
When the first collected edition of Naho Ooishi's Dragon Ball SD hit Japanese shelves, it was accompanied by a digital edition. When the second collected edition saw its release earlier this year, no digital edition was announced. Similarly, while two print editions of Akira Toriyama's own Jaco the Galactic Patrolman saw a release that same day as Dragon Ball SD 2, no digital edition was revealed for it, either.
It seems Shueisha is finally catching up their backlog, however, as Dragon Ball SD 2 and Jaco the Galactic Patrolman now both have official digital releases, released this past Friday, 04 July 2014.


The digital editions are available on Apple's iOS/iBooks platform, Amazon's Kindle platform, and Shueisha's own Jump Book STORE! app for iOS, Android, and desktop browsers. At least for now, Jaco stands at an even ¥400 across the board, while the second volume of Dragon Ball SD is advertised for ¥500. These appear to be the new standard prices for Shueisha's digital black-and-white and full-color manga, respectively, with consumption tax having increased to 8% at the beginning of April.
Interestingly, within the "Dragon Ball Minus" bonus chapter of Jaco the Galactic Patrolman, a specific mention of "Planet Freeza" was indeed corrected to "Planet Vegeta". This correction was also present in the digital English release just a few days after the original Japanese print release.
Though the company released the individual chapters simultaneously with their original Japanese print serialization last year, Viz will release their collected edition of the series in English in January 2015. Dragon Ball SD, currently being serialized each month in Saikyō Jump, has not been licensed for release outside of Japan.