Momoko Sakura → Akira Toriyama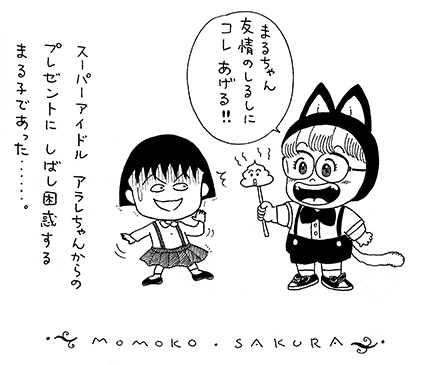 Arale Norimaki: Maru-chan, I'll give you this as a token of our friendship!!
Narrator: For a short while, Maruko was bewildered by her present from super-idol Arale-chan….
My dear Akira Toriyama-
sensei
,
Toriyama-sensei, how do you do? I have been enamored of you since far, far back, Toriyama-sensei, having admired you since junior high school.
Toriyama-sensei, your works are gentle, enjoyable, and optimistic, and they always give me excitement. The magnificence of your own character really shines through, Toriyama-sensei. I have nothing but the highest esteem for your rare talent that allows you to create one splendid work after another, and for your work ethic overflowing with enthusiasm.
Previously, Toriyama-sensei, when my character and your character appeared together on the TV screen1, I was so deeply moved that I wept. To think that it would be able to appear alongside the work of Toriyama-sensei, whom I had always admired, I could only think that it was a dream.
Before I became a cartoonist, I read the book Akira Toriyama's Crappy Manga Laboratory, and it was a great encouragement. Naturally, I have also gotten plenty of dreams from your works such as Dr. Slump, Dragon Ball, and Akira Toriyama's _____piece Theatre.
Just like this, Toriyama-sensei, the manga that you have drawn are nurturing big dreams in Japan and around the world. I, too, nurtured the dreams that I got from you, Toriyama-sensei, and became a cartoonist. Thank you so very much.
Toriyama-sensei, I know that you must be very busy, but please be sure to take care of your health.
And, of course, I am truly looking forward to your wonderful efforts in the future.
—Momoko Sakura
Akira Toriyama → Momoko Sakura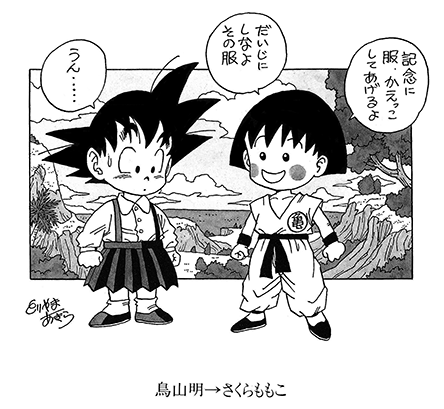 Maruko: To commemorate this, I'll switch clothes with you! You take good care of that outfit, now!
Son Goku: Right…
Momoko Sakura-
sensei
,
I am truly thankful to receive your kind message. It is an incredibly great honor. It's all gone straight to my head. Really, I am happiest to be praised by someone in the same profession than by anyone else.
However, Sakura-sensei, I am quite embarrassed, because I am not at all like the sort of author you praised…. With regards to manga, I was just enthralled with things like Astro Boy when I was in primary school, but from junior high onward, up to the present, I have lived without much contact with it, so even now, this world of manga is full of things that I don't know. I keep thinking that I should study a little more, but I've just lazed along, without doing anything in particular. (That's not being modest; it's the honest truth.)
But of course, even someone as ignorant as I am couldn't possibly be unaware of Chibi Maruko-chan.
Sakura-sensei, you are really able to discover enjoyment out of daily life, past and present. I feel that your powers of memory, observation, and organization, and most importantly, your aesthetic sense, are wonderful. That's a feat I, drawing as I am in that exaggerated style typical of a shōnen magazine, can't really hope to mimic.
Please continue bringing enjoyment to all your fans with your oh-so-cute stories and pictures (with just a little bit of poison2). It's made me want to work a little bit harder, as well.
—Akira Toriyama
P.S. Thank you so much for your wonderful illustration. It's something I've always admired, Sakura-sensei, but your design drawings are so nice and cute. They have a bit of an Eastern feel, and I like that a lot. I have displayed it with great care here. (My wife also likes it very much.) Well, then, I'll be looking forward to your art book.
The following translator notes are included for the benefit of the reader as supplemental information.
1 Likely referring to a then-somewhat-recent 1994 New Year's special broadcast featuring Goku and Maruko alongside movie screenings.
2 The word Toriyama uses here (毒 doku or "poison") is one he would use again within a couple years in his WIRED Japan interview discussing Son Goku, the character's portrayal in animated adaptations, and aspects that were missed therein.
English Translation: SaiyaJedi