"Dragon Ball Z 3" (the Japanese release of what we received as "Budokai 3") was officially launched for the PlayStation 2 in Japan today, and first word is been getting back across the ocean.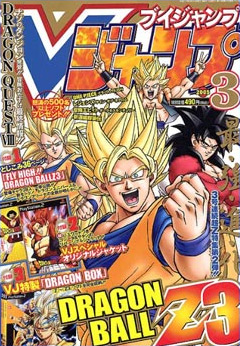 The March 2005 issue of "V-Jump" has a three-part supplement was all sorts of goodies:
Supplement 1: "Fly High!! Dragon Ball Z 3" shows all 38 characters who appear, plus gives a rundown of the new game modes (Dragon Universe & Dragon Arena)
Supplement 2: A reversible jacket for DBZ3 that features SSJ4 Gogeta on one side, Mr. Satan on the other. Apparently also gives secret passwords.
Supplement 3: V-Jump exclusive "Dragon Box" that holds all 3 DBZ / Budokai games.
We are not quite sure about the box just yet. It mentions 38 characters (which is the total of regular playable characters in the US release), but it is possible that there is more to come. As for the promotional passwords, they grant access to:
Level 99 Goku
Alternate Costume: Piccolo-Daimaō
Alternate Costume: Long-haired Trunks
Thanks to Olivier Hague on this one. We will definitely let you know if and when more passwords come out, and what other extras there are!