The "Dragon Ball Online" MMORPG that we mentioned in a previous podcast episode indeed appears to be reality! While it is being developed in Korea, it is an officially-licensed game and will be coming to both Korea and Japan on the PC (no console port is mentioned).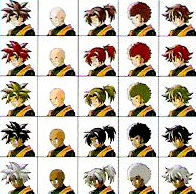 Here are a couple items we have pulled out of the pages:
You are free to do whatever
You can interact with other players
You can add new characters / events as time goes on by downloading new maps, characters, etc.
You can mix & match elements to create characters
You can have your character start out as a child and grow up over time
The game is set around 200 years after the end of DBZ (circa Age 1000)
Beta version comes out in Korea in 2007, with the Japanese release (and final Korean release) coming in 2008
So there you have it. Check out the "V-Jump" pages in the forum thread for additional screen shots and conversation!