Episode #0153 of the podcast is available for download! You have all probably been watching it non-stop for the last week, so take a break and listen to the bunch of us talk about the Jump Anime Tour special, "Ossu! Kaette Kita Son Gokû to Nakama-tachi!!". We brought on Hujio and Herms from Kanzentai to discuss it with us, too! It has been over ten years since the last true, new addition to the franchise, so how does this hold up? Lots of great discussion points and stories to be shared. Definitely check it out.
Just wanted to leave you with one last thing for the day, though. On last week's show, our buddy Jeff decided that it would be a fantastic idea to fuse Appule and Paragas together to form "Appuragas". Well, one particular listener went above and beyond the call of duty: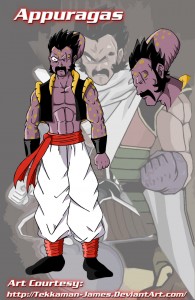 That is right: Appuragas, submitted for your approval. What do you think, fandom?