A new page from Jump details all sorts of new tidbits about the upcoming Dragon Ball Kai: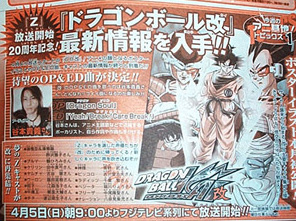 Both the (new) opening and ending themes will be performed by Takayoshi Tanimoto, known for theme song performances in shows like Konjiki no Gash Bell!!. The new opening is called "Dragon Soul" and the new closing is called "Yeah! Break! Care Break!" (both of which are written out in English). There is no word on whether these two songs will last the entire length of the series, or if there will be a theme song shift at any point.
Also provided on the page is a list of all of the original voice actors and actresses for the series. Interestingly, Tenshinhan is not included on this list at all, providing no further information on a possible (more formal) replacement for the late Hirotaka Suzuoki. While Tenshinhan was played by Eiji Takamoto in the video game Sparking! METEOR back in 2007, Tenshinhan did not appear in the recent Jump Super Anime Tour Special, and there have been no further appearances of the character to be voiced. Neither "Kame-Sen'nin" or "Muten-Roshi" are listed on the page, either, so it will be interesting to see which of the many voices ends up taking over the role.
The characters listed are:
Son Goku & Son Gohan (Masako Nozawa)
Bulma (Hiromi Tsuru)
Kuririn (Mayumi Tanaka)
Yamcha (Tōru Furuya)
Oolong (Naoki Tatsuta)
Chiaotzu (Hiroko Emori)
Gyū-Maō / Ox Demon King (Daisuke Gōri)
Chi-Chi (Naoko Watanabe)
Kami-sama / God (Takeshi Aono)
Piccolo (Toshio Furukawa)
Raditz (Shigeru Chiba)
Vegeta (Ryō Horikawa)
Freeza (Ryūsei Nakao)
Narration (Jōji Yanami)
All have their expected performers (with the exception of Chi-Chi's second voice doing the earlier parts of the series where it was originally Mayumi Shō), so this (again) leaves us with more questions than answers.
There is no confirmation on whether or not the full background music score will be a replacement of Shunsuke Kikuchi's original work or if it will be an enhancement of that work.