Courtesy of examiner.com, we have learned that the latest fiscal report from Namco-Bandai leaks the information that a new Dragon Ball Z video game is in development for the PS3 and 360 and is tentatively due sometime in Q2 of the 2009-2010 fiscal year (putting it anywhere between October and March). Namco-Bandai expects to sell 800,000 copies of the new game across Europe and Japan (specifically listed as such; North America is not included):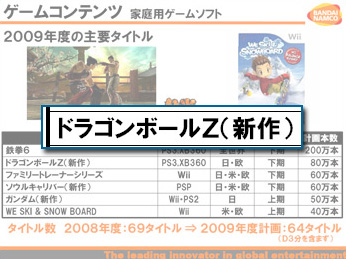 While the game is being developed in Japan, remember that Atari's (and therefore Infogrames') sub-license with FUNimation to distribute Dragon Ball games for certain markets expires in January 2010. At the same time, significant business developments continue to transpire with Namco-Bandai and Infogrames across Europe with their Distribution Partners business.
This news is also in addition to the as-of-yet officially-unannounced game currently in development for the Nintendo Wii.