Needless to say, it was an exciting weekend to be an American Dragon Ball fan down in Baltimore for Otakon.
FUNimation announced at their industry panel at Otakon that, among other new licenses and upcoming products, they would be releasing the first of seven "Dragon Box" sets for the Dragon Ball Z TV series on DVD. FUNimation recorded video of their panel, which can be viewed on YouTube: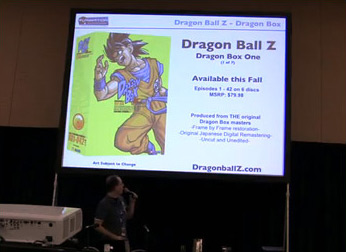 After their panel, attendees were allowed to come up and take pictures of a mock-up of the packaging that will be used for the sets. We took a bunch of images (as seen in yesterday's update), but here is one extra photo: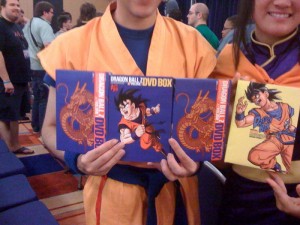 A formal press release also went out, detailing slightly more information about the releases from what was announced at the panel and reported here on the site:
Funimation Entertainment Announces First U.S. Release of Dragon Box
Produced From The Original Dragon Ball Z Masters, Available on DVD in November

Flower Mound, TX – July 18, 2009 — FUNimation Entertainment, a wholly-owned subsidiary of Navarre Corporation, today announces that it has acquired the original masters for the entire Dragon Ball Z anime series, episodes and films, and will release all as the Dragon Box for the first time in the U.S. The first of seven Dragon Boxes will be available at major retailers nationwide this Fall.

The Dragon Box will be produced from the original Dragon Box masters after a frame by frame restoration and will span the entire 291 episode television series and all 13 of its movies.

This definitive DVD box release begins with Dragon Box One which includes the first 42 episodes, uncut, on 6 discs.

The Dragon Box releases will feature an aspect ratio of 4:3, the original Japanese audio (with options for an English track or English subtitles), the original episode previews, complete opening and closing credits and a collector's booklet.

Dragon Box One will be available at major retailers nationwide on November 10, 2009 and will have an SRP of $79.98.

About FUNimation Entertainment
FUNimation® Entertainment, a wholly-owned subsidiary of Navarre Corporation, is the leading company for home video sales of Japanese animation in the United States. FUNimation has a proven formula for launching and advancing brands, and manages a full spectrum of rights for most of its brands including broadcasting, licensing, production, internet, and home video sales and distribution. For more information about FUNimation Entertainment and its brands, visit www.funimation.com .
For those following along with the news and wondering why, exactly, this fourth release of these particular episodes from FUNimation warrants such applause and sighs of relief… allow us to briefly explain.
For many years after its original broadcast airing in Japan, the TV series never actually saw a home video/LD/DVD release (although the movies had VHS/LD releases). In 2003, Toei (in conjunction with Pony Canyon) began releasing the entirety of the TV series and movies on DVD in a new, fully-remastered "Dragon Box" format. These giant box sets were limited-edition pre-order-only releases, and touted genuine frame-by-frame remastering from the original 16mm film reels (unlike multi-generational copies provided to their licensees such as FUNimation). Frames were re-aligned, dirt and other damage was removed, etc. After releasing the entirety of the series and movies, all saw individual DVD releases in Japan, as well.
As FUNimation accurately stated in their commercial/trailer played at Otakon, the "Dragon Box" version truly is the definitive presentation for the series.
We are still waiting for confirmation on several aspects of these upcoming American releases of the "Dragon Box" sets, though. Current unknowns include:
Compromises to the video bitrate due to the inclusion of more episodes-per-disc over the original Japanese (originally six in Japan)
Compromises to the video and audio bitrates due the inclusion of additional audio tracks (originally just the single Japanese language track)
While defaulting to the Japanese language track, which FUNimation dub will be included (either/both of the American broadcast BGM or original Japanese BGM as produced for the previous faux-"remastered" season sets)
While noted during their panel at Otakon that it is for the "hardcore" fans, how or if FUNimation will attempt to market it to their established dub-only fanbase, and/or those that have purchased the previously-released and recently-completed faux-"remastered" season sets
If any alternate angles or adjustments will be made to include English aspects such as title cards, or if the quote from representative Adam Sheehan, "we didn't change a damn thing" means that items such as Japanese credits and title cards will be the exclusive versions included
The release cycle/schedule for their sets
Whether or not the original Dragon Ball and/or Dragon Ball GT will follow, especially considering that their own "remastered" (non-"Dragon Box") versions of Dragon Ball GT just finished a "season set" release, and the original Dragon Ball is about to begin this September
So there you have it. We are still taking a week off from the podcast to recover from Otakon, but expect lots of commentary next week from a wide variety of folks!