The Amazon listing for FUNimation's re-release of the first Dragon Ball movie has recently gone online, and also includes a trailer for the product.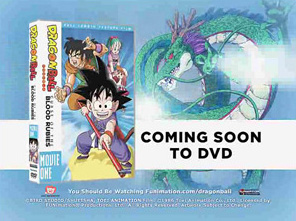 No concrete release date is given in the trailer (just a "Coming Soon" ending splash). Nowhere in the trailer are any words such as "uncut" or "unedited" or "Japanese" used, a major departure from anything as-of-late from FUNimation. Furthermore, observant fans in our forum's dedicated thread have pointed out scenes from Dragon Ball TV episode 2 — scenes that were spliced into FUNimation's edited dub of the movie from 1995, which contained the original Canadian voice cast and replaced musical score.
Based on what we heard last month, this upcoming release would include the original Japanese version uncut, but would not include a re-dub.
We have been unable to get solid clarification as to what this release will actually have. Here is what we think:
POSSIBILITY #1: UNCUT, JAPANESE + SUB ONLY
ANALYSIS: The day that FUNimation releases a sub-only Dragon Ball product is the day I truly eat my own shorts. We can pretty safely assume that some version of an English dub will appear on this disc.
POSSIBILITY #2: UNCUT + JP + SUB / EDITED + DUB
ANALYSIS: If the information is true about it being both "uncut" and not having a re-dub, the only way for it to work would be to have two video tracks: one for the original Japanese version, and one for the edited, English-dubbed version from 1995 with the first FUNimation voice cast and replaced musical score. If what we hear about the movie not having a re-dub is true, this option might make the most sense.
POSSIBILITY #3: EDITED, ENGLISH DUBBED ONLY
ANALYSIS: FUNimation has not released a dub-only (including an edited, dub-only) Dragon Ball product in many years, and it was always accompanied by an uncut release to go along with it. Releasing a stand-alone disc with the edited 1995 dub that contains neither the original Japanese musical score nor their current voice cast seems incredibly unlikely and out-of-character for the company.
POSSIBILITY #4: UNCUT, JP + SUB / DUB
ANALYSIS: It makes the most sense in the modern world for FUNimation to re-dub the movie (uncut) with their current voice cast and release a standard, dual-language, unedited release. If what we hear about it not having a re-dub is true, though… that alone might toss this option out the window.
While Amazon is still listing a 27 July 2010 release date, RightStuf has shifted to a 28 December 2010 release date. The trailer says "Coming Soon", which leads us to believe the July date is more accurate.
Sadly, the trailer leaves us with just as many questions as it does answers. Other than some auxiliary features, this remains the only primary feature presentation for the franchise that has never seen an uncut / Japanese release in North America. Since North American distribution does not affect Japanese releases in any way, the movie was released both as a part of "Dragon Box: The Movies" (2006) and on individual DVD (2009) — we gave it an in-depth look and review back on Episode #0112 of our podcast if you want to dive in with us ahead of this domestic re-release.
EDIT: Just heard back from FUNimation that the release has indeed been pushed back to later this year. What does this hold for us? I guess we will find out… well… later this year!