We have often mentioned in passing how much of an international phenomenon Dragon Ball really is — specifically the original Japanese version — but it has usually been pure speculation based on observations of the general fanbase. Besides seeing how many international visitors this and many other Japanese-oriented Dragon Ball fansites get, we now have some actual sales numbers from Toei Animation to put along with it. The first quarter of the 2011 fiscal year (FY11) ended on 30 June 2010 and a month later Toei Animation released their fiscal report detailing their top four anime properties, both domestically (in Japan) and internationally.  For the sake of this update and everyone's sanity, I will be focusing on the fiscal year sales numbers rather than each individual quarter. To help gauge the significance of these sales I will be comparing the sales numbers between Dragon Ball and One Piece between FY04 and FY11.
Dragon Ball has been doing fairly well in Japan over the past few years, with a nice spike in sales between FY06 and FY08 when the Dragon Ball Z individual discs were being sold. Following FY08, sales began to drop off slightly, and even with Dragon Ball Kai premiering at the very beginning of FY10, the sales in Japan have continued to drop. Conversely, after slightly dropping off between FY05 and FY09, One Piece sales have rapidly been rising. In fact, One Piece made ¥669 million for the total of FY10, but has already out sold that fiscal year in just one quarter of this fiscal year, most likely due to the series' film, Strong World. By the 2nd quarter of FY11, One Piece could conceivably make over ¥1 billion in total net sales, a feat last accomplished by Dragon Ball!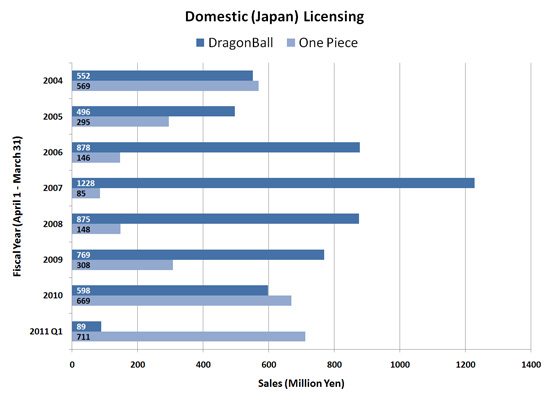 With Dragon Ball on the decline after peaking at ¥1.23 billion in FY07 and One Piece possibly heading toward ¥1 trillion in FY11, it seems One Piece has completely taken over the sales market in Japan. It seems all too clear now why Fuji TV decided to combine Dragon Ball Kai and One Piece in an anime block. The big question is, though: does Dragon Ball still hold up internationally these days, even though it is now not the largest bread winner in Japan?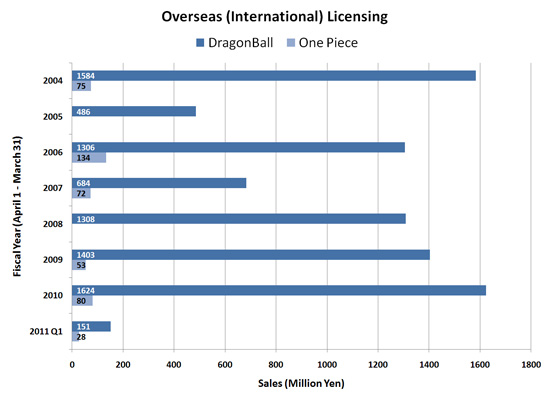 With no surprise, Dragon Ball is still the best selling anime series internationally, far and away surpassing One Piece and almost every other anime series. In fact, the profit share for most anime series between domestic and overseas sales is 80:20, whereas Dragon Ball itself is approximately 30:70, meaning on average Dragon Ball has made 70% of all its net profit over the last seven fiscal years from international sales. In the last fiscal year alone, Dragon Ball netted ¥1.62 billion internationally, but only grabbed ¥598 million domestically in Japan. I know everyone loves looking at the graphs and numbers, but what is the real point to all this? Well, simply, the funding of Dragon Ball Kai.
This year, veteran voice actor and director Yūji Mitsuya held a Q&A panel at Otakon. Most Dragon Ball fans will recognize him as the voice of Kaiōshin in Dragon Ball Z. After telling some hilarious stories, and having a fire alarm pulled on us, we ended up in the nearby Sheraton hotel where Mitsuya began to take questions from us fans. VegettoEX managed to get in the last question, asking him if he would be returning to reprise his role as Kaiōshin in Kai. His answer confirmed a lot of our mutual speculation about the series' production.
Mitsuya admitted that he had already expressed his interest in returning to voice Kaiōshin in Kai to the series director, Yasuhiro Nowatari, who he is friends with. He then recounted Nowatari telling him in return that he was not sure if they could afford to hire Mitsuya, as he's a veteran voice actor, and he was not even sure if the series would still be around that far down the road. Mitsuya even mentioned that he had told Nowatari he would be willing to take the job at a reduced rate just to play the role again!
With all of the original series' cast and staff now working at quite expensive rates due to their experience, it seems Kai may actually be much more expensive to produce than any of us had originally imagined. Many minor roles have been recast with younger and cheaper talent, and almost none of the original staff was brought back. We have seen stunt casting with J-Pop artist Aya Hirano voicing Dende and then singing an image song about the character, and we now have members of the idol group AKB48 performing Kai's second ending theme. On top of that, many have noted that Kai seemed to be rushed over to North America. Knowing now how much better Dragon Ball sells internationally, it seems all too obvious that this was indeed done to raise some much needed funds to continue the production of Kai in Japan. The question is, just how expensive is Kai?
At the moment nothing has been officially stated, but all indications point toward Kai being much more expensive than anyone had originally thought, even though no new significant footage is really being animated for the series. How ironic would it be to find out later that after all this time of fans calling Kai a "cash grab" by Toei Animation, that it is really an expensive venture with very little profit? My guess is, if that is the case, we will never find out. If Kai really is relying so much on "Dragon Ball Z Kai" and you love the series, then you really need to buy it!
Nevertheless, without a shadow of a doubt, we can say Dragon Ball has swept the globe and is not willing to let it go anytime soon. However, some day, it may have to share it with One Piece.