We have not been keeping up with every single last character announcement for Raging Blast 2 lately, but a few have cropped up over the last few weeks that are worth mentioning. Making their first playable appearances will be characters like Artificial Human #14 (from the seventh Dragon Ball Z movie), along with other characters like "Ultimate" Gohan.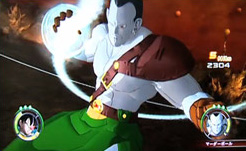 A new Jump page also (finally!) confirms that the game will be receiving a vocal opening theme song from Hironobu Kageyama entitled "Battle of Omega", complemented by another CG animation (a la the prior Spike-developed games):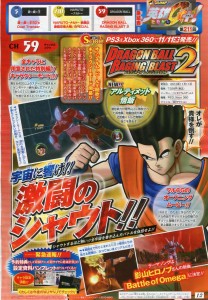 This may be the latest that a vocal theme song has been announced in the time leading up to a game's release since the series' revival early last decade — we typically know many more months in advance. No CD single seems to have been announced yet, but the Hironobu Kageyama and Hiroshi Kitadani collaboration "don't give up" (from Battle Stadium D.O.N.) is one of the only modern examples that did not eventually end up on CD in some capacity.