About a week ago, Shueisha announced plans to release a new magazine called Saikyō Jump. At the time, this news had nothing to do with our favorite franchise — other series were receiving spin-offs from new artists (including One Piece), but Dragon Ball was not listed.
Well, things have changed — we are getting one, too!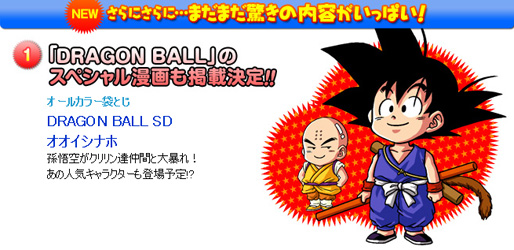 The new Dragon Ball SD spin-off series will be in color and will be created for the magazine by Naho Ooishi, who previously did the two-part manga adaptation of the 2008 Jump Super Anime Tour Special. There is no word yet on whether or not this will be a one-shot or an on-going series.
Saikyō Jump debuts in Japan 03 December 2010, so we can expect all sorts of new information very soon. Coincidentally, December 3rd will be the manga's 26th anniversary — the first chapter of Dragon Ball debuted in 1984's Weekly Shōnen Jump #51 on that day. Very exciting news, folks!
Thanks to Liam for being the first to send this in, and everyone talking about it on our forum for some extra tidbits!