This past weekend's episode 82 of Dragon Ball Kai featured a new insert song: "Tatta Hitori no Senshi" ("The Lone Warrior"), performed by Takeshi Kusao, who happens to be the voice actor of Trunks. The song recently appeared on the new album Dragon Ball Kai Soundtrack III & Songs, though there was no hint that it would eventually end up in the show — while many vocal songs from the first Dragon Ball Kai Song Collection ended up being used in the show, just as many remained image songs relegated to disc-only status.
The song played during Trunks' fight with Cell after powering up to the third stage of the standard Super Saiyan form. Incidentally, the title "Tatta Hitori no Senshi" was originally used as the title for the special chapter in the manga showcasing Trunks and his future timeline.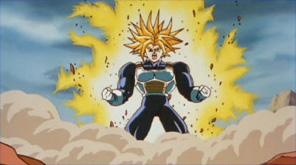 The last insert songs to be used in Kai were back in episode 41 when both "Saiyan Blood" and "Super Ultra Dragon Soul" were used. Trunks is no stranger to insert songs, though, previously having both "Battle Point Unlimited" (episode 120) and "Mind Power …Ki…" (episode 139) associated with him in the original version of the Dragon Ball Z TV series.
Check out our review of Soundtrack III & Songs back on Episode #0237 of our podcast. For a little extra Trunks commentary, we reviewed and compared the manga and TV versions of the Trunks special back on Episode #0213 of our podcast.