Big thanks to Super Sonic on our forum for the heads up on this one! Viz's American version of Shonen Jump will be hitting its 100th issue next month, and in celebration, none other than Cross Epoch will be presented!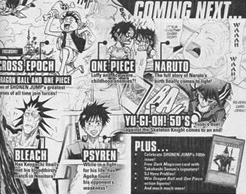 Cross Epoch was a single-chapter collaboration between Akira Toriyama and Eiichiro Oda (author of One Piece) originally published in 2007's #4/5 issue of Weekly Shōnen Jump in Japan (which was actually released Christmas Day at the end of 2006).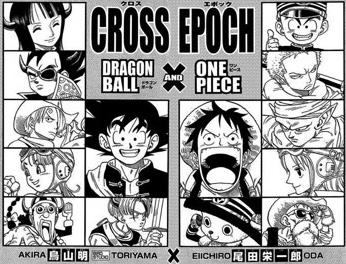 The one-shot featured various characters from both the Dragon Ball and One Piece universes all teaming up and going on wacky adventures together, culminating in a giant tea party with Shenlong. No, really. Giant tea party.
The last Dragon Ball spin-off to be featured in the American Shonen Jump was Neko Majin Z 5 back in the October 2007 issue (though the chapter number was removed, leaving any uninformed readers with no idea that it was part of a larger story).