Last November we learned about a new quarterly magazine from Shueisha called Saikyō Jump, which would contain spin-off chapters from their various popular series. For their first issue, a special chapter called Dragon Ball SD was drawn by Naho Ooishi, who had previously drawn the two-part manga adaptation of the 2008 Jump Super Anime Tour Special. It was a retelling of Goku's early adventures with Kuririn while training under Kame-Sen'nin.
No second chapter was listed in the debut issue (despite other series having announced second chapters), but it was revealed yesterday that Dragon Ball SD would return for another chapter, again by Naho Ooishi, in the next issue of Saikyō Jump. This chapter will retell Super Saiyan Goku's fight against Freeza.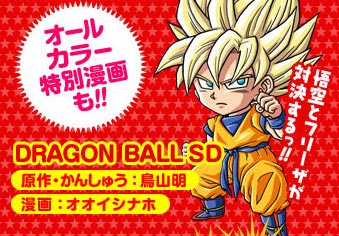 Unfortunately, due to the earthquake and tsunami in Japan, the 01 April 2011 release date of the issue has been pushed back to a new release date of 11 April 2011. As with the last issue, this one will come with an exclusive Dragon Ball Heroes card, but will also include an exclusive "Strongest Hero Grand Collection DVD". The DVD will include "movie manga" versions of the twelve stories from the first issue.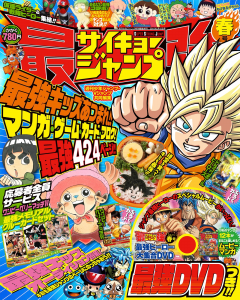 We reviewed the first chapter back on Episode #0241 of our podcast if you want to learn more!