The third issue of Saikyō Jump was released in Japan today, which includes the third chapter of Dragon Ball SD by Naho Ooishi.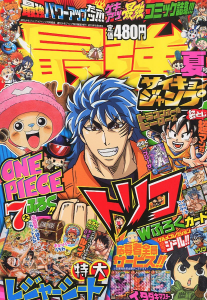 The quasi-parody/quasi-straight-forward spin-off features the Cell Game this time around. The first two chapters in the quarterly magazine featured a re-telling of Goku's training under Kame-Sen'nin with Kuririn, while the second focused on Goku's battle with Freeza. Check out episodes #0241 and #0256 of our podcast, respectively, for reviews on the earlier chapters.
Also included in this issue of Saikyō Jump is a re-print of the first chapter of Episode of Bardock, also written and drawn by Ooishi. Her three-part "sequel" to the Bardock TV special debuted in the August 2011 issue of V-Jump just a little ways back. For those of you who missed out on picking up the video game magazine along the way (which is released on the 21st of each month), this might be a great way to hit two birds with one stone.