From this week's pages of Jump we have received confirmation that Hironobu Kageyama's classic DragonBall Z TV first opening theme, "CHA-LA HEAD-CHA-LA", will be used as the opening theme for Ultimate Blast in Japan. As reported a few days ago, the game will also feature new 2D animation in its story mode, now revealed to be over 30 minutes worth of footage.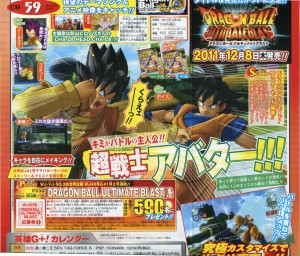 With a couple minor exceptions, both Atari and now Namco-Bandai have consistently kept in Kageyama's vocal theme songs for the game localizations since approximately 2007 with the international release of Sparking! METEOR ("Budokai Tenkaichi 3") — incidentally, one with a replacement theme song was Super Dragon Ball Z on the PS2, which originally used the 2005 remix of "CHA-LA HEAD-CHA-LA" in Japan.
The standard version of "CHA-LA HEAD-CHA-LA" was also used as the opening to 2006's Sparking! NEO on the PS2 (later ported to the Wii), as well as back in 2003 for the first Dragon Ball Z on PS2. Dipping even further back, it was also used with the original TV opening's animation re-envisioned as 8-bit art in 1994's Idainaru Son Gokū Densetsu for the PC-Engine.
Namco-Bandai has been promoting "original Japanese music" from the start for the new game's international release as Ultimate Tenkaichi, but we will of course follow-up for solid confirmation.