We reported back in October that Saikyō Jump will be switching from being published quarterly to monthly as of 03 December 2011, but at the time it was unclear whether Dragon Ball SD would be continuing. We are no longer in the dark as Shueisha finally updated their offical Saikyō Jump website yesterday with their new line-up, which does indeed include SD: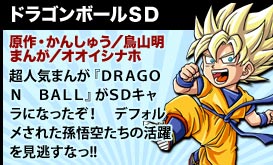 The super-popular manga Dragon Ball has gone SD!
The deformed Son Goku is waiting for you, so don't miss this!!
The January issue of the magazine is out now, but it appears that Amazon Japan does not currently have any available for purchase.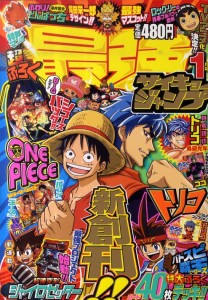 The website was also updated with three preview pages of the upcoming chapter, which appears to be an alternate retelling of the first chapter of Dragon Ball… so it is possible that we may be getting a full retelling of the original manga by Naho Ooishi, in full-color SD form. With the first four chapters covering Goku's training with Kame-Sen'nin, to the Freeza fight, to the Cell fight, and then to the Majin Boo fight, perhaps going all the way back to the beginning was the only natural choice.
Finally, they have posted a nice "Saikyo Survey" on the right side of the main page asking, "In order to be the strongest, who would you combo with?" The five options provided are Toriko (Toriko), Chopperman (One Piece), Rock Lee (Naruto), Son Goku (Dragon Ball), and Sai Jack (Saikyō Jump original character). As of this post, Son Goku leads all of the characters with 51% of the total votes, with Rock Lee in second with only 19% of the votes. It appears that Son Goku is still a beloved character by kids in Japan these days!