A couple folks have sent this in, and while it seems slightly early (compared to prior years and the games' usual April/May formal reveals), we should probably not be too surprised to see the first hints at this year's main video game for the franchise.
Listings for a (likely tentatively titled) "Dragon Ball Z HD" have made their way to Walmart's website (on both the Xbox 360 and PlayStation 3) with a release date of 02 October 2012. There are a couple tidbits to take away from the listings, beyond the basic "new game" and "coming out in October" that we see year-in and year-out. First off, since there is a listing for a PlayStation 3 version of the game, it is likely that this will be a separate entity from the upcoming Xbox 360 Kinect game. Additionally, Wal-Mart's genre for the game is "Fighting / Shooting", the same as last year's Ultimate Tenkaichi.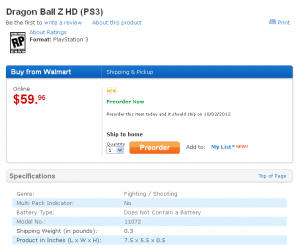 As noted earlier, Namco-Bandai does have a press event coming up in April, and it is likely that any tidbits about any upcoming Dragon Ball games will make their way to us around that time.
Walmart was a great source of information leaks back in summer 2009 when they revealed the "season sets" for the first Dragon Ball TV series, which would go on to include the first thirteen episodes uncut and bilingual for the first time in North America.