Tying in with various Dragon Ball Heroes updates (and eventually Episode of Bardock), last summer Shueisha announced a Dragon Ball Z Special Selection DVD which would contain both the Bardock and Trunks TV Specials on DVD at an incredibly reduced price (¥1000). The disc came in larger packaging typical of convenience-store-esque cheap items, and brought the two TV Specials to an individual disc for the first time ever in Japan, having only previous been available as extras on each of the two Dragon Box releases for the Dragon Ball Z TV series.
It seems Shueisha is teaming up with Toei again for another Special Selection release at an appealing price, this time with the Jump Super HEROES Special Selection DVD Vol. 1: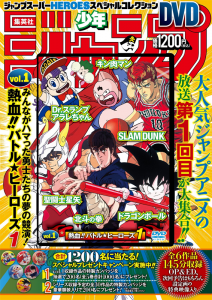 The product will span six different franchises, presenting the first episodes from Dragon Ball, Hokuto no Ken, Saint Seiya, Slam Dunk, Dr. Slump, and Kinnikuman. The DVD will only run you ¥1200, and is available today (25 May 2012) in Japan — it is up for order on both CDJapan and Amazon Japan.
If this is "Vol. 1", perhaps we can expect some additional "Special Selection" DVDs in the future? Maybe the first episodes from various "sequel" series like the second Dr. Slump from 1997, Dragon Ball GT, etc.? We will stay on the lookout!
Thanks to sumpter360 for the heads-up!