Earlier this week, the official website for Zenkai Battle Royale, the arcade-only, multiplayer fighting game in Japan, announced an upcoming update for the game coming in July: Super Saiyan Awakening (Sūpā Saiya-jin Kakusei):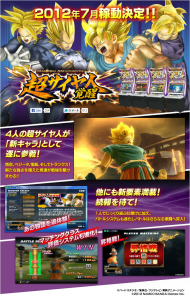 Four of these Super Saiyans will be added as "new characters": Goku, Vegeta, Gohan, and Trunks. In addition to being able to enjoy a deep single player mode, the battle system has evolved and will allow you to to get into even more intense fights. Some of the elements noted are that:
you can experience "that story" (with a screenshot of Vegeta and Nappa);
the "matching class evaluation system" has also improved;
and there are fights to level up.
There are apparently a lot of other new elements coming to the game, but the announcement (of course) says to wait for further information.
Zenkai Battle Royale has continued to receive consistent updates since its original test launch in December 2010 — Mr. Satan and Majin Boo were both added as playable characters just last month.