The Dragon Ball Z: Budokai HD Collection for PlayStation 3 and Xbox 360 has just been officially announced for a winter release during a live stream of Japan Expo currently taking place in France. The collection will contain the first (originally released for the PlayStation 2 and Gamecube) and third (originally released for the PlayStation 2) Dragon Ball Z / Budokai games — the second game will not be a part of the collection. It is important to note that this is a collection of two games from the first trilogy of fighting games from that generation, and not the Sparking! / Budokai Tenkaichi games as previously hinted at.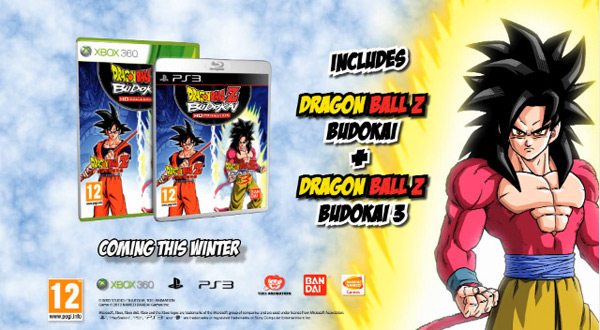 Special thanks to Super Saiyan Prime for the heads-up. We will hold tight for a version of the trailer we can review, but early reports hint toward only slightly-improved visuals and a replacement soundtrack — the music in the games was originally composed by Kenji Yamamoto, so we would not be shocked at all to hear a completely new score in both games. The cover art shown above fuses a bit of the original European covers for the games, so it will be interesting to see what North America and/or Japan end up with.
EDIT: Namco-Bandai EU has uploaded the trailer to YouTube, as well as issued a formal press release.
DRAGON BALL Z BUDOKAI HD COLLECTION brings two classic fighting games to Playstation®3 and Xbox 360®

July 5, 2012

NAMCO BANDAI Games to release HD re-master of PlayStation®2 titles DRAGON BALL Z BUDOKAI and DRAGON BALL Z BUDOKAI 3 for PlayStation®3 and Xbox 360® this Winter

NAMCO BANDAI Games Europe today announced the return of two of the finest Dragon Ball Z games in the history of the franchise. PlayStation®2 titles Dragon Ball Z Budokai and Dragon Ball Z Budokai 3 are being enhanced and re-mastered in HD, and will be released together as Dragon Ball Z Budokai HD Collection for the PlayStation®3 computer entertainment system and Xbox 360® video game and entertainment system from Microsoft in Europe this winter.

Originally released in 2002 and 2004 respectively, both games deliver highly charged, unforgettable gameplay experiences, making Dragon Ball Z Budokai HD Collection an essential purchase for new Dragon Ball Z fans as well as those who want to relive the furious battles from the original games. With its intense gameplay and thrilling fight action, Dragon Ball Z Budokai 3 went on to become the highest rated Dragon Ball Z title on Metacritic, a position it retains to this day.

With enhanced and re-mastered HD visuals, alongside full Trophy and Achievements support, Dragon Ball Z Budokai HD Collection brings two legendary anime fighting titles to the PlayStation®3 and Xbox 360® for the first time in one great package. No fan of the series can afford to miss it.

Dragon Ball Z Budokai HD Collection will be powering its way into Europe this coming winter.

For more information on Dragon Ball video games from NAMCO BANDAI Games Europe please visit www.facebook.com/DBZ.videogames.
Namco-Bandai EU's product page for the collection notes that both included games will sport the optional original Japanese language track, which was only available to North American players in the third game (never in the first two) when it was re-released under the "Greatest Hits" label (though the first shipment suffered a misprint without the extra content). No online play appears to be available in either game.
Dragon Ball Z Budokai 1 and Dragon Ball Z Budokai 3 make their triumphant debut on next generation consoles in Dragon Ball Z Budokai HD Collection. Remastered in high-definition with full trophy/achievement support, fans can relive these two great games or experience them for the first time in one special collection.

Features

BUDOKAI 1 FEATURES:

Face off with up to 23 mighty DBZ warriors!
60 moves per character including Kamehameha
Fierce fighting modes including Story, Duel & World Match
Follow the DBZ animated series from Saiyan Saga to Android saga!
Includes the authentic Japanese voiceover cast

BUDOKAI 3 FEATURES:

More than 40 characters from DBZ, DBZ movies & Dragon Ball GT
Customize your DBZ warrior & build the ultimate fighter
Saiyan Overdrive Fighting System brings the speed, cinematic attacks & combos, airborne acrobatics & intensity of the DBZ anime
Share character profile passwords for other players to use
Includes the authentic Japanese voiceover cast
The collection was outed a little early yesterday afternoon when European superfan Nostal / Treevax posted an image of the next day's setup to their Facebook page: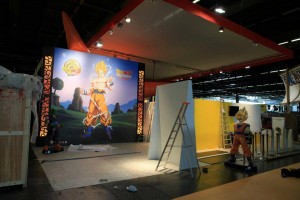 It has been an interesting ride for this collection. It was this past March that Wal-Mart put up a listing for an "HD Collection" for Dragon Ball Z, and then shenanigans with Dragon Ball Z For Kinect came about confusing everything. Back in May, Spanish retailer XtraLife.es put up listings for a supposed Budokai Tenkaichi HD Collection which was quickly pulled down, leading everyone to believe that some new collection was indeed on the way.