Japanese rock metal groups Maximum the Hormone and jealkb held a small concert earlier this week on 29 October 2012 at the "Electric Lady Land" live music house in Nagoya, Japan. You may remember that both groups are avid fans of the series, as Maximum the Hormone released the tribute song "F" dedicated to Freeza in mid-2008 and jealkb provided the ending theme song to the "Jump Super Anime Tour" special. After the concert was over Maximum the Hormone headed backstage, only to find Akira Toriyama waiting for them in their dressing room! He presented the group, and more specifically guitarist/lead vocalist Ryō-kun, with an autographed illustration commemorating their song dedicated to Freeza. As with any great event these days, Maximum the Hormone documented the whole experience on their official Twitter account (@MTH_OFFICIAL), pictures and all.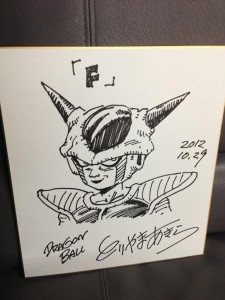 In addition, Toriyama stuck around to draw illustrations for the other band members. The first three autographed illustrations (shown below) were drawn for members Ue-chan (bassist), Daisuke-han (vocalist), and Nao-chan (drummer), with the final one featuring Son Goku in a "metal pose" as featured on the cover of Bu-ikikaesu, the second album released by Maximum the Hormone.
Big thanks to our forum member fps_anth for pointing this out to us!