Much like with a few instances of Dragon Ball TV series filler and the introduction to Dragon Ball GT, it seems that the original villain from the series — none other than Pilaf himself — will be making at least a cameo in the upcoming Dragon Ball Z movie hitting Japanese theaters next March.
The 30th "Prize Fair" took place in Tokyo today, and Bandai was on hand to showcase some of the new Dragon Ball figures coming this winter. In addition to the previously-announced third line of Zōkei Tenka'ichi Budōkai figures were some items for their "World Collectable Figure" line — small set of eight figures around 7 cm tall — being produced in conjunction with next year's movie. Along with Goku and Vegeta, Pilaf, Mai, and Shuu have been revealed.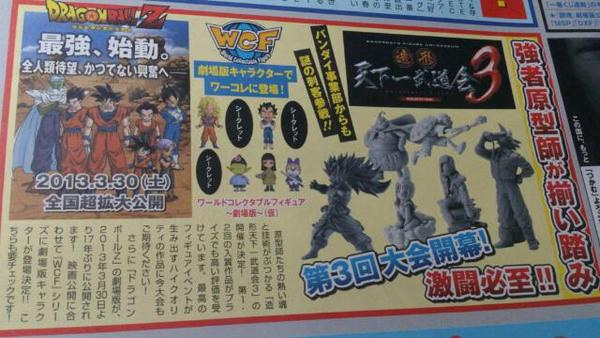 Three additional characters are covered up with black ovals and are listed as "Secret". There's also a short paragraph, seen directly under the movie's poster, that discusses the actual release of the figure line:
さらに「ドラゴンボールZ」の劇場版が、2013年3月30日より17年ぶりに公開されます!映画公開に合わせて「WCF」シリーズに劇場版キャラクターが登場決定!!こちらも要チェックです!

---

Furthermore, there's the "Dragon Ball Z" movie, the first in 17 years that will premiere on 30 March 2013! A "World Collectable Figure" series will coincide with the release of the movie, covering movie characters that make an appearance!! Check them out here as well!
It would certainly be a welcome surprise to see the not-so-dangerous trio show up in the upcoming movie in at least some minor capacity, but it makes you wonder who the three blocked out characters are. Either way, here's hoping for some comedy gold!
Thanks to kei17 for the heads-up!