Manga-news Japon has posted a new image (which appears to semi-originate on a 2ch thread) promoting the new theatrical Dragon Ball Z movie set to hit Japanese theaters on 2013 March 30, and this time we have a title: "Battle of Gods", with a possible subtitle of Kami to Kami ("God and God").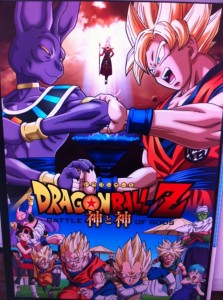 Super Saiyan Goku is blocking an elbow from a cat/rabbit-esque character (with what we think looks like some futuristic Egyptian garb), with yet another new character centered behind them showered in light. A good mix of returning characters line the bottom of the image, including Gohan (transformed into a Super Saiyan, interestingly enough for this point in the story), Vegeta, Trunks, Bulma, Piccolo, Goten, and Majin Boo. A female character is also shown, which could possibly be Videl with one of her short haircuts, though it could also be one of the various Dragon Ball Heroes female avatar characters making a cameo… or any other variety of random character insertions. Tenshinhan appears to be hanging out in the far background, and there are even a couple other tiny additions that we will not even attempt to make calls on!
It is worth noting that the image appears to be a screen shot itself taken off a computer screen (specifically a Mac OS computer) — we do not know the origin of the image, and cannot yet 100% vouch for its legitimacy.