Earlier this morning, scans from one of Shueisha's "Jump" magazines (we have yet to confirm the specific magazine, though it is likely Ultra Jump, or possibly Weekly Shōnen Jump or V-Jump), promoting the upcoming 2013 Dragon Ball Z movie, were leaked in a 2ch thread. The pages confirm quite a lot about the movie, including Akira Toriyama's actual involvement with its production. It notes that he not only came up with the movie's original concept, but also the actual story and character designs. In addition, the page confirms the movie's title as "Dragon Ball Z: Battle of Gods", written as "神と神" (Kami to Kami) in Japanese.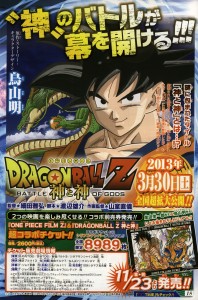 The main tagline at the top of the page reads:
「神」のバトルが幕を開ける!!!

---

The curtain rises on the battle of "God(s)"!!!
The "神" character in the tagline is quite intriguing because it is written with the pronunciation "shin", as opposed to "kami" which is used in the movie's title. While both can mean "God", the "shin" pronunciation is not normally used with the kanji by itself, and may be punning on "true" (as in, "The true battle begins"). Following that is a little tease about the movie itself, and its mysterious title:
謎に包まれたタイトル「神と神」とは…!?
発表された映画のタイトルは「神と神」!!これまで「DB」には様々な神様が登場したが、もしかして彼らと関係が…!?続報に期待大だッ!!

---

What is this title surrounded by mystery, "Battle of Gods (Kami to Kami)"…?!
The film's title has been announced as "Battle of Gods"!! Up to now, a variety of gods have appeared in Dragon Ball, but could it be that there's a connection to them…?! Be on the lookout for further information!!
The ad goes on to announce a special pre-sale "Collaboration Ticket" with the upcoming One Piece movie, "One Piece Film Z", which is a dual-ticket good for both films. The tickets will go on sale 23 November 2012 (Labor Thanksgiving, a national holiday in Japan) and cost ¥2,600 apiece. These tickets will be limited to 8,989 ("waku-waku", meaning "excitement") across Japan. The ticket itself will have a special new illustration by both Eiichirō Oda (author of One Piece) and Akira Toriyama to commemorate the release of the two films. A partial list of participating theaters is given at the bottom, with the fine print noting that tickets for "Battle of Gods" alone will go on sale on Saturday, 15 December 2012.
And so, our first apparently-solid confirmation of the 2013 film's title and subject-matter has arrived. As the new year approaches, the pace of new information and product promotions is sure to increase, so hold on to your hats…!
Update: It has been confirmed that the above page comes from the December issue of Ultra Jump, which will be officially available on 19 November 2012. It does appear that the upcoming issues of Weekly Shōnen Jump and V-Jump will also have similar, if not identical, ad pages for the film.