The world of Shōnen Jump crossover games dates back to two Famicom Jump entries on the (perhaps obviously) Nintendo Famicom in Japan. Things expanded to a huge degree with Jump Super Stars and Jump Ultimate Stars on the Nintendo DS in the previous decade, followed up by Battle Stadium D.O.N. on the PlayStation 2 and Nintendo Gamecube.
A new game to commemorate the 45th anniversary of Jump has been announced from Namco-Bandai: Project Versus J.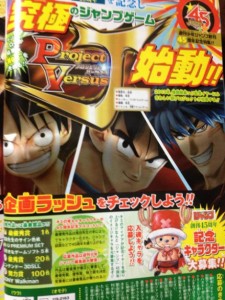 In addition to One Piece, Dragon Ball, and Toriko being showcased, the creators of the new game are taking requests for characters to include this time around, a move they also made back when a sequel to Jump Super Stars was first announced. Folks who send in their character votes will also be entered into a contest for what we can only assume are fabulous prizes — one of which is a Nintendo 3DS, though (as we attempt to connect the dots) no platform for this game is specifically mentioned that we are able to determine at this time. From what we are able to see, the release date and price are also yet to be determined.
Big thanks to Super Saiyan Prime for the heads-up!