A new Dragon Ball Capsule R line of figures, entitled Senshi-tachi Futatabi… Hen, ("Dragon Ball Capsule R: The Warriors Once Again… Edition") will be available in March 2013 from Megahouse to commemorate the first new Dragon Ball film in 17 years:
For the first time in 17 years, "Dragon Ball Capsule" of Dragon Ball Z — suddenly in the spotlight with its completely new film release — is undergoing a revival!! Popular legendary scenes, such as the fateful encounter with Bulma to the Super Saiyans 3, have been resurrected. Only the all-time favorite and celebrated scenes were selected for this product.
It is no surprise that you may have seen some of these before, nor that they will be available just in time for "Battle of Gods" to hit theaters in Japan.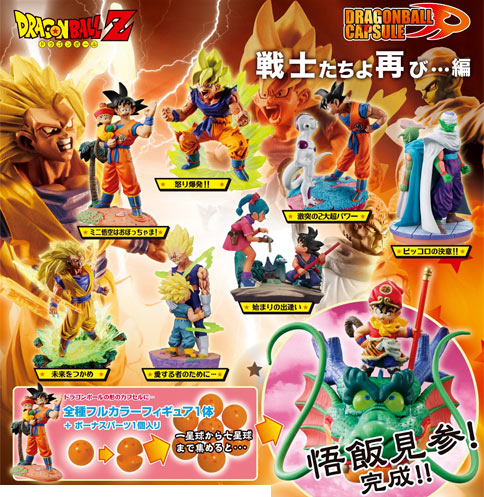 The new seven-piece collection (with each figure coming in around 100mm tall) includes a wonderfully-nostalgic selection of figures, including:
Goku and Gohan (arriving at Kame House at the beginning of DBZ)
Super Saiyan Goku (furious during his battle against Freeza)
Goku staring down Freeza (a play on manga chapter 309's title page)
Piccolo and God standing back-to-back
Super Saiyan 3 Goku powering-up
Majin Vegeta hugging Trunks before his final attack on Boo
Bulma and Goku meeting for the first time
Each of the seven figures come in a capsule shaped like a Dragon Ball, each of which contains a piece of yet another figure: Gohan in Journey to the West garb atop a dragon (from "Detekoi Tobikiri ZENKAI Pawā!"). With seven in total, purchasers are encouraged to (of course!) collect all seven Dragon Balls to complete the Gohan figure and have their wish granted! A seven-pack is available for ¥5,250 MSRP from both CDJapan and Hobby Link Japan — be sure to note that although there are seven distinct pieces and seven come in each pack for sale, you are not guaranteed to receive each individual figure in your pack. Pre-orders officially open today, and CDJapan specifically notes that their pre-order deadline is coming up soon on 19 December 2012.