With all of the excitement over the upcoming 2013 Dragon Ball Z movie, Battle of Gods, we felt it would be appropriate to give it the huge coverage it deserves. In addition to checking in on the rest of this week's news, we also dive in to your huge backlog of questions about the movie. Remember: Kanzenshuu is your one-stop-shop for everything Dragon Ball already, and furthermore for any and all information relating to Battle of Gods…!
While nothing is confirmed, plenty of fandom's collective thoughts went straight back to some of Toriyama's seemingly-random back-story additions in the Super Exciting Guide: Character Volume from 2009. We dive in to this material, translate out the necessary details, and attempt to extrapolate whatever we can in conjunction with the upcoming movie!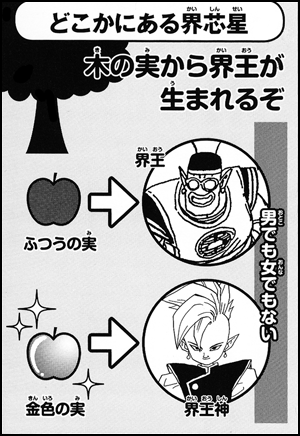 SHOW DESCRIPTION:
Episode #0317! VegettoEX and Hujio dive in to amazing news regarding the upcoming 2013 movie, "Battle of Gods". We have an initial plot description and even a promotional trailer to dig into and tear apart, and combined with all of your questions about the movie, that fleshes out an entire show!
REFERENCED SITES:
Enjoy! Discuss this episode on the Kanzenshuu forum.