In addition to the reveal of a newly-colored version of the manga and new set of guide books, the February 2013 issue of V-Jump rides on the Battle of Gods hype train with a few additional tidbits of information.
The first bit of information splashed across the top of the page dives into our new "God of Destruction".
ナゾ1 悟空と激突するキャラクター!!その正体はいったい…!?
余裕の表情で悟空と組み合う戦士。何を隠そう、正真正銘この生物こそが、破壊を司る神ビルスなのだッ!!!

---

Mystery 1: The Character Clashing with Goku!! What On Earth Could His Identity Be…?!
A warrior grappling with Goku with a look of composure!! Trying to hide something, this creature is the genuine god who governs destruction, "Birusu"!!!
Reiterated is the information that the movie will take place several years after the defeat of Majin Boo, but also several years before the end of the original series.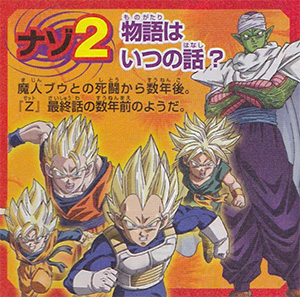 ナゾ2 物語はいつの話?
魔人ブウとの死闘から数年後。「Z」最終話の数年前のようだ。

---

Mystery 2: When is the Story Set?
A few years after the deadly battle with Majin Boo. It also seems to be a few years before the final episode of "Z".
The magazine analyzes some of the artwork — much as we fans have been doing — and wonders (in the typical coy Japanese advertising style) whether there was some sort of party, judging by the glasses in everyone's hands.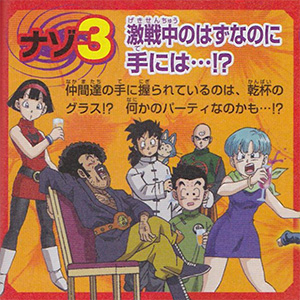 ナゾ3 激戦中のはずなのに手には…!?
仲間達の手に握られているのは、乾杯のグラス!?何かのパーティなのかも…!?

---

Mystery 3: In the Middle of a Heated Battle, and Yet They're Holding…?!
Everyone's holding a toasting glass in their hands?! Is it some kind of party…?!
Another of the numbered blurbs also wonders if "Uisu" is also a god himself (alongside "Birusu", the "God of Destruction").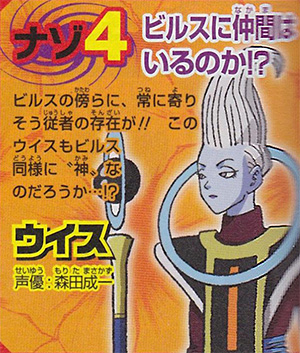 ナゾ4 ビルスに仲間はいるのか!?
ビルスの傍らに、常に寄り添う従者の存在が!!このウイスもビルス同様に"神"なのだろうか…!?

---

Mystery 4: "Birusu" Has an Ally?
An attendant who is always by the side of "Birusu"!! Could this "Uisu" be a "god" like "Birusu"…?!
The final numbered blurb showcases Super Saiyan 3 Goku coming up against "Birusu", an image also showcased on the promotional media package distributed earlier this week.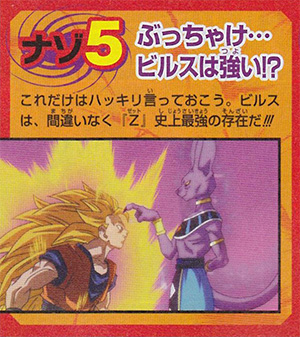 ナゾ5 ぶっちゃけ…ビルスは強い!?
これだけはハッキリ言っておこう。 ビルスは、間違いなく 「Z」 史上最強の存在だ!!!

---

Mystery 5: Frankly… "Birusu" is Strong?!
We'll be blunt about this at least: "Birusu" is without a doubt the strongest being in the history of "Z"!!!
Battle of Gods is due out in Japanese theaters 30 March 2013, and we at Kanzenshuu will continue to be at the forefront of its coverage up through release!