The March 2013 issue of V-Jump does not officially hit Japanese shelves until the 21st, but details of its contents are already starting to leak out.
The issue contains a three-page spread promoting the impending release of Dragon Ball Heroes: Ultimate Mission on the Nintendo 3DS. The story mode will allow you to — as would be expected from any proper Dragon Ball video game! — become a warrior and fight alongside Goku in the battles he has had. As we have known for a while, the story goes from the Saiyan arc all the way to Dragon Ball GT (covering up through "Galaxy Mission 4" in the process). As you progress there are Episode Points (story clips), Battle Points (fights from the series, played Heroes-style), and Boss Battles (major fights from the series with super-powerful enemies), and you gather cards along the way and try to become the strongest. There are two ways to gather energy for Goku's Genki-dama in the game: you can either use "training points" to try a mini game of "Ultimate Dragon Roulette", or gain energy when you pass by other players.
Carrying over from an inclusion in "Galaxy Mission 6" of the arcade version is "A SHOCKING AWAKENING!!!":
He descends via the "scouter"!! The God of Destruction, "Birusu"!!
Using the "scouter" functionality in the game, if you scan a certain QR code you can battle against "Birusu" (along with "Uisu" in what will be a tag-team appearance). Could you possibly win against this God…?! The QR code that allows him to appear will be revealed in the super-large April issue of V-Jump.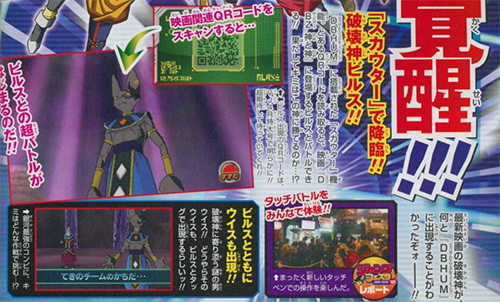 There is also a combined contest across V-Jump, Weekly Jump, and Saikyō Jump, where 590 (a number pun, or goro-awase, based on Go-ku-u) lucky winners will receive a copy of Ultimate Mission. You have to send a postcard with your name, address, age, and phone number to the address listed by 08 February 2013. If you win, the prize will arrive on the day of release!
Dragon Ball Heroes: Ultimate Mission on the Nintendo 3DS is due out in Japan 28 February 2013 alongside a LaLaBit Market Special Edition version of the game. There is no international release of the game announced as of yet.