One of the old Daizenshuu EX guides that many of you really seemed to love was the "Transformation Guide". In it, we broke down all of the different Super Saiyan forms, movie character forms, and so on and so forth. It was one of the sections we intentionally left by the wayside when we fused into Kanzenshuu — as one of the earlier guides that we did in our post-2003 relaunch, it deserved a whole lot more attention and care than we gave it back then. There has also been a deluge of more guidebooks released since we first launched it, so there is even more information to toss in there.
There is also older information to toss in there, too, believe it or not! One of the recent discussion threads that has popped up on our forum questioned what exactly Japanese fans called Gohan's transformation after #16 was killed during the battle with Cell. In the series, it is not given a proper name. We of course refer to it as "Super Saiyan 2" nowadays without even thinking of it, but it is important to note that the stage was never given a name in the series until much later — in manga chapter 474, Goku displays the various transformations to Majin Boo, and along the way to Super Saiyan 3, supposed aloud that you could call the stage in the middle "Super Saiyan 2".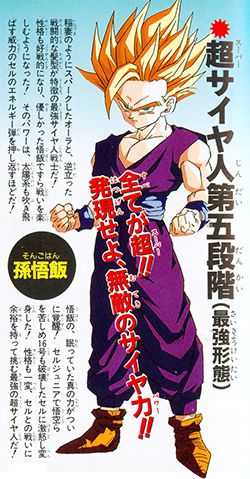 So the question remains: what did people call Gohan after he transformed? Some digging around Japanese Wikipedia led us to a book that we have owned for a while and never bothered to really put some time into: the "Anime Comic" release of the Trunks TV Special.
The book was released 31 May 1993. Over in the manga, the Majin Boo story arc was only just getting started — that same week would have been manga chapter 424, around the time that Gohan begins high school, meets Videl, etc. Over in the TV series, Gohan would have transformed against Cell a mere two weeks earlier. This truly was "fresh" information.
What does this "Anime Comic" release have to do with anything? The back of the book details the various Super Saiyan transformations seen up to that point. Along with the standard "Super Saiyan" and even "Super Saiyan Grade II (two)" and "Super Saiyan Grade III (three)" — the bulkier forms shown off by the likes of Vegeta, Trunks, and Goku — it goes on to talk about what is later called "Full Power Super Saiyan" and then what Gohan becomes. Interestingly, the book keeps the naming consistency going strong, referring to them as "Super Saiyan Grade IV (four)" and "Super Saiyan Grade V (five)".
So there you have it — "Super Saiyan 2", before Goku ever gave it a proper name in the series, could have and would be referred to as "Super Saiyan Grade V".
Until the "Transformation Guide" can return in a bigger-and-better format, please enjoy these tidbits of information! As you might expect, our own Herms has a nice breakdown over on our forum for even more information and context.