The new "Full Color Comics" for the Dragon Ball manga are set to hit Japan next week, and it turns out that North America is not far behind! Revealed in this week's North American edition of Weekly Shonen Jump is the great news that the series will pick up in the next issue — hitting 04 February 2013, day-and-date with the print edition in Japan — for us fans across the ocean.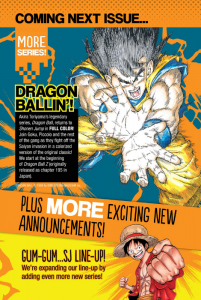 Single-volume weekly issues of Viz's Weekly Shonen Jump are available for $0.99 a pop, while a yearly subscription is also available for $25.99. Purchases have recently shifted to download-to-own, meaning that — as long as Viz exists and the service is provided — you can continue to enjoy and read your purchases, even if you let a subscription lapse.
In Japan, the first three volumes for the Saiyan Arc of the "Full Color Comics" hit store shelves 04 February 2013. While these particular volumes will be released print-only, Shueisha has announced potential plans to go back and do the first (non-"Z", if you will) portion of the series as digital-only while they continue onward to the Freeza, Cell, and Majin Boo arcs in print.
Thanks to TheDevilsCorpse for the heads-up!