Last week we pored through all of the information from the March 2013 issue of V-Jump, or so we thought. We actually missed a single page (pointed out us by forum member omegalucas) hidden near the back of the issue that showcased "tentative" cover art for both of the upcoming Chōzenshū and "Full Color Comics" releases (scan courtesy of Nostal/Treevax). As of this morning, Shueisha has finally updated their listings with the official cover art for both releases, which appears to be unaltered from these "tentative" covers showcased in V-Jump.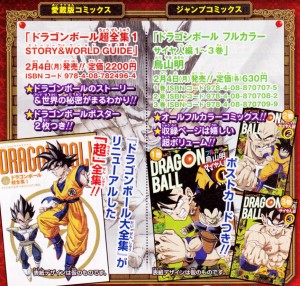 The Chōzenshū are a condensed four volume collection of hardcover databooks which are being published to replace and expand upon the now out of print Daizenshuu databooks. However, although this collection is based on the contents of the original Daizenshuu, they will feature new and updated material that has come to light in the years since their original publication. The first Chōzenshū, titled "Story & World Guide", appears to be a combination of "Daizenshuu 2: Story Guide" and "Daizenshuu 4: World Guide", and features the latter's original cover illustration by Akira Toriyama. This first volume of the series is due out 05 February 2013 — though V-Jump still lists the original 04 February 2013 release date — for ¥2,200 and is currently available from your favorite online retailers, such as Amazon Japan and CDJapan.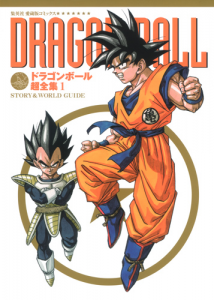 The "Full Color Comics" are a fully-colored re-release of the original Dragon Ball manga series, which at the moment are planned to cover the entirety of the "Z"-era storyline. Each volume will contain 17 chapters on 248 pages, with the first three comics covering chapters 195 to 245: Raditz's arrival on Earth to our heroes' departure for Planet Namek. The volumes will be the same size as the original tankōbon releases, although thicker, as each tankōbon volume typically only contained 12 to 13 chapters. The first three comics will cost a bit more than your standard tankōbon, at ¥630 each, and will be available 04 February 2013.
Dragon Ball Full Color: Saiyan Arc Vol. 01 (Amazon Japan / CDJapan)
Dragon Ball Chapters 195-211
Dragon Ball Full Color: Saiyan Arc Vol. 02 (Amazon Japan / CDJapan)
Dragon Ball Chapters 212-228
Dragon Ball Full Color: Saiyan Arc Vol. 03 (Amazon Japan / CDJapan)
Dragon Ball Chapters 228-245
For those of you that live in the United States, you will also be able to grab these releases digitally via the North American edition of Weekly Shonen Jump starting the same day-and-date (04 February 2013) as the print edition in Japan. You can subscribe to the magazine's North American digital edition on Viz's official Weekly Shonen Jump website.
UPDATE: Shueisha's official listing for "Chōzenshū 1: Story & World Guide" has been updated yet again, this time noting that the guide will include a brand new interview with original author Akira Toriyama.