Hinted at in the announcement of the "Full Color Comics" for the "Z"-portion of the series was a possible future release of the earlier chapters in digital format — whereas Viz is going all-digital in the US, Shueisha is so far going print-only with "Z".
Japanese fans do not have to wait any longer, though: the earlier story arcs are already available!
Colorized versions of the first 20 tankōbon are available digitally now, as noted on Shueisha's Mangabroadcast.jp, which has previews for these, as well as for the print-only "Full Color Comics" Saiyan Arc and Chōzenshū 1. Purchases themselves, however, are done via Amazon's Kindle Store, Shueisha's Jump Book Store for iOS and Android, and other online retailers.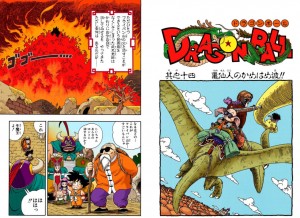 Going by the previews, the digital release would also appear to keep the original title pages, at least in the spots where the tankōbon used them. This stands in contrast to the "Full Color" print release, which does away with the original title pages and uses their illustrations in different ways around the book.
The digital-only releases are simply called "color edition" as well, and not "full color". The first 20 tankōbon are divided up by arc, though the chapter numbering and volume breaks of the original tankōbon release are maintained as-is: volumes 17 through 20 are simply relabeled "Saiyan Arc" volumes 1 through 4, despite not exactly matching the contents of the print-edition "Full Color" volumes. The arc naming for earlier chapters may give us an idea of what is in store if they decide to give these books a print release, however:
"Son Goku Training Arc" (tankōbon 1–4)
"Red Ribbon Army Arc" (tankōbon 5–9)
"Piccolo-Daimaō Arc" (tankōbon 10–16)
The new "Color Edition" is available alongside the 42 existing "Monochrome Edition" volumes (digital versions of the original tankōbon) for an approximately ¥105 premium, varying slightly by seller at around ¥472–473.
Look forward to our next update of the day, as we profile the English release of full-color Dragon Ball in Viz Media's digital edition of Weekly Shonen Jump.