The "Full Color Comics" — newly-colored versions of Akira Toriyama's original Dragon Ball manga — are turning into a far bigger story than any of us could have imagined! Beyond the print release in Japan, a digital release of the earlier chapters in Japan, and a simultaneous digital release for some chapters here in the United States, now we also have official video versions!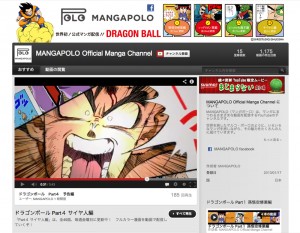 As part of Google's new initiatives to bring original and engaging content to their consumers on YouTube, Dentsu has launched a new channel today called "MANGAPOLO", a name created by combining "manga" and "Marco Polo" to make their way "into the open sea to spread the joy of Manga around the world". The channel kicks things off with video versions of Dragon Ball manga.
株式会社電通は4日、動画共有サイト「YouTube」においてマンガチャンネル「MANGAPOLO(マンガポーロ)」を開設した。電通が持つ国内出版社とのネットワークを生かし、出版社の正規コンテンツを配信していく。

第1弾として、集英社の「ドラゴンボール」全巻を、マンガの表現を生かしたフルカラー版の動画形式で無料配信する。第1部「孫悟空修業編」から第4部「サイヤ人編」まで、各部毎週1話ずつ更新する。対象言語は日本語と英語。

米Googleは2012年11月、電通を含む国内パートナー13社が制作したオリジナル番組を配信するチャンネルを開設。電通はマンガポーロを53の国・地域で展開し、既存のファン層への情報提供や、世界中の潜在的な読者層にアプローチするのが狙い。

Googleはパートナー企業に対して、YouTubeの将来の広告収入を見込んだ原資(金額は非公表)を付与。パートナー企業はこの原資をもとに、YouTube独占配信の動画を公開している。電通はこの原資を出版社に分配する。

電通は今後、多くの出版社と共同でYouTubeの特性を生かした新たなマンガ表現の開発、作家とファンの交流や新人クリエーターの発掘など、多面的なコンテンツ展開によってマンガの新たな楽しみ方を創出したいとしている。

---

On the 4th [of this month], Dentsu Inc. launched the manga channel "MANGAPOLO" on the video sharing site YouTube. Leveraging its network with domestic publishers, it will deliver official content from them.

For its first stage, it will stream, for free, all volumes of Shueisha's Dragon Ball in the form of videos making use of the Full Color edition's presentation. Every week, it will update with one chapter each of Part 1, the "Son Goku Training Arc", through Part 4, the "Saiyan Arc". Applicable languages will be Japanese and English.

In November 2012, American company Google launched a channel for delivering original programming produced by 13 domestic partner companies, including Dentsu. Dentsu will roll out MANGAPOLO in 53 countries and regions, with the aim of providing information to the existing fan base, and reaching out to potential readers around the world.

With regards to its partner companies, Google has provided capital (the amount of which has not been made public) in anticipation of future advertising revenue. Using this capital, partner companies are providing YouTube-exclusive videos to the public. Dentsu is sharing this capital with publishers.

Dentsu hopes, by working with publishers to develop a new presentation format for manga tailored to YouTube's unique characteristics, and through the development of different forms of content such as interaction between authors and fans and the discovery of new creators, to create a new way of enjoying manga.
So far, fifteen videos have been added to the MANGAPOLO YouTube channel spanning various chapters from the very beginning of the series up through the beginning of the Saiyan arc, as well as one particularly spectacular motion graphics trailer for the Saiyan arc:
It sounds like we can count on new chapters each Tuesday, so stay tuned!