The latest issue of Weekly Shōnen Jump (2013 WJ #10) in Japan brings us even more information about various Dragon Ball promotions — KFC is not alone in this area!
A few weeks back, the March 2013 issue of V-Jump detailed a special pre-order bonus for those picking up tickets for Dragon Ball Z: Battle of Gods in Japan: sets of Dragon Ball pens. The Four-Star Ball, however, was mysteriously missing from the sets. Weekly Shōnen Jump reveals that "triple-admission" (buying three pre-sale tickets rather than one or two) gets several special items on top of the Dragon Ball pen sets: a special QR code for use with Dragon Ball Heroes: Ultimate Mission (adding a special stage where you can face off against the God of Destruction), a Dragon Ball Heroes theatrical limited-edition card, and at the theater, they will receive the final Dragon Ball pen (Four-Star Ball, red) and a Dragon Radar case to hold all seven.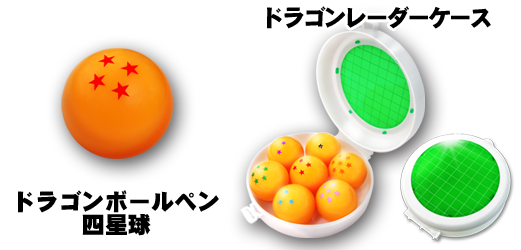 There will also be a new promotion with the Lawson and Mini Stop convenience-store chains. Special limited-edition items will be sold in packs with pre-sale tickets. One pack will include a "Son Goku Mascot Ballpoint Pen" for ¥2,160 (high school and up), ¥1,660 (age 3 to junior high), or ¥2,860 (parent-child pairs); the other will include a "Shenlong Room Light" for ¥7,000 (high school and up), ¥6,500 (age 3 to junior high), or ¥7,700 (parent and child pair). These packs can be accessed through the "Loppi" automated ticket-purchasing system in-store.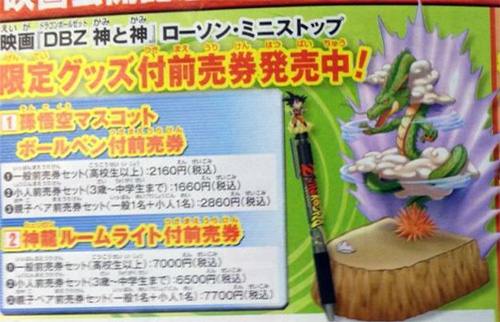 Finally, the upcoming "Akira Toriyama The World of DRAGONBALL" exhibit gets a nice little breakdown. There will be seven "zones" in the exhibit, and by visiting them, you will "understand everything about Dragon Ball". They are (in no particular order):
Dragon Ball Complete History
Character Wall
Comic Manuscript Gallery
Color Illustration Gallery
Treasure Museum
Anime Gallery
Special Theater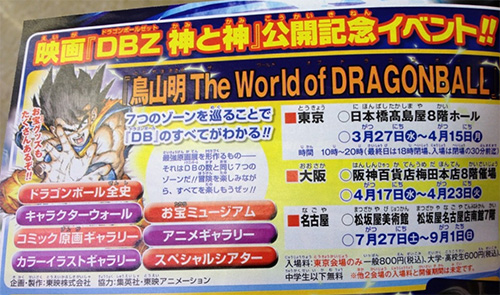 Admission for the Tokyo venue has also been revealed at ¥800 for adults, ¥600 for university and high-school students, and free for junior high-schoolers and below. Pricing at other venues is still to be determined.