Today marks the official release for the "Full Color Comics" not only in Japan but also in the United States courtesy of Viz. The newly-colored version of the manga is kicking off in both regions with what we would consider the "Z"-portion of the story — Shueisha plans to do print versions through to the Freeza, Cell, and Majin Boo arcs while doing the first portion of the story digital-only, and at the same time Viz has committed (so far) to just a digital release in their Weekly Shonen Jump.
Expect a more formal review for both the Japanese and English releases later this month. In the mean time, how does this version stack up against the original manga release, and more specifically, what can we expect of Viz's English version? Are there any artwork or translation adjustments being made?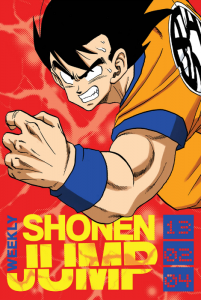 Having the manga presented in full color like this is an interesting, even convoluted, situation. The manga had a series of chapters that were presented in color back in the original Japanese Weekly Shonen Jump printing, all of which were grayscaled-down for the tankōbon printing and then restored to color for the kanzenban release. There were also a great deal of semi-colored chapters with a reduced palette. With this new release, everything is being done from a consistent scheme right from the start (well, the start of the "Z"-portion, anyway!). This first chapter of the "Full Color Comics" was only ever presented in raw black-and-white, however, so the potential comparisons are limited.
There was also a "TV Version Anime Comics" release of the entire "Z"-portion of the manga which was released in its entirety in Japan, and in different amounts even in other countries like France and Germany. To this degree, a "color version" that is in "manga"-form already exists… though not in English!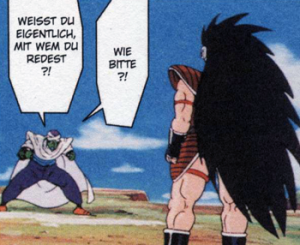 What you are getting here in the new "Full Color Comics" is almost like a reverse, Dragon Ball Kai version of the manga: no "filler" material (there cannot be "filler" in manga to begin with, but filler from the TV Version Anime Comics obviously does not exist here), it is "closer" to the original author's "vision" (literally being the original author's own drawings), and so on.
As noted in more detail over in our quick look at Shueisha's Japanese release, bits of coloring are different than you might expect — Piccolo retains his more skin-tone arm color in the "Full Color Comics" as opposed to the pink-ish color in the TV adaptation.


The translation in Viz's "Full Color Comics" edition here in the digital Weekly Shonen Jump remains the same as it has been in past print editions. Most notable is the lack of changes in Piccolo's dialog. The character is given a somewhat strange tone throughout a good portion of his appearances in Viz's translation, and with the series being split into "Dragon Ball" and "Dragon Ball Z" by Viz, this would have been folks' first introduction to him in official English manga form. The example page above contains the following dialog in its original Japanese:
なんだと!!きさまだれにむかってしゃべっているのかわかっているのか!!

---

Nan da to!! Kisama dare ni mukatte shabette iru no ka wakatte iru no ka!!
In this particular case, Piccolo is speaking neither particularly old man-ish (as he sometimes is while still a villain), nor polite, but the line here is rather stiff and un-contracted. We would go with something like:
What was that?! Do you have any idea whom you are addressing?!
A prime example of how Piccolo speaks throughout the majority of his major appearances in Viz's version, they went with:
What say you?! Know you not the one to whom you show such insolence?!
Examples like this are the very definition of translator's-choice and deciding how literal, how flowery, and how obvious to go in the adaptation. In Piccolo's case, however, it is not a decision we would have gone with, and were hoping for a little bit of tweaking here with a fresh start in the "Full Color Comics" version. This line may not seem like a "big deal", but it can get a little out-of-hand at times, and consistency is lost when characters like Murasaki that do speak in an archaic style in Japanese do not get an appropriate treatment in Viz's translation.
Much like the rest of the material in Viz's Weekly Shonen Jump, sound effects are left in their original Japanese, and not redrawn as a translation on the page (as was done in prior print editions).
The first three volumes of the "Saiyan Arc" of the "Full Color Comics" — each 248 pages — are available today in Japan from Shueisha for ¥630 a pop, with the "Freeza Arc" volumes expected in April.
Viz will be including one chapter of the "Full Color Comics" in each issue of their Weekly Shonen Jump — previously Shonen Jump Alpha — starting with this week's (04 February 2013) issue. A single issue is $0.99 a pop, while a yearly subscription is available for $25.99. Digital manga purchases from Viz have recently switched from a quasi-licensed-rental to "download to own", meaning that — as long as Viz exists as a company and continues to provide the service — any purchases made will remain accessible to the owner even if a subscription lapses.
Let us know what you think of the release!