The on-going promotional mini-manga for the Dragon Ball Heroes arcade game (and upcoming Nintendo 3DS port) returns for a sixth chapter in the April 2013 issue of V-Jump released today in Japan.
When we last left our heroes, Beat and Froze were moving on to the final battle at Heroes Stadium in Satan Mall after a display of Super Saiyan 3 characters against Freeza's clan. In this latest, 4-page chapter of Dragon Ball Heroes: Victory Mission, "Clash! Beat vs. Froze" (激突!ビートVSフローズ / Gekitotsu! Biito VS Furōzu), the final match begins with Froze swapping up his deck almost completely, while Beat wants to fight to the end with the companions he believes in. A girl shows up and mutters that Beat is going to lose — Beat does not recognize Forte, though. As Beat unsuccessfully tries to land a hit, Forte gives some backstory on Froze: he became Forte's area representative in the last year's preliminary; she was surprised by the overwhelming strength Froze used, and did not think she stood a chance. Yet, for some reason, Froze did not go to the nationals. Just then Froze draws a "Z" in the sky. His avatar says, "Card Action Ability: Z"… and the chapter comes to a close!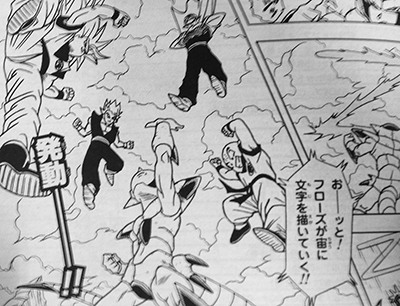 The mini-manga by the mysterious author "Toyotarō" seems to be a staple of V-Jump at this point. This latest chapter has been cataloged on our "Official Manga Spin-offs" page of the "Manga Guide".